New board game Corruptopolis seizes the monopoly on Spain's corruption
But as dozens more officials were detained this week in another suspected corruption case, it appears the game will have to be updated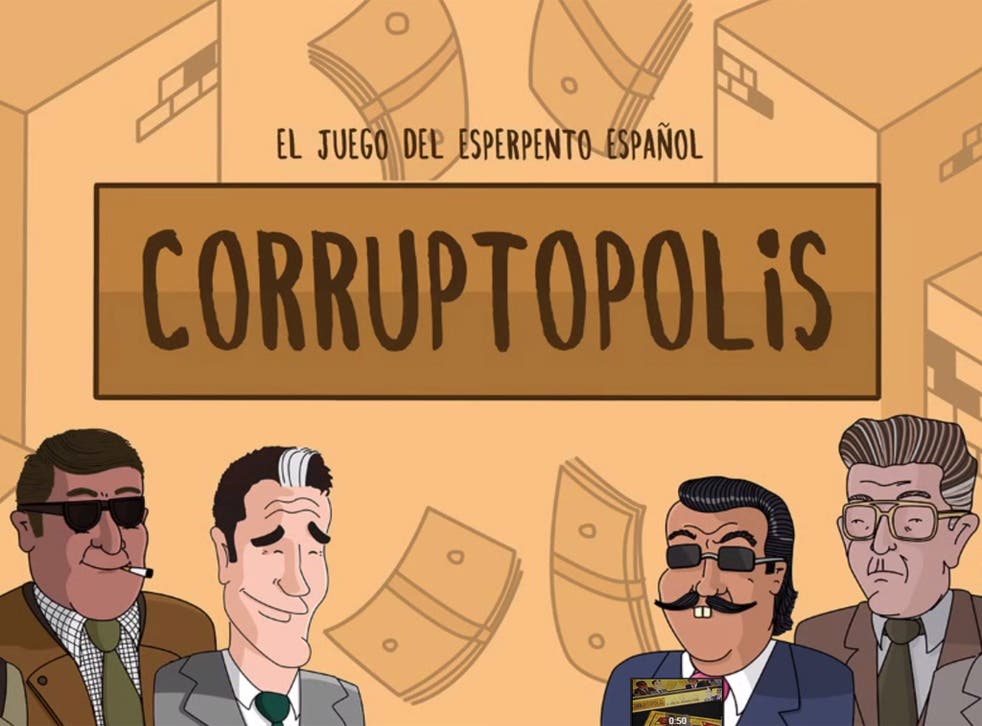 If, as the old saying goes, absolute power corrupts absolutely, Spaniards are fast learning that even a smattering of political clout appears to have the same effect.
So rife are under-the-table payments, dodgy dealings by elected officials and corruption scandals in Spain, that now they even feature in a planned board game, Corruptopolis.
In the game, to gain access to the "Basic Corruption Manual", each player has to provide a convincing explanation of how a certain amount of cash from a graft case ended up in their bank account.
There are plenty more challenges en route to the fictional finish town of Villa Corrupta and a healthy collection of "bribery cards" may help grease a palm or two. Corruptopolis's final challenge is a set question about a Spanish corruption case. Which parliamentary deputy opened up a suspect bank account in Switzerland in 1998, for example? Or which member of the royal family personally used answers like "No", "I don't recall" or "I don't know" more than 550 times, according to one report, when questioned in court about a shell company run by her husband?
So this week, as dozens more officials were detained in another suspected corruption case, it appeared the game would have to be updated. As Corruptopolis's author, Valencia-based industrial design student Marina Belda points out, Spain's ruling classes are rocked on an almost daily basis by such cases.
On Tuesday, this was illustrated when 32 people were arrested in 13 different provinces. They included the now usual range of business and local government officials, some of whom may face charges in the case, which centres on a Seville-based company's alleged use of country-wide bribes and cash payments over a nine-year period.
The sting took place in the provinces of Seville, Cordoba, Jaén, Huelva, Cádiz, Granada, Badajoz, Madrid, Valencia, Zaragoza, Barcelona, Lanzarote and Las Palmas de Gran Canaria.
The company's alleged backhanders and returns are certainly memorable. They are said to have ranged from €70,000 – allegedly handed over to a politician in a shoebox – to free flights to Panama.
In exchange, it is claimed, the company received contracts for municipal gardens, railway and park maintenance as well as the construction of 11 artificial football pitches. The latest scandal follows a mass anti-corruption crackdown raid two weeks ago, when 51 public officials and business directors based near Madrid were arrested over bribery and corruption allegations worth hundreds of millions of euros.
And the week before that a plethora of newspaper stories revealed the alleged misuse of credit cards to the tune of €15m (£11.8m) by 80 officials linked to a bank – all of them political appointees, including the former Finance Minister Rodrigo Rato.
Factor in questions like continuing high unemployment, a patchy and sluggish economic recovery and Catalan independence questions and it is perhaps no surprise that in a recent poll 91 per cent of Spaniards labelled the political situation as "bad" or "very bad".
This general thumbs-down by Spaniards on politicians has had one beneficiary – a new anti-austerity and anti-corruption party, Podemos. Podemos' promise to oust the ruling political class en masse from power has struck a deep chord – and undoubtedly helped its meteoric rise in the polls since it was founded nine months ago.
In the most recent official survey last week, Podemos was ranked Spain's third most popular party, just a few percentage points short of the PP and main opposition Socialist Party.
Meanwhile, the amount of money raised by a crowdfunding system needed for Corruptopolis to go ahead is now fast approaching its €6,500 target – not counting, of course, any other payments.
Register for free to continue reading
Registration is a free and easy way to support our truly independent journalism
By registering, you will also enjoy limited access to Premium articles, exclusive newsletters, commenting, and virtual events with our leading journalists
Already have an account? sign in
Register for free to continue reading
Registration is a free and easy way to support our truly independent journalism
By registering, you will also enjoy limited access to Premium articles, exclusive newsletters, commenting, and virtual events with our leading journalists
Already have an account? sign in
Join our new commenting forum
Join thought-provoking conversations, follow other Independent readers and see their replies