French cabinet reshuffle: François Hollande's ex-girlfriend Ségolène Royale makes grand return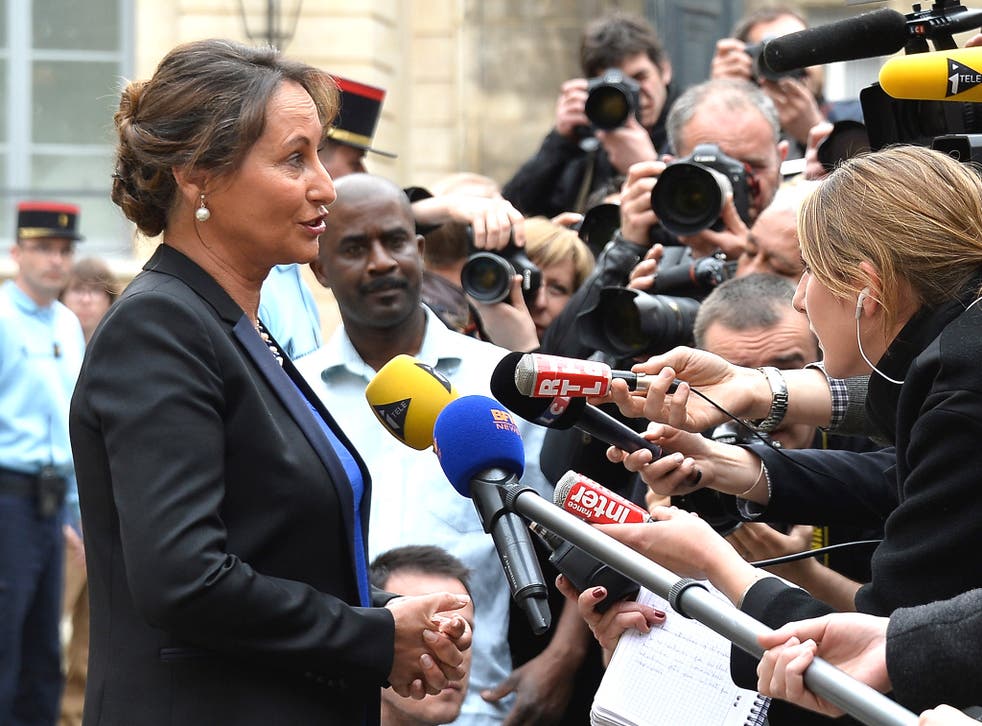 President François Hollande's former partner, Ségolène Royale made her grand return to national government today at the head of a new super-ministry for energy and the environment.
Ms Royal, 60, the unsuccessful Socialist presidential candidate in 2007, was one of two recruits to a French government reshuffled and reduced after calamitous results for the Left in local elections last weekend.
Her return will go some way towards calming the anger of the left-wing of the ruling Parti Socialiste following Mr Hollande's decision on Monday to appoint a new Prime Minister, Manuel Valls, from the reformist, right wing of the party.
The Greens, who were previously part of a coalition government under Jean-Marc Ayrault, have refused to serve under Mr Valls. This will leave the new government with a wafer-thin majority in the National Assembly as it seeks to impose Mr Hollande's right-turn in economic policy and promised €50 billion in budget cuts in the next few weeks.
The only other new face in Mr Valls' government is François Rebsamen, the mayor of Dijon, who becomes employment minister. As another sop to the Left, Pierre Moscovici, the economy minister, has been fired and replaced by the more interventionist former industry minister, Arnaud Montebourg.
Michel Sapin, previously employment minister, becomes minister for finance, with the thankless task of satisfying Brussels that France can meet its promise to cut its state budget deficit to 3 per cent of GDP by next year. The former student leader, Benoît Hamon, 36, also from the left of the party, becomes the youngest ever French education minister.
Several key posts are unchanged. Laurent Fabius and Jean-Yves Le Drian, two of the undisputed successes of the previous government, remain at foreign affairs and defence respectively.
Christian Taubira, the charismatic, West Indies-born justice minster, detested by the French right and far right, remains in her old job. So do Aurélie Filippetti at the culture ministry and Stéphane le Foll at agriculture.
Mr Valls' old job at the interior ministry – equivalent of home secretary in Britain – goes to the centrist former budget minister, Bernard Cazeneuve.
Although President Hollande promised to preserve the perfect gender balance of the old government, the appointments announced yesterday had a clear male majority. This may be corrected when more junior posts are decided next week.
The return of Ms Royal could not have happened if Mr Hollande had not split with his partner, Valérie Trierweiler, in January. After a lengthy affair, Ms Trierweiler supplanted Ms Royal as Mr Hollande's unmarried partner in 2007.
President Hollande has always remained on reasonably good terms with Ms Royal, the mother of his four grown-up children. Ms Trierweiler was, however, legendarily hostile to her predecessor in Mr Hollande's affections. She infuriated Mr Hollande by sending an anti-Royal tweet soon after he defeated Nicolas Sarkozy in the 2012 presidential election.
Register for free to continue reading
Registration is a free and easy way to support our truly independent journalism
By registering, you will also enjoy limited access to Premium articles, exclusive newsletters, commenting, and virtual events with our leading journalists
Already have an account? sign in
Register for free to continue reading
Registration is a free and easy way to support our truly independent journalism
By registering, you will also enjoy limited access to Premium articles, exclusive newsletters, commenting, and virtual events with our leading journalists
Already have an account? sign in
Join our new commenting forum
Join thought-provoking conversations, follow other Independent readers and see their replies