New Paris protest has no plans and no leaders… but still 1,000 protesters turn up every night to call for change
John Lichfield in Paris reports on a movement harking back to the civil unrest of May 1968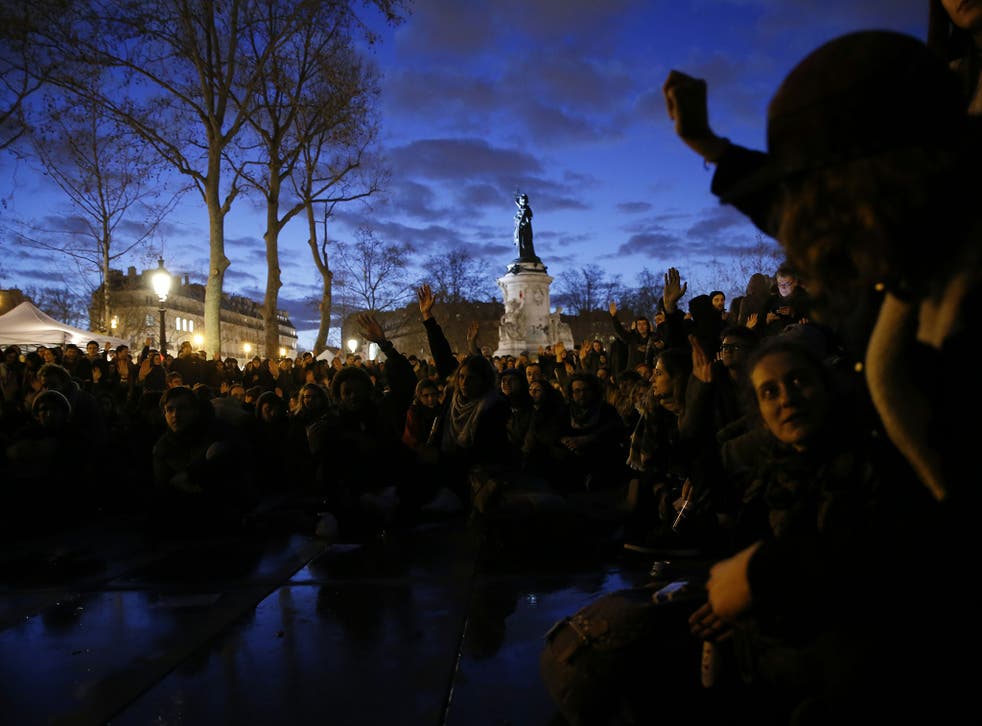 The world started anew last Thursday week, on the evening of 31 March 2016. On that night, a few hundred young people, and some not so young, came together on the Place de la République in Paris.
They are still there – or at least they turn up at 6pm each day and leave at midnight. Their numbers are growing, although not as fast as they claim. There are 1,000 present on most evenings.
Their movement, Nuit Debout, ("Standing Up Night") has spread to several other European cities. They have no leaders and no demands, except the end of capitalism and the world as we know it. Until that happens, they say, April cannot be allowed to begin.
Thus, today on the Place de la République, it is not 9 April; it is 40 March. Playing with dates deliberately echoes the French Revolution, which started in "year one". It involuntarily recalls the opening line of George Orwell's 1984, when a clock strikes 13.
In the early days, the participants had no individual names. Everyone was "Camille", a name which can be male or female in French.
But it is difficult to enforce rules in a movement with no rules – and individual names are creeping back.
Gael, a student in his early twenties, dressed all in black, with a neat beard and a serious smile, said: "We don't know where this is going – that's the whole point. We don't have plans. We don't have demands. We don't have leaders. We disagree about many things, but we know that things have to change. We didn't need the Panama leaks to tell us how the world works. We no longer want a system where the selfishness of a few limits the lives and opportunities of the many."
The mood of the participants – the "nuitdeboutistes" – resembles the May 1968 student rebellion more than the July 1789 revolution. There are interminable "general meetings" which make decisions to "end" social injustices, such as homelessness and unemployment. Votes are taken by a complex shows of arms and hands. Two hands in the air means "oui". Two arms crossed in the air means "non". Two arms crossed with fists clenched means "absolutely out of the question. Think again."
Almost half a century on from 1968, official France remains wary of youth movements, and Nuit Debout is being watched very closely by President François Hollande's centre-left government.
There were scuffles with police this week when two breakaway marches from the Place de la République sought to free students arrested during a demonstration against changes in French labour law. Overall, however, the police and riot police have been under orders to treat the "nuitdeboutistes" gently – as a curiosity rather than a threat.
The movement has been compared with the Occupy movements in the US and Britain and the start of the Indignant/Podemos movement in Spain.
So far, however, there is no real sign of it spreading into a wider revolt. Nuit Debout remains – for the time being – an island of self-righteous protest in the midst of the roaring, beeping traffic of a city intent on its own selfish business.
The movement began as a spin-off from protests against proposed changes in French labour law. Its supporters include some students and sixth-formers with leftish views. There are also sprinkling of "sans papiers" (illegal immigrants).
The great bulk of the participants appear, however, to be a self-organised round-up of the usual suspects – typical representatives of the many tribes and sub-tribes of the French hard left.
Not all are so young; some look as if they might be recalling something rather similar 48 years ago.
Nor is the movement quite as leaderless and unstructured as it claims. The first protest on 31 March was organised by the team responsible for a funny and cheeky anti-capitalist documentary film, Merci Patron, an unlikely triumph in French cinemas this spring.
The inaugural Nuit Debout was addressed by Frédéric Lordon, 54, a left-wing French economist and leading light in a group called Economistes Atterrés (Appalled Economists), which rejects conventional market economics. Mr Lordon declines to speak to the media. "I have no wish to appear as something I am not – the leader of a movement which has no leader," he replied by email to Le Monde.
It remains unclear how long Nuit Debout will last or how far it will spread. It is plainly a straw in the same wind as the election of Jeremy Corbyn as Labour leader.
In a long article posted at the Place de la République, Mr Lordon suggests that Nuit Debout threatens the capitalist world precisely because it is so undefined.
"Understand, we are demanding nothing," he wrote. "Understand, that after decades of seeing you (the ruling classes) demonstrate your talents and your arrogance, the idea of negotiating anything with you seems absolutely pointless to us."
"We are the crazy Left. And we are coming…"
Register for free to continue reading
Registration is a free and easy way to support our truly independent journalism
By registering, you will also enjoy limited access to Premium articles, exclusive newsletters, commenting, and virtual events with our leading journalists
Already have an account? sign in
Register for free to continue reading
Registration is a free and easy way to support our truly independent journalism
By registering, you will also enjoy limited access to Premium articles, exclusive newsletters, commenting, and virtual events with our leading journalists
Already have an account? sign in
Join our new commenting forum
Join thought-provoking conversations, follow other Independent readers and see their replies