Pope Francis says young people have been 'condemned to have no place' in New Year's Eve prayers
The world 'idolises youth' but has no interest in young people, the pope said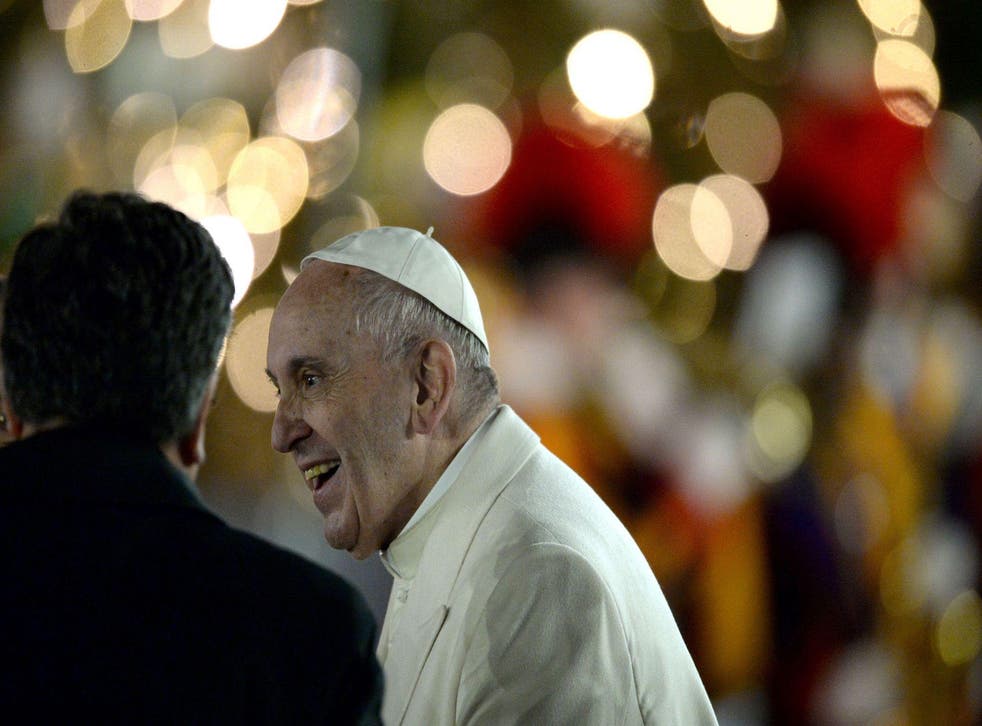 Pope Francis has excoriated the world for idolising youth but having no interest in young people.
The young have no place in society, he said, and are gradually being pushed to the edges of public life. That is leading them to move around for jobs or be forced to beg for them, and even that isn't keeping them safe, he said.
The Pope made the remarks after spending the last hours of 2016 exchanging greetings with the faithful in a cold St Peter's Square.
After the traditional evening prayers inside the basilica, he made his way through the crowd towards a life-size Nativity scene.
In those crowds he shook hands, kissed children on the cheek and took small gifts.
During the evening prayers, the Pope called on Catholics to help young people find purpose in the world, noting the paradox of "a culture that idolises youth" and yet has made no place for the young.
"We have condemned our young people to have no place in society, because we have slowly pushed them to the margins of public life, forcing them to migrate or to beg for jobs that no longer exist or fail to promise them a future," he added.
More than responsibility, the Pope said the world owed young people "a debt" because they have been deprived of "dignified and genuine work" that would allow them to take part in society, instead condemning them "to knock on doors that for the most part remain closed."
World news in pictures

Show all 50
Youth joblessness in Italy stands at more than 36 per cent and tops 18 per cent among the 28 European Union states.
In Africa, the continent with the world's youngest population, youth unemployment probably increased in 2016, and was near 30 per cent in North Africa, according to the International Labour Organisation.
Poverty and lack of opportunity in Africa is driving migration, particularly to Europe. Almost 5,000 men, women and children died attempting to reach Europe by boat from North Africa in 2016.
Additional reporting by agencies
Register for free to continue reading
Registration is a free and easy way to support our truly independent journalism
By registering, you will also enjoy limited access to Premium articles, exclusive newsletters, commenting, and virtual events with our leading journalists
Already have an account? sign in
Register for free to continue reading
Registration is a free and easy way to support our truly independent journalism
By registering, you will also enjoy limited access to Premium articles, exclusive newsletters, commenting, and virtual events with our leading journalists
Already have an account? sign in
Join our new commenting forum
Join thought-provoking conversations, follow other Independent readers and see their replies