Nice attack: Man who slowed murderous rampage by threatening attacker with a knife describes what happened
'The area behind the truck was a field of dead people, blood and flesh. I had to step over corpses to keep trying to get to him,' says Mr Leriche
May Bulman
Monday 18 July 2016 11:06 Comments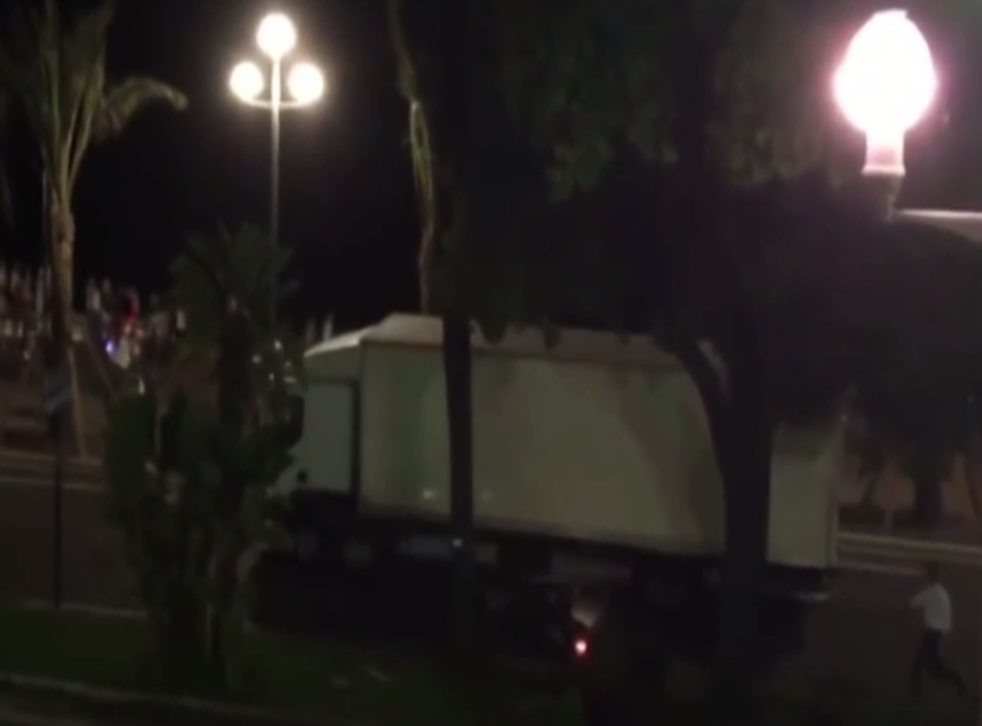 A hero who slowed the murderous rampage of the attacker who drove his truck through a crowd in Nice has described the moment he leapt over bodies in an attempt to limit the carnage.
Gwenael Leriche, 26, managed to hinder Lahouaiej Bouhlel's massacre when he chased after the lorry armed with only a small pocket knife.
Mr Leriche, a delivery driver, had been with friends on the beach when he saw the white lorry approaching the large crowds on the Promenade des Anglais.
Without thinking twice he set about running after the vehicle, having to navigate over dead bodies on the road.
Mr Leriche told French newspaper Nice Matin: "[The attacker] had just crashed into a group of people. It was carnage.
"He then accelerated again and got ahead of me. I then saw the extent of the damage.
"I wondered in a split second what I could do, but it was too late. I had to catch up with him."
"The area behind the truck was a field of dead people, blood and flesh. I had to step over corpses to keep trying to get to him."
According to witnesses, another unnamed passer-by grabbed onto the lorry door, slowing the attacker down again. At this point Mr Leriche was able to catch up.
He and the other passer-by reportedly tried to attack Bouhlel through the lorry windows, but he started firing at them with a pistol.
Police then opened fire and the attacker was shot.
A motorcyclist also attempted to slow down the rampage. He allegedly tried to overtake the lorry before attempting to open the passenger door.
A witness who was on his balcony above the promenade told AFP: "[The lorry] was being followed by a motorbike. The motorcyclist tried to overtake it and even attempted to open the lorry door."
Footage shows a motorbike riding alongside the lorry before it appears to fall to the ground. It is unclear whether the motorcyclist at this point jumps onto the lorry or falls with the bike.
In pictures: Bastille Day Nice attack

Show all 30
The police arrested Mr Leriche for questioning following the incident but he was released in the early hours of them morning.
Investigators have found no evidence so far that the killer truck driver had links to "terrorist networks".
France's interior minister has said that while the Islamic State group has claimed responsibility for the Bastille Day attack, the driver may have been motivated by IS messages but was not necessarily co-ordinating with a larger network.
Authorities say Bouhlel, a 31-year-old Tunisian living in Nice, had become recently and rapidly radicalised.
Eighty-four people were killed and 308 injured when the attacker ploughed through crowds celebrating Bastille Day.
Register for free to continue reading
Registration is a free and easy way to support our truly independent journalism
By registering, you will also enjoy limited access to Premium articles, exclusive newsletters, commenting, and virtual events with our leading journalists
Already have an account? sign in
Join our new commenting forum
Join thought-provoking conversations, follow other Independent readers and see their replies