Nicolas Sarkozy branded a 'fake tough guy' obsessed with Carla Bruni's breasts in blistering new memoir
'The born leader was in reality a fragile seducer subjugated by his conquests, a fake tough guy permanently dependent on affection, an unhappy soul yearning to be loved, living under the domination of an empire of women'
Will Worley
Monday 03 October 2016 13:03 Comments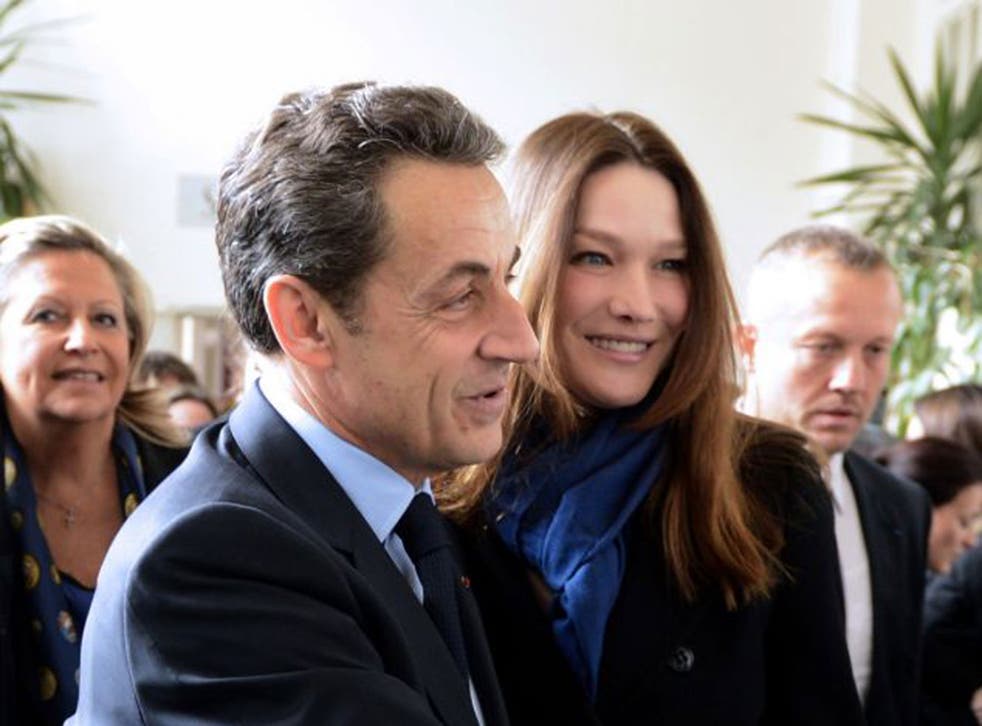 The French presidential candidate Nicolas Sarkozy is a "fake tough guy" obsessed by his model wife's breasts, according to a scathing new memoir by a former adviser.
In a blistering attack on Mr Sarkozy, who was French President from 2007-2012, the highly personal text also claims Mr Sarkozy is "immature, undignified, infantile" and sympathetic to the far-right.
The author, Patrick Buisson, is a former adviser to Mr Sarkozy who fell out with him. In 2014, Mr Buisson released audio recordings featuring Mr Sarkozy and Ms Bruni, made covertly during his time working at the Elysee. He was later convicted of invading privacy and forced to pay damages to the couple.
Sarkozy Calls for 'Burkini' Ban in First Presidential Campaign Rally
But his new revelations are arguably far more damning to Mr Sarkozy, taking personal aim at the politician just as his campaign for re-election picks up momentum.
The former president displayed "phallic triumphalism" with his "trophy wife", and frequently expressed his admiration for her breasts in government meetings, Mr Buisson wrote in La Cause du peuple, l'histoire interdite de la présidence Sarkozy (The cause of the people: The forbidden history of the Sarkozy presidency). Excerpts from the book have been published in French newspaper L'Express.
Taking further aim at the Sarkozy-Bruni marriage, Mr Buisson wrote: "Probably he thought deep down that the happy news of his love life would be a useful antidote to the prevailing gloom. Instead, it could be summed up in three words: immature, undignified, infantile."
He continued: "The born leader was in reality a fragile seducer subjugated by his conquests, a fake tough guy permanently dependent on affection, an unhappy soul yearning to be loved, living under the domination of an empire of women."
World news in pictures

Show all 50
The book also alleges Mr Sarkozy is politically favourable to the far-right Front National party, in an attempt to lure in their voters.
"The values of the National Front are the same for all French people, it's just the way the FN talks that is shocking. French people don't like dishes that are too spicy and burn the mouth," Mr Buisson quoted Mr Sarkozy as saying.
Another contentious claim is that Mr Sarkozy allowed riots in Paris in 2006 to escalate, in order to appear as strongly cracking down on the disorder.
Allegedly quoting the former president, Mr Buisson wrote of the events: "We took the decision to allow gangs of blacks and Arabs to attack the young whites on the Invalides, and at the same time tipped off the photographers at Paris Match that there was likely to be serious trouble."
"We were petrified that someone might end up getting seriously hurt, but in the end it was worth it."
Mr Sarkozy has attempted to shrug off the memoirs, telling a French radio show: "It's not an issue for me".
Register for free to continue reading
Registration is a free and easy way to support our truly independent journalism
By registering, you will also enjoy limited access to Premium articles, exclusive newsletters, commenting, and virtual events with our leading journalists
Already have an account? sign in
Join our new commenting forum
Join thought-provoking conversations, follow other Independent readers and see their replies