Nicolas Sarkozy defeated in presidential primary as French centre right prepares for battle with Marine Le Pen
Former prime ministers Francois Fillon and Alain Juppe face second vote next week, after Mr Sarkozy suffers humbling defeat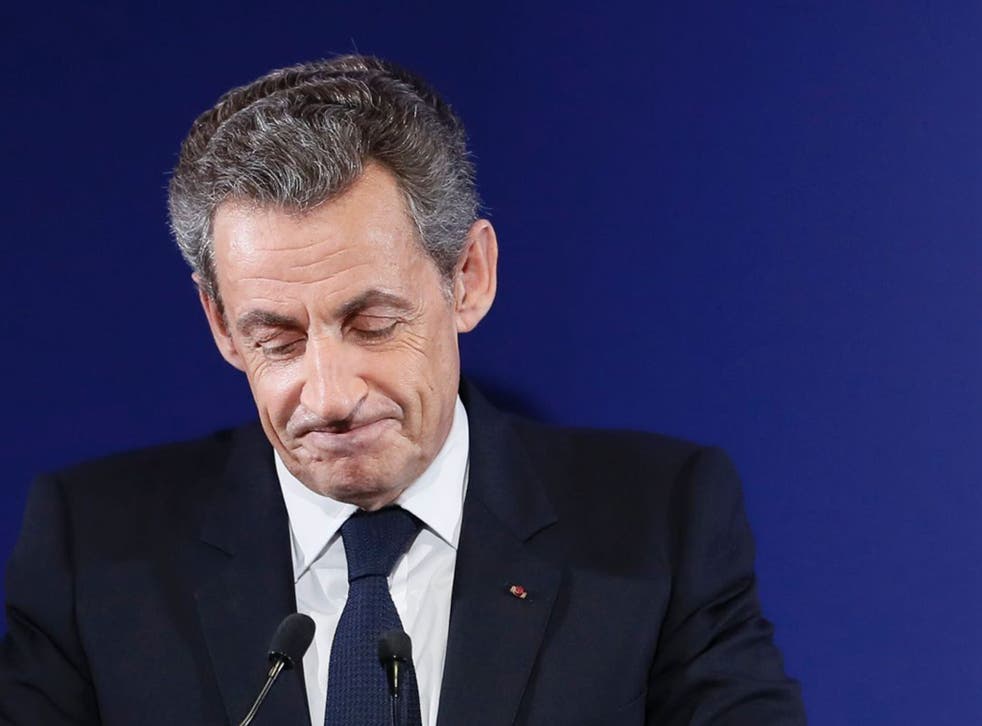 Nicolas Sarkozy has been knocked out of the French presidential race after finishing third in the primary to pick the centre-right's candidate .
With more than 90 per cent of votes counted, former French prime minister, Francois Fillon, topped the poll with 44.2 per cent of the vote while another former prime minister, Alain Juppe, was in second place with 28.4 per cent and Mr Sarkozy had taken 20.7 per cent.
Mr Fillon and Mr Juppe qualified for the second round run-off to decide who should be France's conservative presidential candidate, dashing ex-president Mr Sarkozy's hopes for re-election. Mr Sarkozy conceded defeat and the run-off vote will be held on 27 November.
The winner is expected to have a strong chance of victory in next year's presidential election, because traditional rivals on the left have been weakened by Socialist Francois Hollande's troubled presidency. Partly due to those troubles, polls have consistently shown that the leader of the far-right Front National (FN), Marine Le Pen, will make it to the final round of presidential voting and will likely be the opponent for either Mr Fillon or Mr Juppe.
Mr Juppe was quick to cast himself as the best candidate to stop the far-right party and win the presidential election in the wake of the first primary result.
Mr Fillon told his ecstatic camp that his programme was one of "hope". He said he had a "special thought" for Mr Sarkozy, whom he served as prime minister from 2007 to 2012.
As for Mr Sarkozy, he announced he intended to withdraw from public life after the result and endorsed Mr Fillon.
He said: "I failed to convince a majority of voters.
"I hold Alain Juppe in high esteem, but I feel closer to Francois Fillon's political choices".
World news in pictures

Show all 50
Mr Fillion's victory will come as a surprise to many as he was widely regarded as a political "has-been" and had bee trailing behind Mr Sarkozy and Mr Juppe, in most polls.
An admirer of late British prime Minister Margaret Thatcher, he is a rare economic liberal in largely statist France - he is also the most pro-Russian of the three candidates.
As well as Mr Sarkozy, Mr Fillon also received the support of Bruno Le Maire, seen as having come fourth or fifth in the vote.
The most centrist of the seven contenders in the primaries, Nathalie Kosciusko-Morizet, who was fighting Mr Le Maire for the fourth spot, threw her weight behind the 71-year-old Mr Juppe.
Socialist President Francois Hollande, who is deeply unpopular, has yet to announce whether he himself will stand again.
With the Left very divided and a majority of voters seen in opinion polls to be opposed to seeing the far-right National Front in power, the chosen centre-right nominee is likely to defeat party leader Ms Le Pen in an expected election run-off next May.
But while polls have consistently shown Mr Juppe would easily beat Le Pen, there have been no recent surveys on how Mr Fillon would fare in such a match, in further evidence of how unexpected his top spot on Sunday was.
Polls have shown that Mr Fillon, who had received backing by opponents of France's gay marriage laws, is much less popular than Mr Juppe amid left-wing voters, which could make it harder for him to get their vote versus Ms Le Pen.
A BVA poll in September did however show him beating Ms Le Pen with 61 per ent of votes compared with 39 per cent for Ms Le Pen were they to fight off in the presidentials' runoff, while Mr Juppe would score 66 per cent vs the far-right leader.
Until a week ago, Mr Fillon, a social conservative with economically liberal ideas, trailed Mr Juppe and Mr Sarkozy badly in polls and had not been expected to go through to round two of the primaries.
Mr Juppe, a moderate conservative campaigning on an inclusive, "happy identity" platform, had for months been ahead in polls. But over the past week the contest has been transformed into a tight race between the three men.
This is the first time any French party has held a US style presidential primary where any French citizen willing to pay €2 and sign a form saying they are committed to the values of the "centre and the right" could vote in the election.
Mr Sarkozy had attempted to court disenchanted voters who could opt for Ms Le Pen but this strategy seems to have backfired as many are said to have voted in the primary to keep him off the ballot.
Many leftwing voters are thought to have participated in the election - with a significan number voting against Mr Sarkozy.
Turnout was high with around four million people casting ballots, according to a preliminary count.
One voter, Emeline, said: "I am not at all on the Right, I'm very much on the Left and I really want to block Sarkozy and I know that the Left won't get to the second round (of the presidential election) so I just want to stop Sarkozy and Marine Le Pen".
Join our new commenting forum
Join thought-provoking conversations, follow other Independent readers and see their replies