Former French president Nicolas Sarkozy in court as landmark corruption trial begins
Right-wing politician faces up to 10 years imprisonment if convicted
Andy Gregory
Monday 23 November 2020 23:54 Comments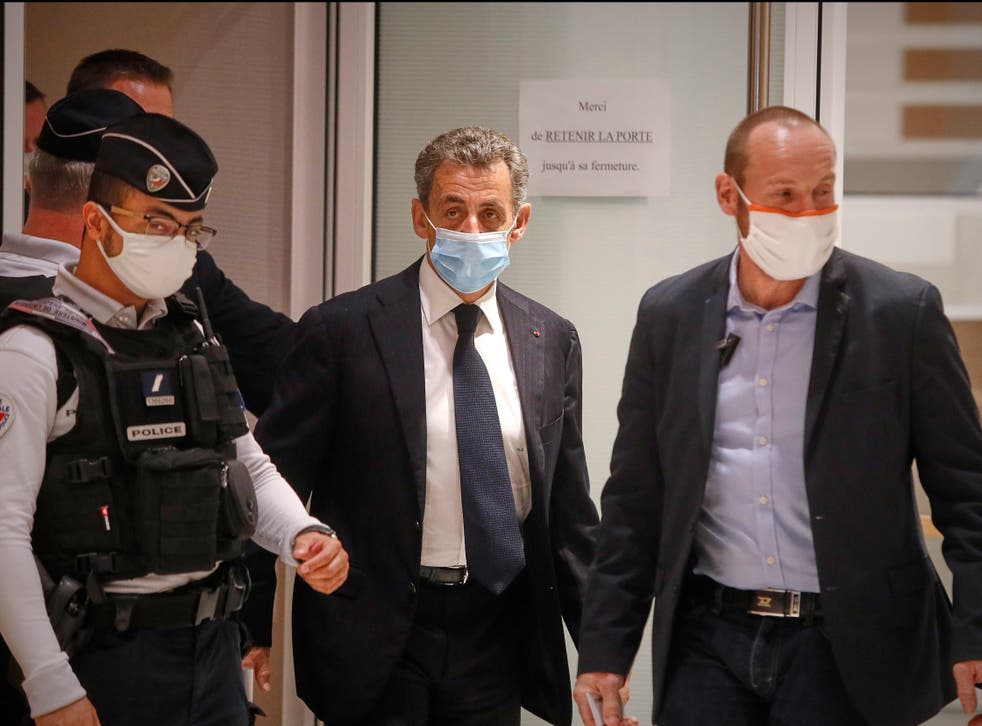 Former French president Nicolas Sarkozy has briefly appeared in the dock to face charges of corruption and influence peddling — but the long-awaited trial was suspended after 30 minutes to assess the health of a co-defendant in light of the coronavirus pandemic.
The 65-year-old politician is standing trial in Paris over accusations that he tried to illegally obtain information from a magistrate about an investigation involving him in 2014.
Mr Sarkozy, his lawyer Thierry Herzog, and magistrate Gilbert Azibert, all face up to 10 years in prison and a fine of €1m (£887,500) if prosecuted. They deny any wrongdoing.
The trial — which is the first to see a French president stand in the dock on corruption charges — began on Monday in the absence of Mr Azibert, whose lawyer called for proceedings to be suspended on health grounds.
The judge agreed to pause the trial until Thursday pending an expert medical report, after Mr Azibert's lawyers argued the pandemic made it too risky for him to travel and appear physically in court.
The trial is the first of several for the influential politician, who has faced multiple judicial investigations since leaving office in 2012 and has sought to have varying charges dropped. He and his centre-right party Les Republicains say the probes are politically motivated.
Mr Sarkozy and Mr Herzog are accused of promising Mr Azibert a job in Monaco in exchange for leaking information about a probe into suspected illegal financing of his 2007 presidential campaign by France's richest woman, L'Oreal heiress Liliane Bettencourt.
From 2013, investigators began wiretapping phone conversations between Mr Sarkozy and Mr Herzog as they delved into allegations of Libyan financing in Mr Sarkozy's 2007 campaign.
The investigators said they had discovered that Mr Sarkozy and Mr Herzog were using secret mobile phones, registered under the alias "Paul Bismuth", in order to have private conversations, as they feared their conversations were being tapped.
Prosecutors have said these wiretaps showed that the pair had on multiple occasions discussed contacting Mr Azibert, a magistrate at France's top criminal appeals court who was well-informed on the Bettencourt inquiry.
They allege that Mr Sarkozy — who ruled from 2007 to 2012 — offered to help Mr Azibert secure the job in Monaco in return for insider help. Mr Sarkozy told BFM TV this month that Mr Azibert never got the job.
Sarkozy accused of using Watergate-style tricks to muzzle the French press

Show all 2
"I don't want things that I didn't do to be held against me. The French need to know ... that I'm not a rotten person," Mr Sarkozy told the broadcaster earlier this month.
The former president has claimed judicial harassment, accusing judges of breaching lawyer-client privilege via wire-tapping.
While the Bettencourt investigation against Mr Sarkozy has been dropped, the corruption and influence peddling charges remain.
Investigative judges consider that as soon as a deal has been offered, it constitutes a criminal offence even if the promises have not been fulfilled.
Mr Sarkozy — who arrived at the court surrounded by his lawyers and bodyguards, in the presence of dozens of journalists — said he was facing the trial in a "combative" mood.
Among the other allegations against his name are the accusations that first led investigators to tap his phone — those concerning the alleged illegal financing of his 2007 campaign by then-Libyan dictator Muammar Gaddafi.
These allegations, which he denies, cast a shadow over his comeback attempt for the 2017 presidential election, and after failing to be chosen as a candidate by his party, he withdrew from active politics.
But he remains arguably the most popular figure with right-wing voters in France in recent years. His memoirs published this summer, The Time Of Storms, was a bestseller for weeks.
The hearings are scheduled to continue until 10 December.
The Paris court has been placed under high security, with the trial coinciding with that of the 2015 attacks at the Charlie Hebdo offices.
Additional reporting by agencies
Register for free to continue reading
Registration is a free and easy way to support our truly independent journalism
By registering, you will also enjoy limited access to Premium articles, exclusive newsletters, commenting, and virtual events with our leading journalists
Already have an account? sign in
Join our new commenting forum
Join thought-provoking conversations, follow other Independent readers and see their replies