Former French president Nicolas Sarkozy convicted over campaign financing and may have to wear electronic tag
It was his second conviction in a year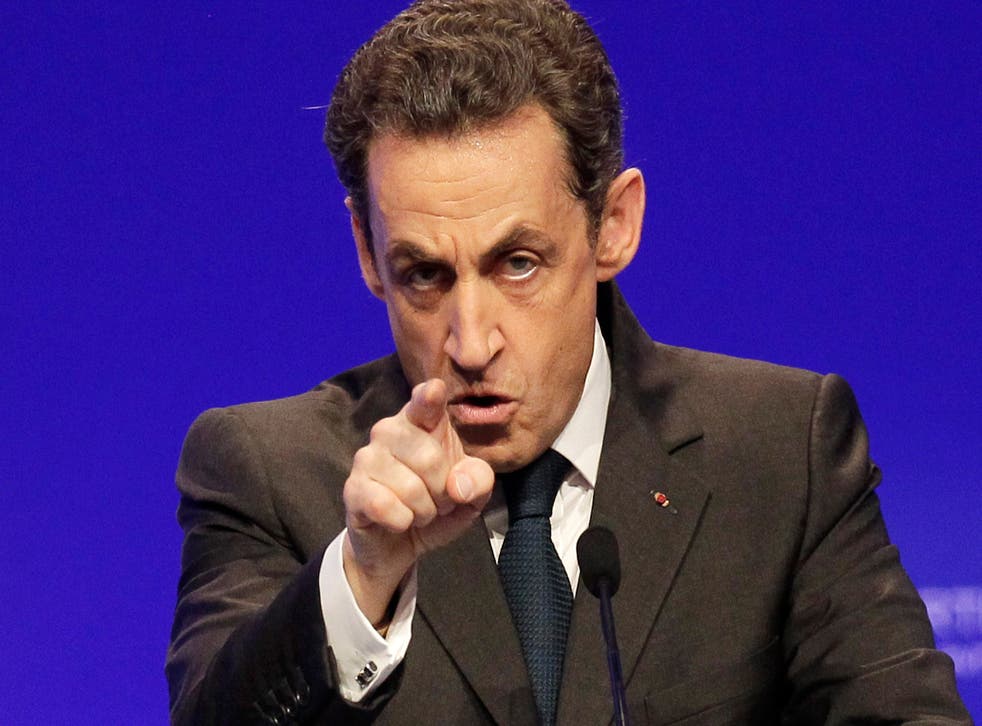 Nicolas Sarkozy could soon suffer the shame of having to wear an electronic ankle bracelet after the French former president was convicted of illegal election campaign financing and sentenced to a year of house arrest.
The sentence came just months after the 66-year-old, who remains an influential figure on the French right, was found guilty of trying to bribe a judge to get confidential information about an ongoing investigation.
He was handed a three-year jail term, two years suspended in that case, but insisted he had done no wrong and has appealed, as he has done on the latest conviction.
Sarkozy, who is married to the former supermodel Carla Bruni, was not present in the Paris court on Thursday to hear the sentence of a one-year prison term that he would be allowed to spend at home wearing an ankle bracelet.
He was found guilty of having spent nearly twice the legal limit of €22.5m (£19.3m) in the 2012 campaign, which in the end he lost to the Socialist candidate François Hollande.
The court said Sarkozy was aware of the cost overrun but had "voluntarily" failed to supervise the expenses being racked up by his Les Republicains conservative party for a series of extravagant US-style election rallies.
Judge Caroline Viguier said Sarkozy, who was president from 2007 to 2012, had continued to hold rallies despite having being warned in writing of the risk of exceeding the maximum limits under electoral law.
"This was not his first campaign, he was an experienced candidate," she said. The party hired a compliant PR agency called Bygmalion – the case has been dubbed "l'affaire Bygmalion" by the French media – to try to hide the real costs of the campaign.
Sarkozy insisted during the trial that he was not involved in the logistics of his campaign to remain in the Elysee for another five years or in how campaign money was spent.
"Can you imagine me going into a meeting to discuss the cost of flags?" he asked the court in June. "I had too much to do."
Sarkozy claimed in 2017 that he had retired from politics, but he has retained a high public profile and is clearly still playing a role behind the scenes.
Conservative candidates jockey for his endorsement in their bid to become their party's candidate in the presidential election next April, which polls say is likely to end with a second round pitting President Emmanuel Macron against the far-right leader Marine Le Pen.
Sarkozy's conviction in March was the first time in modern French history that an ex-president was sentenced to a prison term for something he did during his time in office.
His predecessor Jacques Chirac was found guilty in 2011 of misuse of public money during his time as Paris mayor but was given a suspended prison sentence.
Thirteen co-defendants were on trial alongside Sarkozy in the "Bygmalion" case, including members of his Les Republicains party, accountants and bosses from the PR agency.
They were all found guilty of various charges of complicity in illegal campaign funding, forgery, and fraud, and were given sentences that ranged from suspended jail terms to two years of house arrest with an ankle bracelet.
Sarkozy will not be placed under house arrest while his appeals are ongoing. But he has far more worrying legal troubles to focus on while he awaits the appeal verdicts.
Prosecutors are looking into allegations that the late Libyan dictator Muammar Gaddafi sent him tens of millions of euros in suitcases to secretly and illegally finance his successful 2007 election campaign.
Sarkozy has called those accusations "grotesque".
Register for free to continue reading
Registration is a free and easy way to support our truly independent journalism
By registering, you will also enjoy limited access to Premium articles, exclusive newsletters, commenting, and virtual events with our leading journalists
Already have an account? sign in
Register for free to continue reading
Registration is a free and easy way to support our truly independent journalism
By registering, you will also enjoy limited access to Premium articles, exclusive newsletters, commenting, and virtual events with our leading journalists
Already have an account? sign in
Join our new commenting forum
Join thought-provoking conversations, follow other Independent readers and see their replies