Nigel Farage strikes alliance with far-right MEP who joked about Hitler and beating women
European Parliament groups need members of seven different EU countries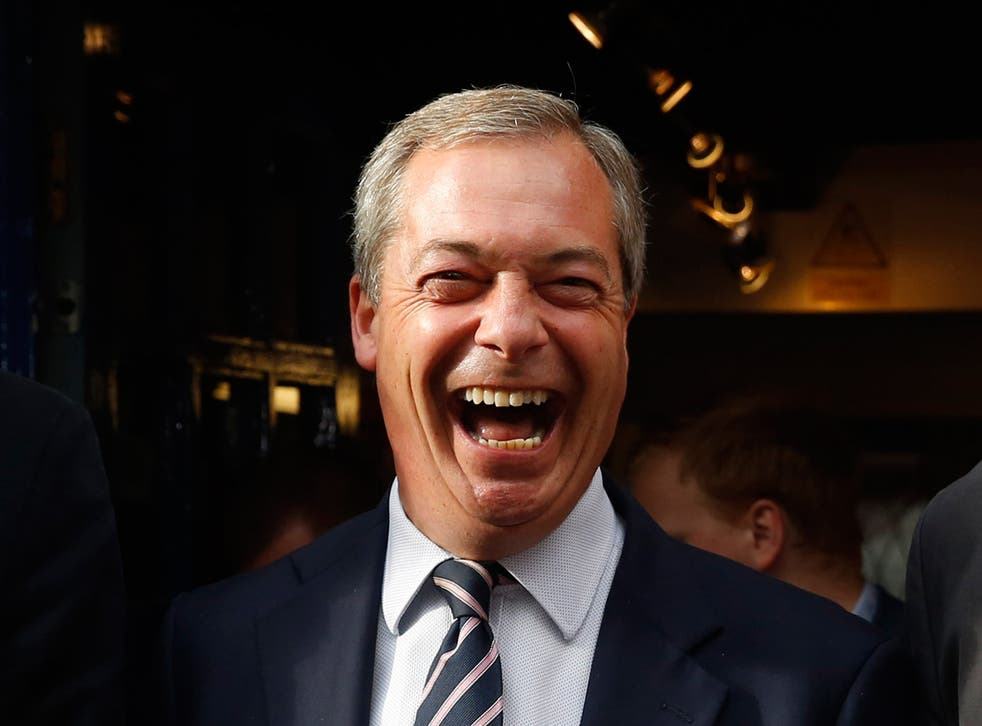 Ukip's chances of holding on to their eurosceptic bloc in European Parliament were saved by controversial Polish right-winger Robert Jaroslaw Iwaszkiewicz yesterday.
The Europe of Freedom and Direct Democracy group, headed by Ukip leader Nigel Farage, suffered a huge blow when MEP Iveta Grigule of the Latvian Farmers' Union quit on Thursday.
As groups need members of seven different EU countries, the EFDD were likely to lose their privileges such as delivering speeches in parliament and access to £1 million funding with the departure of Ms Grigule.
Mr Iwaszkiewicz from the Congress of the New Right (KNP) joined the EFDD which includes Italy's 5-star Movement, and is reported to have said that domestic violence "would help bring wives back down to Earth."
In the same interview, he reportedly added: "If taxes were lower in Hitler's time, and now they're higher, what's wrong with wanting to say so?"
Iwaszkiewicz insisted that he was not "glorifying Hitler", adding that he was "commonly recognised" as "a rascal, a criminal and so on".
KNP founder Janusz Korwin-Mikke was fined last month for using racist language at a debate, caused outrage with comments on the Holocaust and disagreeing with women's right to vote.
He said in 2007: "Women still should not have the right to vote. Just choose any political meeting at random and see how many women are present."
He also reportedly claimed that Hitler would be acquitted from court today as he had no idea that the Nazis were waging atrocities on Jewish people across Europe.
Mr Korwin-Mikke said: "Show me even one sentence of Hitler, that will attest to the fact that he knew about the extermination of the Jews. You will not find [it]."
Ukip's new friend Iwaszkievicz himself defended his party leader, saying Janusz "did not say whether Hitler knew or did not know, only that there is no evidence for this". He added:
However, these statements have not discouraged Mr Farage who said: "The Eurosceptics are now back with a bang."
In pictures: The rise of Ukip

Show all 8
"EU Federalists will be sitting in a corner somewhere slowly rocking muttering the words 'please make the Eurosceptics go away' over and over. We will now make the EU's centralising fanatics regret their short-lived bout of hubris," he added.
Ukip - which makes up half of EFDD with 24 out of 48 members, accused "federalist" parties of pressuring speaker Ms Grigule to leave the group, but these allegations have been denied.
Ms Grigule said she left EFDD as she disagreed with Mr Farage's overpowering leadership and the mistreatment of the group by parliamentary authorities.
The temporary collapse of EFDD was welcomed by other parties including the Conservatives.
A party spokesman had said: "This is further evidence that, as Nigel Farage himself has admitted, Ukip can't change a thing in Europe.
"They stand on the sidelines shouting but have no plan, no influence, and now have no group. It is only the Conservative Party that has a credible plan to reform the EU and then to give the British people a say on our membership, and it is only the Conservative Party that can deliver on this plan."
Register for free to continue reading
Registration is a free and easy way to support our truly independent journalism
By registering, you will also enjoy limited access to Premium articles, exclusive newsletters, commenting, and virtual events with our leading journalists
Already have an account? sign in
Register for free to continue reading
Registration is a free and easy way to support our truly independent journalism
By registering, you will also enjoy limited access to Premium articles, exclusive newsletters, commenting, and virtual events with our leading journalists
Already have an account? sign in
Join our new commenting forum
Join thought-provoking conversations, follow other Independent readers and see their replies