Nikol Pashinyan: Who is Armenia's protest leader and probable next prime minister
Former journalist and permanent revolutionary looks set to achieve a long-time goal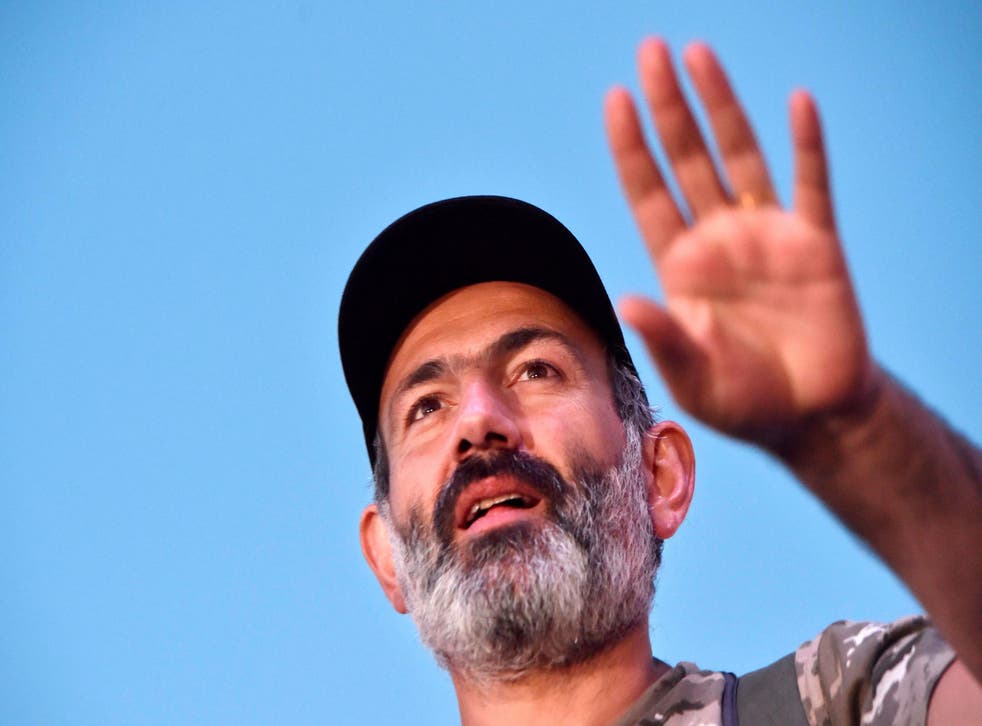 On Thursday, Armenia's popular uprising inched towards a successful conclusion, with the news that the ruling Republican Party would support protest leader Nikol Pashinyan in his bid to become prime minister.
For the camouflage-wearing former journalist and contemporary revolutionary, it completed a remarkable turnaround.
In the space of two months, he had not only stopped the country's longtime president Serzh Sargsyan from becoming a lifetime prime minister – he had also moved the margins of politics to become Armenia's latest messiah, with an apparent ability to control hundreds of thousands.
For those that knew him before, little has changed; instead, the political atmosphere around him has changed. Mr Pashinyan was always a charismatic leader, they say, with unlimited energy, righteousness, and an appreciation for troublemaking.
Born in the regional town of Ijevan near the north-eastern border with Azerbaijan, Mr Pashinyan moved to the capital Yerevan to study journalism in the early 1990s.
He was a straight-A student, one of the brightest in the year, but he never managed to finish his degree. Officially, he was expelled for missing classes, but classmates said he had angered superiors by writing an article, published in a newspaper, alleging corruption.
"He was always for the truth," says Alina Ordyan, who studied with him at Yerevan State University. "Then and now, he believed he was right, and he had the intellect to back it up."
In the late 1990s, Pashinyan became the editor of his own newspaper, Armenian Time. As the country cascaded into authoritarianism over the next decade, his newspaper came to be known as the country's most fearless.
The transition to politics was a natural next step. He began by aligning himself alongside Levon Ter-Petrosyan – Armenia's first president, from 1991-1998 – who was again standing in the February 2008 presidential elections.
Mr Ter-Petrosyan's bid was unsuccessful, and he lost to Republican Party chairman Serzh Sargsyan in a disputed vote.
Pashinyan led protests against it – protests that were only dispersed violently on 1 March, culminating in 10 deaths. The former journalist was forced into hiding for several months.
The shadow of 2008 has loomed large over Armenia's latest uprising. Throughout his campaign to remove Sargsyan from government, Pashinyan has referred to the need for a proper investigation and punishment into the deaths. On 22 April, at a critical crossroads in the revolution, Sargsyan also made an ill-advised reference to the events. He warned the protest leader that he had "not learned the lessons of March 1."
People interpreted that thinly-veiled threat as a confession, says opposition activist Mikayel Hovhannisyan. And it was an easy rallying call.
"People who had never been to a demonstration before came out on street only because of that sentence," he said.
Later that day, a record number of protestors gathered on Yerevan's Republic Square.
Pashinyan, two fellow opposition MPs, and 200 others were removed from the crowd and arrested. But under intense pressure, the very next day, Sargsyan relented, released them and resigned. "Nikol Pashinyan was right. I was wrong," Sargsyan wrote in his dramatic final statement.
Pashinyan, who in the space of a couple of weeks emerged as the undisputed leader of the masses, pushed for the absolute capitulation of Mr Sargsyan's party.
With the power of the street behind him, he had political momentum. But on Tuesday, the ruling Republican Party pushed back by blocking his candidacy for prime minister.
The protest leader responded by orchestrating a national shut-down the very next day. This seems to have quickly changed minds inside the ruling party.
Leading figures in the Republican Party were already conceding defeat when contacted by The Independent on Wednesday morning. One of Pashinyan's leading critics, Armen Ashotyan, vice chair of the Republican Party, contended that it would have been "political hypocrisy" to have supported Mr Pashinyan's candidacy in his initial bid.
Yet, they will now back him, he said, at the second vote, scheduled for this coming Tuesday – but only after "defending the institution of opposition."
Footage from the scene of a major protest in Armenia following transport shutdown
"Pashinyan's main success was choosing the right moment," says political analyst Mikael Zolyan.
His decision to begin the protest at the point where Sargsyan attempted to transition from president to prime minister was a masterstroke, he said: "He knew when to strike – in a power vacuum – and when Sargsyan could give the order to crush, it was already too late."
Pashinyan has also managed to come to power while giving little away on his actual political programme.
In parliament on 1 May, the former journalist said he would not describe himself according to old divisions of left and right, which "no longer worked."
World news in pictures

Show all 50
Some suggest that he has deliberately maintained an opaque vision of any ideology in order to preserve a broad opposition coalition.
But those who know him talk of a liberal at heart, a self-assured populist in practice, and a pragmatic politician when he needs to be.
"He stands for fundamental human values, meritocracy, egalitarianism," says Arsen Kharatyan, one of the seven founders of Pashinyan's Civil Contract Party.
"He's principled, once he makes a decision he never goes back on it – but he has an ability to listen."
The probable future prime minister consults with about 20 voices in his war cabinet, Mr Kharatyan reveals.
"If there isn't consensus, we don't go with it. Yesterday we couldn't agree on whether to close down the banks, so we didn't do it."
Not that any one of them had any doubt Pashinyan has risen, Christ-like, to a position above them all.
"We joke with him about it," says Mr Kharatyan. "When we were preparing him for a speech the other day, we suggested getting him a donkey for his entrance into the crowds."
Join our new commenting forum
Join thought-provoking conversations, follow other Independent readers and see their replies