No, Mas: Spain rejects Catalan call for independence
PM, Mariano Rajoy, had previously warned Catalans not to follow Scotland's example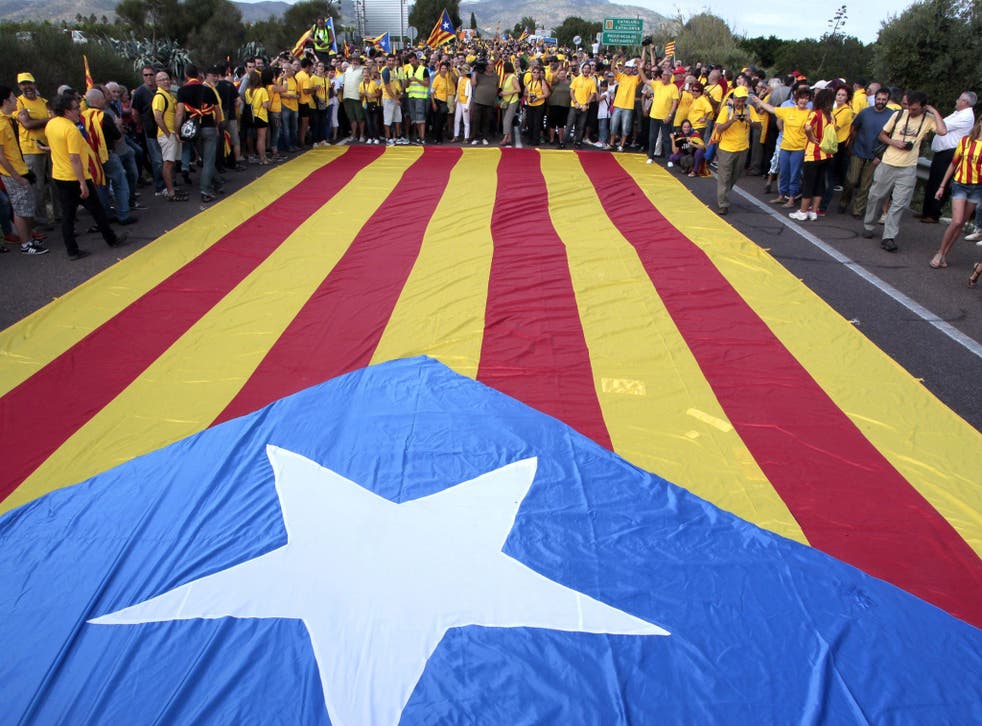 The Spanish government has rejected a call by the country's regional government of Catalonia to hold a referendum on independence next year.
Catalonia's regional President, Artur Mas, announced in the Catalan capital, Barcelona, that the referendum would be set for 9 November, and would ask the region's voters whether they want Catalonia to be a state and, if so, whether the north-eastern region should be independent from Spain.
By asking two questions, Catalonia's coalition partners indicated they had watered down their previous calls for outright independence, unlike in Scotland, where a single question in a referendum on independence in September next year will be asked.
"Everyone who wants a change in Catalonia's political status will be able to vote for that. And everyone who wants that change in status [wants it] to be in the form of an independent state," Mr Mas said on state television.
According to an opinion poll conducted by the Catalan government on 22 November, 54.7 per cent of Catalans would vote for independence, down slightly from 55.6 per cent from a survey in July.
Many Catalans have urged Spain's central government to agree to a referendum, but Madrid has threatened to appeal to the Constitutional Court, which threw out a similar attempt by the Basque Country in 2008 on the grounds that regions cannot conduct binding plebiscites.
When the Scottish First Minister, Alex Salmond, unveiled his blueprint for independence last month, Spain's Prime Minister, Mariano Rajoy, used the occasion to warn Catalans not to follow Scotland's example. "I respect all British decisions but am very sure that a region which were to achieve independence would be outside the European Union," he said.
Mr Mas, however, hoped that there would still be time to smooth over differences with Madrid by 9 November 2014, when the vote is due to be held.
"If the majority of Catalan political representatives and the people remain united, there isn't a Spanish minister or government that can prevent the exercise of democracy," Alfred Bosch, the parliamentary leader of the Republican Left of Catalonia in Madrid, told The Independent. The Catalan government has yet to draw up a road map to independence, though it has set up a Transition Council.
Catalans speak a distinct language and memories are fresh of its being repressed under the long dictatorship of Francisco Franco. They feel they get a raw deal on taxes from the central government, and whereas all of Spain's 17 regions have autonomy, polls show that 70 per cent of Catalans believe they don't have enough of it.
Although moves towards Catalan independence date back to the 1930s, support for it has grown since Spain sank into a deep economic crisis in 2008 and a massive pro-independence rally last year prompted Mr Mas to promise a vote on breaking away.
Register for free to continue reading
Registration is a free and easy way to support our truly independent journalism
By registering, you will also enjoy limited access to Premium articles, exclusive newsletters, commenting, and virtual events with our leading journalists
Already have an account? sign in
Register for free to continue reading
Registration is a free and easy way to support our truly independent journalism
By registering, you will also enjoy limited access to Premium articles, exclusive newsletters, commenting, and virtual events with our leading journalists
Already have an account? sign in
Join our new commenting forum
Join thought-provoking conversations, follow other Independent readers and see their replies