No weed pass, no cannabis, Dutch tell foreigners
A ruling from the EU's top court could mark the end of the Netherlands' welcoming coffee-shop culture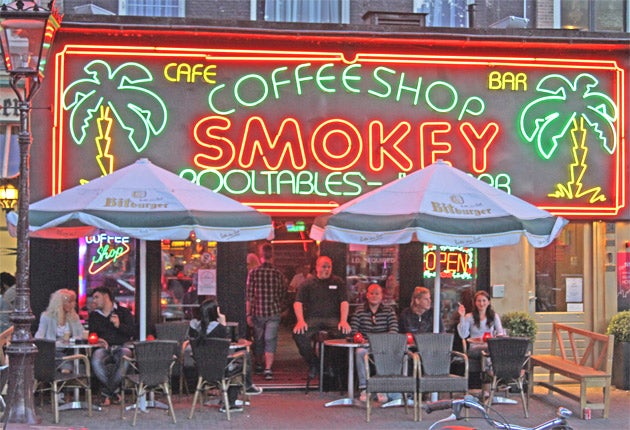 A frozen afternoon in the Dutch city of Maastricht and the winter market on the banks of the river Meuse fills the air with festive aromas of spiced wine, waffles and grilled sausages. It's exactly the kind of attraction that you would expect tourists to flock to. But the stalls are eerily quiet.
In this cobblestoned corner of the Netherlands most international visitors are after a different sort of scent and you don't have to walk far to find it.
Just behind the market, a few hundred yards back from the riverbank, is Easy Going Coffee Shop, one of 14 premises in a town of 120,000 that are licensed to sell cannabis. Even in the middle of the week business is booming as a long line of day trippers queue up to buy bags with names like Amnesia, Pollem Gold and White Widow.
For more than thirty years tourists have flocked to the Netherlands to indulge in a legal high courtesy of the country's famously soft stance on weed. An estimated two million Britons alone visit Amsterdam each year with hundreds of thousands peeling off to sample some of the pungent goods inside one of the city's ubiquitous coffeeshops. Small border cities, meanwhile, can expect as many as three quarters of their regulars to be foreign. Maastricht – a southern offshoot of the Netherlands sandwiched between Belgium and Germany – receives an astonishing 2.1million drug tourists a year.
But the free-wheeling dope days may soon be over for British visitors if the Netherlands' new centre-right coalition government has its way. Following growing complaints over rising crime in the country's border towns – and a string of recent drug-related shootings in the south – the Dutch government has signaled its intention to ban foreigners from buying cannabis altogether.
Tomorrow [THURS], following a request for advise from the Holland's highest court, the European Court of Justice will decide whether such a ban contravenes European law, where free trade rules forbid discriminating against purchasers on grounds of nationality.
Confident of a favourable verdict stating that drugs are not subject to the same rules as legal goods, Justice and Security Minister Ivo Opstelten has already announced a plan to turn the country's 700 coffeehouses into private members clubs, effectively making them out of bounds for foreigners.
Coffeshop owners say they'll fight such moves in the courts and warn that any further attempt to crack down on the legal sale of cannabis will simply force people into the hands of criminals.
"People have been using drugs for 5,000 years and they will continue to do so," says Marc Josemans, the 50-year-old owner of Easy Going Coffee Shop who is leading an ongoing court challenge against any bans on foreigners buying cannabis. "The question is do you want people to use a soft drug like cannabis in a controlled environment where the whole system is transparent, or do you want to increase the repression and force people to buy from criminal networks where hard and soft drugs are sold in the same room?"
Under the proposed legislation, only those with a registered "wietpassen" (weed pass) would be allowed to buy cannabis in what has been touted as the most radical attempt to overturn the Dutch cannabis laws in decades.
"Of course tourists are welcome to visit the Netherlands but not only to visit the coffee shops," Mr Opselten said recently. "In the near future, if we work out the processes, the coffee shops will not be accessible to tourists."
For day trippers like David and Patrick, two British students currently studying in Belgium, the "weed pass" would mean no more trips across the border to smuggle stocks back to their student digs.
"It would change the entire way I view Holland," said David, who declined to give his second name. "It would turn back all the progressive work the Dutch have done on drugs," added Patrick. "Pot tourists don't do anything wrong and if they ban it, we'll simply have to buy from regular dealers back in Belgium".
The debate over drugs in the Netherlands has often swung between full legalisation and an outright ban but in the past ten years the winds have been blowing against the coffeeshop owners with the number of licensed premises dropping from 1200 to less than 700 today amid increasingly strict licensing rules.
Coffeeshops like Easy Going, for instance, already take a digital copy of all their customers' IDs and store them for 48 hours (the Netherlands has strict privacy laws restricting how long CCTV images can be kept for).
But following a spate of drug-related murders last month the current government – a rickety coalition between two centre-right parties and Geert Wilders' staunchly anti-immigrant PVV – is pushing ahead with its plans to bring in a pass system.
The drug violence stems from the peculiarly grey status of cannabis in Dutch law. Contrary to popular belief, pot is not legal in the Netherlands – only the sale of no more than five grammes of cannabis through licensed coffeeshops is.
The production of cannabis itself is still forbidden, leaving the country in a bizarre legal limbo where coffeeshop owners are forced to buy from the same criminal networks that supply the hard drug market – a market that some are all too willing to fight over with guns.
Last month violence erupted across Brabant, a densely populated southern state and a traditional heartland for cannabis growers. In the space of little more than three weeks two people from Eindhoven were shot dead in alleged drug hits (one of the victims' bodies was found in the trunk of a burnt out Mercedes, the other was shot in the head eight times). A surburban house was also sprayed with more than 100 bullets.
In nearby Helmond a new coffeeshop was gutted in a grenade attack whilst Jacob Fons, the town's mayor, has gone into hiding because of death threats.
"He has been threatened in such a manner that he can no longer live in his house and has to have a bodyguard to keep him safe," said Johan Beelen, Mr Fons press secretary, when the Independent tried to contact him. "You can't meet him".
Although some coffeeshop owners say those killed were involved in the hard drugs trade, not cannabis production, the police in Brabant are convinced there's a direct connection to the pot market.
"We are under the impression that [the recent violence] is about cannabis because cannabis is hot stuff at the moment," says Henri van Pinxteren, a spokesman for Brabant's police force. "A lot of cannabis is grown in the area and it's not just for the Dutch market. It goes out to France, Germany, Belgium and the UK. It's a profitable business for criminals and they fight over it."
The government's answer has been to fast track weed passes for the Brabant area as a test case to see whether the system can be rolled out across the country. Only those registered locally will be allowed to buy cannabis meaning anyone from out of town – including foreigners – will be refused entry.
The government says the passes will help police get a grip on drug crime. But critics say such measures will do little to curb the violence and will force people further into the arms of the criminal gangs that are behind the shootings.
"Around 75% of towns and villages in the Netherlands have no coffeeshops and people have to travel to the larger towns to find one," says Nicole Maalste, a criminologist at the University of Tilburg who has written extensively on the drugs in the Netherlands. "If you start bringing in a system where you only allow locals to access the coffeeshops what will happen to that 75%? They will have no choice but to go to the criminal backdoor networks."
Banning sales to foreigners, meanwhile, might halt some of the traffic and crime problems in the border towns, but it would also deprive such areas of a major source of revenue in difficult economic times. An independent study in Maastricht commissioned by the coffeshops estimated that "drug tourists" bring in 141m euros a year. "That's the spend outside of the coffeeshops," says Mr Josemans. "It doesn't even include the money they spend in here."
Sitting in the office above his coffeeshop, a joint in had, Mr Josemans knows he has a fight on his hands. "Politicians have come at us before, but never like this," he says. "I just hope they're thinking about the long term future. Not just looking for a quick way to win quick votes".
Join our commenting forum
Join thought-provoking conversations, follow other Independent readers and see their replies