Norman Atlantic ferry fire: One killed and hundreds still trapped as passengers are airlifted from burning Greece-Italy boat
Two Britons on board taken to safety as rescue operation continues
Nathalie Savaricas
,
Chris Green
Sunday 28 December 2014 08:43 Comments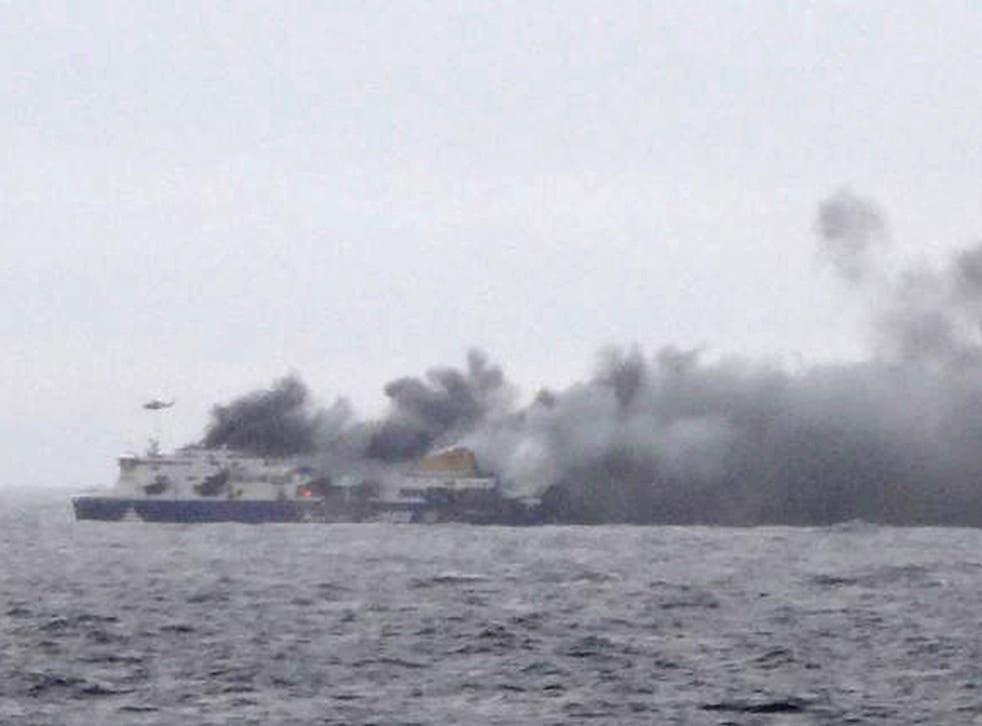 Rescue workers are battling to airlift passengers off a burning ferry adrift in the Adriatic Sea. Italian and Greek helicopter crews contended with darkness and bad weather to pluck passengers off the Italian-flagged Norman Atlantic and transfer them to a nearby vessel, after a dramatic day that began when a fire broke out on its lower deck in the early hours.
Authorities confirmed that one Greek man had died and there were reports that a further four people had been injured. As night fell hundreds of people remained trapped on board the burning vessel off the Greek island of Corfu, with rescuers frantically struggling to reach them amid gale-force winds and lashing rain. On Sunday evening Italian authorities said 190 people of the 478 people had been evacuated.
Two Britons were among the 422 passengers and 56 crew members on board the vessel, travelling from Patras in Greece to Ancona in Italy. A fire broke out on the car deck shortly after the ferry left the port of Igoumenitsa on Sunday morning, spreading rapidly through the ship.
Nick Channing-Williams, 37, was one of the Britons rescued. His mother Dotty said he was taking a trip with his 33-year-old Greek fiancee Regina Theoffili. She said she had spoken to him over the phone after the fire broke out, but had since lost contact.
"People in Greece are saying that their communications have been cut off, so as not to hamper rescue operations which I can fully understand," she told Sky News. "It is very, very worrying and very scary." When she spoke to her son he had been awaiting rescue on the ferry's top deck for seven hours "in the rain and thunder and lightning", she added.
Mrs Channing-Williams said her son, a competitive show jumper, had initially delayed calling her because he did not want her to worry. "He said, 'I'm afraid I don't have a car any more, and I don't have your iPad any more.' I said don't worry about that, are you going to be able to get off that ferry? And he said 'Mum, I don't know'."
Susan Daltas said her daughter Mia, a British national, and two granddaughters had been rescued.
"I've heard recently from Marcus, our son-in-law, who kept the phone, that they've been airlifted to safety - the two little girls and Mia. But he's still on the ferry, as far as we understand," Mrs Daltas told the BBC.
"They sent the two girls quite a long time before Mia, which worried us a little because they're too young to be without their mother, especially after all that worry and fright. They must be terrified."
She said her youngest granddaughter had been taken to a mainland hospital.
In pictures: Norman Atlantic ferry fire

Show all 20
"She was suffering from hypothermia because they didn't even manage to get a coat out of the cabin before they had to go on deck. But apparently she's now sleeping," she said.
Of her son-in-law, Mrs Daltas said: "He was shaken, obviously, but I think he'd been staying strong for the family, and the minute they were safe he went a bit wobbly. It's just cold, and he said his mobile was soaking wet because they had to keep moving around the boat to get away from the fire. So it's obviously not pleasant."
Passengers still awaiting rescue described harrowing scenes as the burning ship continued to be rocked by heavy storms. "The ship is still burning. The floors are scorching hot. We are choking from the fumes... we are drenched and shaking," passenger Giorgos Styliaras told a local television station.
Five military helicopters, two planes and eight ships were dispatched to help with the effort, but passengers feared the terrible weather would foil their rescue. "We're burning and we're sinking. No one can save us," said Nikos Papatheodossiou. "They can't reach our ship and fire is expanding: help, help, we're asking for help."
Another passenger told Greek television station Mega: "On the lower deck, where the lifeboats are, our shoes were starting to melt from the heat."
Officials said the ferry was 44 nautical miles northwest of the island of Corfu when it issued a distress call. Hours later, the Italian captain said the ship was drifting towards the Albanian coast and that the crew had managed to contain the blaze.
Italian Prime Minister Matteo Renzi said he was in touch with his Greek counterpart Antonis Samaras. "We're working on saving all the passengers and we're trying to ensure that no-one, no-one, will be left without help during this difficult situation," said Greece's Merchant Marine ministry Militadis Varvitsiotis. "It is one of the most complicated rescue operations we've ever had to deal with."
PA contributed to this report
Register for free to continue reading
Registration is a free and easy way to support our truly independent journalism
By registering, you will also enjoy limited access to Premium articles, exclusive newsletters, commenting, and virtual events with our leading journalists
Already have an account? sign in
Join our new commenting forum
Join thought-provoking conversations, follow other Independent readers and see their replies