Normandy church attack: French media bans terrorists' names and photos to stop 'glorification'
France's most-watched television network is among those banning names from its coverage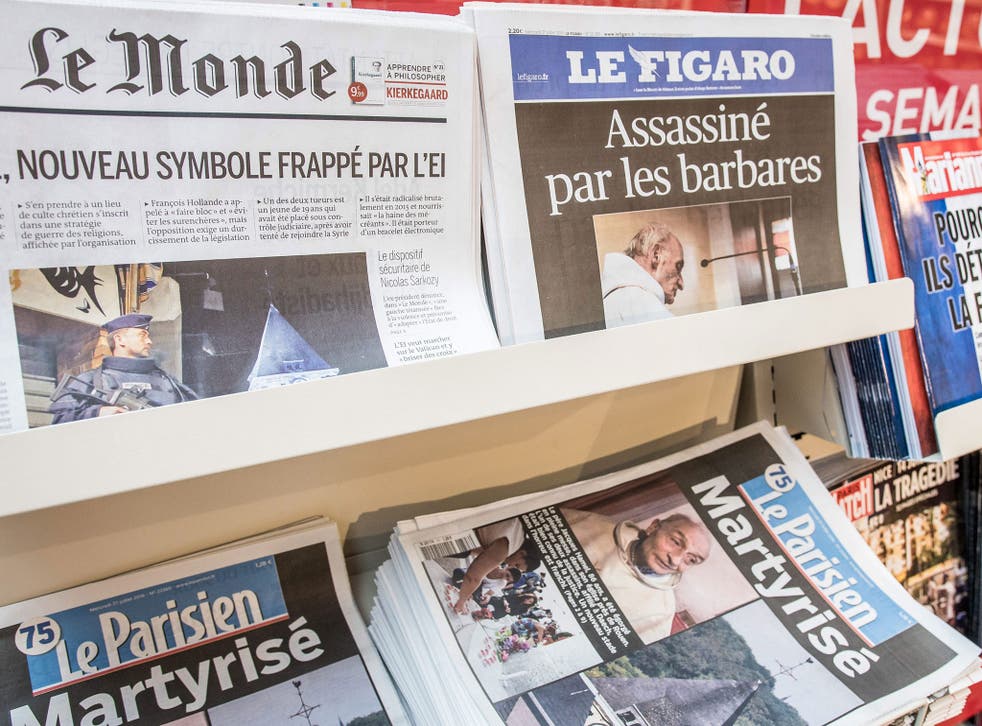 Some of France's largest and most respected news outlets are refusing to publish the names and photos of terrorists in a campaign against "glorification" amid a wave of Isis-inspired attacks.
An editorial in Le Monde said debates would continue over its coverage as the fight against online radicalisation continued.
"This battle…concerns all of society, particularly those that constitute our media landscape, reshaped by the digital revolution," the newspaper said.
France: Priest killed in ISIL-linked attack on church
"We (previously) decided to stop publishing images extracted from propaganda documents or Isis' claims. Following the Nice attack, we will no longer publish photographs of the authors of atrocities, to avoid the eventual effects of posthumous glorification."
The decision was announced the day after the Normandy attack, where two teenage Isis supporters murdered a priest in a Catholic church where they had taken nuns and members of the congregation hostage.
The latest in a growing list of atrocities on French soil, it once again provoked debate on the radicalisation of young French Muslims and the dissemination of extremist material and propaganda.
BFMTV, France's most-watched news network, announced a ban on photos of terrorists on Wednesday afternoon – starting with church killers Adel Kermiche and Abdel Malik Petitjean.
"Can the media's use of images of bombers influence possible jihadists and drive them to take action?" the broadcaster asked.
Normandy church attack in pictures

Show all 16
Alexis Delahousse, BFMTV's deputy managing editor, said the broadcaster does not want to "create a rogue's gallery of terrorists" but would still publish photos of suspects at the request of security services for appeals.
The Europe 1 radio network was also among prominent media outlets taking a similar stance, banning photos and names.
Multilingual news website The Local has stopped publishing suspects' images, while La Croix has decided to only use first names.
But not all outlets are taking the same stance. France 24 journalist Wassim Nasr, a specialist in jihadism, told L'Express that if news sites do not publish information on terrorists "we leave the space free for others to fill".
"It will quickly be occupied by conspiracy theorists and Islamic State and their dangerous communications," he said, suggesting that more people could be driven directly to online propaganda and arguing that few extremists read the "mainstream media".
A petition was launched following the Nice attack, where a Tunisian man killed 84 people by driving a lorry into crowds celebrating Bastille Day on 14 July, calling for terrorists to be anonymised in the French media.
More than 100,000 people have backed the letter to the country's media watchdog (CSA) to stop Mohamed Lahouaiej-Bouhlel and other killers being turned into "super-stars" by excessive coverage.
"I am launching an appeal to the national media: stop spreading the identity of terrorists!" the author wrote. "It does nothing other than to give authors of these massacres notoriety beyond the grave."
The growing consensus in the French media is at odds with standard procedure by security services, the judiciary and politicians, who swiftly name attackers when their identities are confirmed.
Refusal to publish the information is expected to fuel unsubstantiated right-wing conspiracy theories over supposed plots to mask the Islamist nature of some attacks.
Marion Le Pen, a politician from the far-right Front National and granddaughter of its founder, swiftly accused the media of attempting to "hide the link with immigration" on Wednesday.

Join our new commenting forum
Join thought-provoking conversations, follow other Independent readers and see their replies