North Korea embassy in Madrid 'raided by mystery assailants who gagged staff before escaping with stolen computers'
Woman reportedly screaming in Korean escaped, prompting residents to call police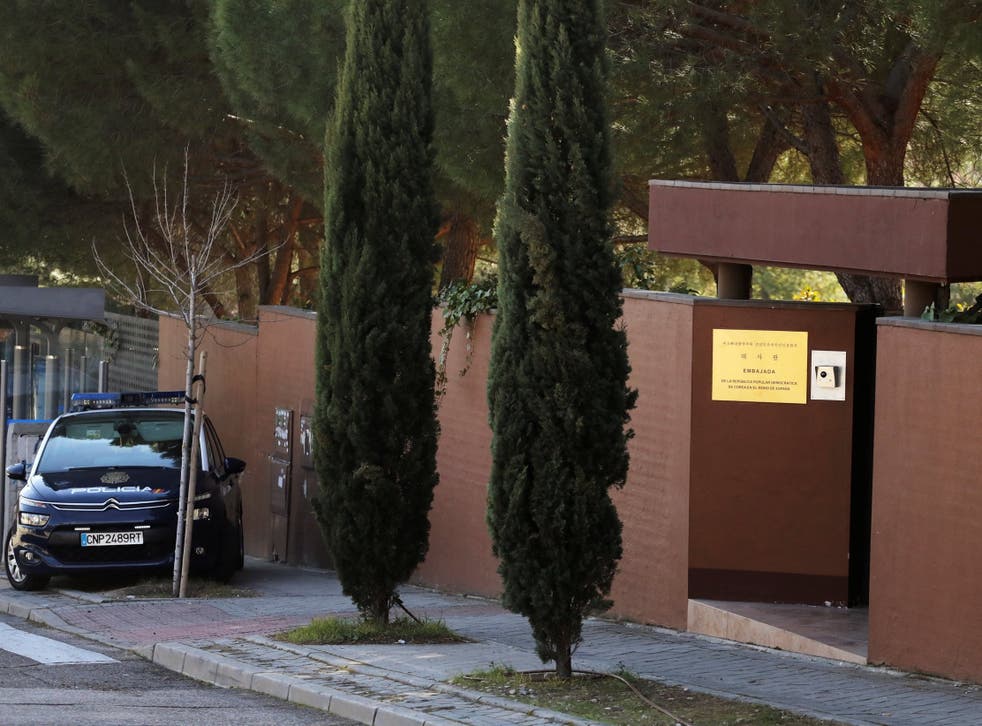 A group of men entered North Korea's embassy in Madrid, bound and gagged staff, before driving off with stolen mobile phones and computers, Spanish media has reported.
The Interior Ministry said no one had filed a complaint, despite the fact a North Korean citizen was injured in the incident last week.
Nevertheless Spanish police are investigating after El Confidencial reported a woman escaped the embassy last Friday screaming in Korean, prompting residents nearby to call police.
After she reportedly revealed staff were tied up and gagged, officers knocked on the door to investigate, but were met by a man who told them everything was fine.
Soon after, two cars left the compound at high speed, one of them carrying the man who had answered the door. Police did not enter the building, but staff walked out soon after the incident.
North Korea's pervasive leaders: the Kim portraits

Show all 16
El Confidencial said the assailants removed computers belonging to various staff members, and that police were trying to find out what information they might have contained, and what else might be missing.
A National Police spokesman confirmed that its officers assisted a North Korean woman with unspecified injuries. The spokesman, who wasn't authorised to be named in media reports, declined to comment further.
An Interior Ministry official who was also bound by customary rules of anonymity said the incident was "under investigation" and noted North Korean authorities had not filed any official complaint.
Alejandro Cao de Benos, an aide to the North Korean government who takes media, business and other visitors to the secluded country, said he had spoken to embassy staff who had told him the assailants had taken computers and cellphones before escaping.
"What I can say, the part of it that I'm sure about, is that this was a robbery," said Mr Cao de Benos, who also heads the Korean Friendship Association based out of Spain. "I don't have any other detailed information at the moment on what could have been the motive."
Kim Jong-un's sister forced to hold crystal ashtray whil North Korean dictator smokes in Vietnam
An official with Spain's foreign ministry said the government had no comment, and that the issue was a police matter. The official, speaking anonymously in line with internal rules, said authorities had been in touch over the incident with the only diplomat of North Korea's embassy, Charge d'Affaires So Yun Sok.
Kim Hyok Chol was ambassador to Spain until September 2017, when the Spanish government expelled him and another diplomat following Pyongyang's round of nuclear tests and missile launches over neighbouring Japan.
Mr Kim has since become a close aide to North Korean leader Kim Jong-un.
Additional reporting by agencies
Register for free to continue reading
Registration is a free and easy way to support our truly independent journalism
By registering, you will also enjoy limited access to Premium articles, exclusive newsletters, commenting, and virtual events with our leading journalists
Already have an account? sign in
Register for free to continue reading
Registration is a free and easy way to support our truly independent journalism
By registering, you will also enjoy limited access to Premium articles, exclusive newsletters, commenting, and virtual events with our leading journalists
Already have an account? sign in
Join our new commenting forum
Join thought-provoking conversations, follow other Independent readers and see their replies