Norway's immigration minister jumps in the Aegean Sea for 'very special' recreation of refugee rescue
The stunt was widely criticised in Norway but Sylvi Listhaug said she wanted to recognise rescuers' work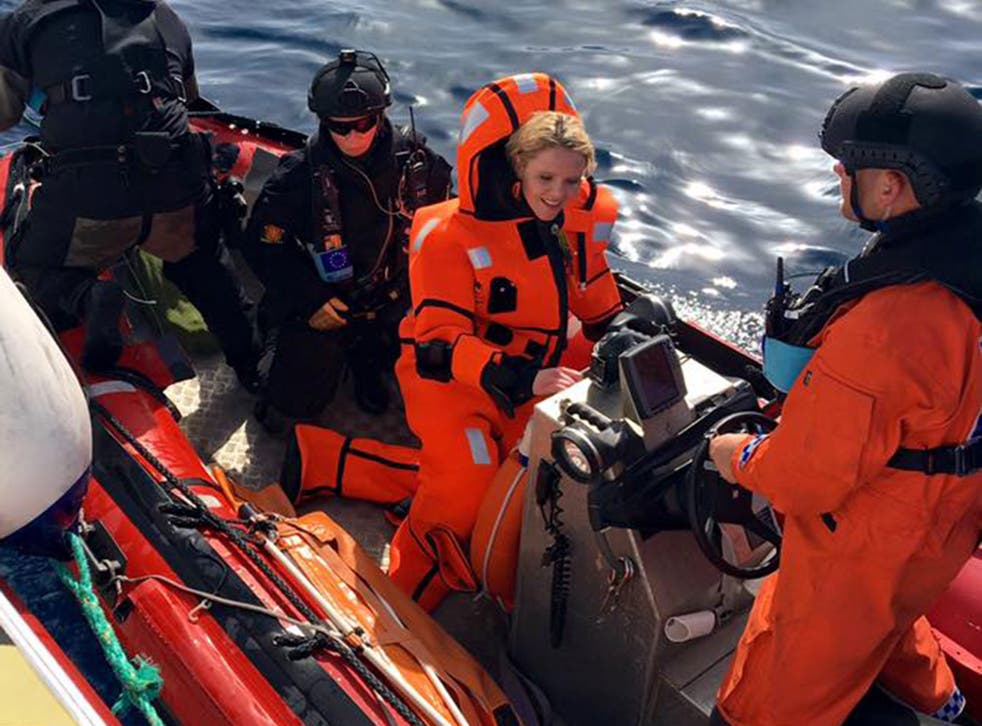 Norway's immigration minister has jumped into the Aegean Sea and been "rescued" in what she said was an effort to understand the experience of refugees.
Sylvi Listhaug donned a floatation suit before she entered the water off the coast of the Greek island of Lesbos on Tuesday, floating for several minutes before being hauled into a lifeboat.
More than 760 refugees and migrants have drowned so far this year in desperate attempts to cross to Greece and Italy, according to the latest United Nations figures.
Greece begins deporting refugees to Turkey under EU plan
Ms Listhaug described the experience of the mock rescue as "very special" while acknowledging the work of Norwegian rescue teams.
"It was very special, although of course it is a completely different experience when you are wearing a survival suit," she told the Dagbladet newspaper.
"It must be absolutely terrible [for refugees], and one thing I'm concerned with is the cynical people who sell lifejackets that help pull them down into the water instead of saving them. That is impossible for me to understand.
"I think it's crucial that we continue to rescue people both here and in the Mediterranean."
One commenter on her official Facebook page called the stunt "incredibly bad judgement and an affront to migrants".
Ms Listhaug, from the conservative Progress Party, responded by saying she was invited by the Norwegian Society for Sea Rescue to see their work and was "incredibly impressed".
Other critics ridiculed the minister's attempt to empathise with refugees, with one quipping: "Tonight I'll sleep with the window open to feel what it's like to be homeless."
Twitter users were also largely unimpressed by Ms Listhaug's experiment, calling it "shameless" and "embarrassing".
The boat that rescued her was deployed in the Aegean last year by the Norwegian government as part of the Operation Poseidon mission run by the Frontex border agency.
Describing her trip to Lesbos, the immigration minister said she also visited detention centres implemented on the island as part of the EU-Turkey deal and met refugees.
"The conditions there are difficult and Norway is contributing as best we can to improve them," Ms Listhaug wrote.
"We must keep a warm heart and a cool head," she added, calling for a sustainable asylum policy as European nations continue to close their borders to refugees.
In pictures: Refugees on the Greek island of Lesbos

Show all 12
The Pope and Angelina Jolie are among other high profile visitors to Lesbos, which has seen the most arrivals out of any island in Europe during the refugee crisis.
Under new rules implemented last month, anyone arriving clandestinely is detained and will be returned to Turkey unless they successfully apply for asylum in Greece.
For every Syrian sent back, the EU will take another Syrian directly from Turkey for resettlement in Europe, but there is no such measure for other nationalities making up more than half of those arriving.
Join our new commenting forum
Join thought-provoking conversations, follow other Independent readers and see their replies