Violent scenes break out in France as tens of thousands protest controversial labour reform
Police fired tear gas at a crowd of thousands in Paris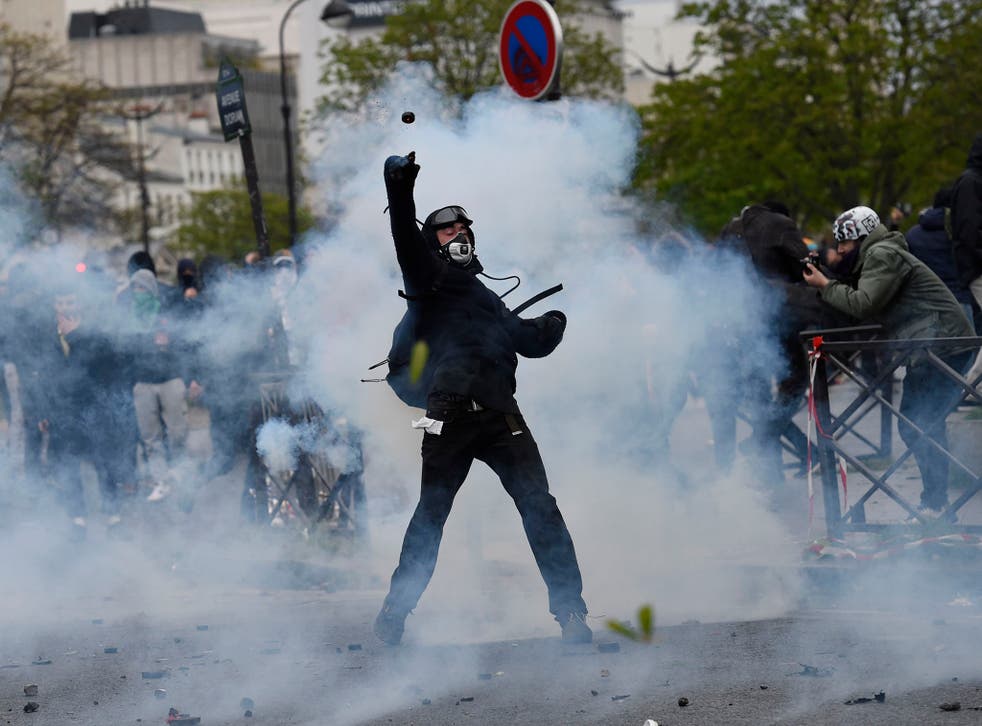 Violent scenes broke out in France as more than 200 protests against the government's controversial labour reforms took place across the country.
Police fired tear gas at a crowd of around 30,000 protesters in Paris, while at least 22 activists were wounded in Rennes, and several thousand were seen on the streets of Marseille. Large demonstrations were also observed in Toulouse and Montpellier. French authorities said they made 26 arrests and estimated there to be 120,000 protesters, but unions put the number across the country closer to 200,000.
Dozens of masked protesters threw objects including bottles, sticks and firecrackers, at riot police in the Place de la Nation in Paris. According to Le Monde, police were confiscating all political signs and banners. Paris police said three officers were injured during the clashes.
The reforms would eliminate the country's current labour laws and put them up for negotiation with employers, with the country's 35-hour week also not exempt. Unions have reacted with fury, and led protests alongside youth and student organisations.
It is the sixth strike since the movement kicked off on 9 March, with organisers planning another for 28 April and Labour Day on 1 May. According to unions, around 1.2 million people turned out to protest across the country on 31 March, with 160,000 people protesting in Paris.
The "Nuit Debout", or Up All Night, movement in Paris and other major French cities, which opposes the changes, has been likened to Occupy Wall Street protests in New York and the Indignados movement in Spain.
More than a thousand people have gathered at Place de la République in Paris each night calling for a significant reform of the current global economic system.
It is a sign of mounting pressure on François Hollande's Socialist party who have already been forced to backtrack over plans to revoke the citizenship of nationals convicted of terrorism.
Register for free to continue reading
Registration is a free and easy way to support our truly independent journalism
By registering, you will also enjoy limited access to Premium articles, exclusive newsletters, commenting, and virtual events with our leading journalists
Already have an account? sign in
Register for free to continue reading
Registration is a free and easy way to support our truly independent journalism
By registering, you will also enjoy limited access to Premium articles, exclusive newsletters, commenting, and virtual events with our leading journalists
Already have an account? sign in
Join our new commenting forum
Join thought-provoking conversations, follow other Independent readers and see their replies