Oktoberfest bomb inquiry: Severed hand may prove 1980 attack was carried out by neo-Nazis and not a lone wolf
New evidence leads to claims of political cover-up during original investigation into Germany's deadliest post-war terrorist incident
Tony Paterson
Wednesday 04 February 2015 19:15 Comments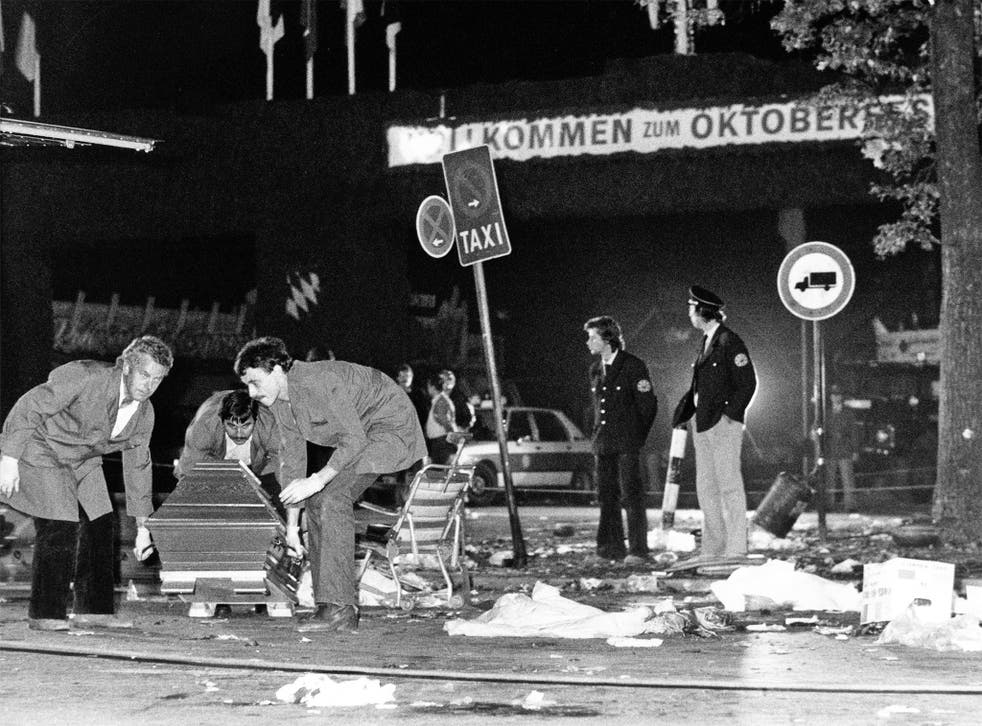 New evidence surrounding a mystery "severed hand" found at the site of Munich's infamous far-right bomb attack at the Oktoberfest in 1980 has raised suspicions that a political cover-up stifled the investigation into Germany's deadliest post-war terrorist incident.
The annual Munich beer festival rates as Germany's most popular tourist attraction, attracting six million visitors each autumn. But shortly after 10pm on 26 September 1980, a massive nail bomb ripped through the crowd pouring out of an exit gate, killing 13 people instantly and badly injuring more than 200 others.
Police called off a hunt for other perpetrators after concluding that the bomb was planted by Gundolf Köhler – a 21-year-old geology student and right-wing extremist who was himself killed in the explosion – acted alone.
Until late last year, Germany's federal prosecutors had stuck rigidly to the outcome of that investigation. But growing concern about a potential cover-up prompted federal prosecutors to reopen the case in late 2014.
Now, fresh evidence has emerged which strongly suggests that Köhler did not act alone, but was instead part of an organised gang of right-wing extremists whose other members subsequently escaped police detection and fled Germany. The new evidence centres on a severed and badly mutilated hand, which a policeman found lying in the mud near the scene on the night of the bombing. At the time, investigators quickly concluded that the hand could only have belonged to Köhler – although none of its fingerprints were found in the car used by the student to travel to the beer festival. The only such fingerprints were found in Köhler's flat.
But Germany's ARD television channel broadcast testimony from a new and hitherto unheard witness which suggested that the hand may not have belonged to Köhler at all but rather to a possible second bomber. An unnamed nurse told ARD that shortly after the Munich bombing she recalled treating a young man whose lower arm was missing.
"The arm had been injured by an explosion and had to be amputated," the nurse told ARD. "But he wouldn't say how he got hurt – he was proud of it. I went into his room and he was smiling all over.
She said he was never visited by his parents but only by "groups of men", and added: "He disappeared after a week without even having his stitches removed."
Ulrich Chaussy, the journalist behind the ARD documentary, has suspected irregularities in the Oktoberfest attack investigation for decades. He has long-believed that the severed hand, which was destroyed by federal prosecutors in 1987, did not belong to Köhler
Mr Chaussy points out that the bombing occurred only weeks before Germany's October 1980 general election when the then right-wing conservative Bavarian Prime Minister, Franz Josef Strauss, was trying to fulfil his life's ambition and replace the Social Democrat, Helmut Schmidt, as German Chancellor.
He claims to have evidence that during the crucial pre-election phase, Strauss deeply feared the likelihood of embarrassing charges that he had failed to clamp down on the activities of a major right-wing extremist group, and preferred to pin the attack on a lone and potentially deeply misguided geology student.
Mr Chaussy maintains that Strauss – who died in 1988 – initially instructed investigators to cover up the fact that the bombing was linked to a militant neo-Nazi organisations called Defence Sports Group Hoffmann, six of whose members were briefly detained after the attack but never charged.
The formal investigation into the bomb attack was stopped in 1982. Mr Chaussy's investigations prompted the case to be reopened in December last year.
"As the evidence mounts, the lone attacker theory is crumbling," he told Bild newspaper.
Register for free to continue reading
Registration is a free and easy way to support our truly independent journalism
By registering, you will also enjoy limited access to Premium articles, exclusive newsletters, commenting, and virtual events with our leading journalists
Already have an account? sign in
Join our new commenting forum
Join thought-provoking conversations, follow other Independent readers and see their replies