Oktoberfest opens with huge security presence due to high terror risk
Things got off to a good start on Saturday but 'high abstract danger' of an attack at the 17-day event has meant that festival-goers have been subject to increased security checks
Saturday 17 September 2016 23:18
Comments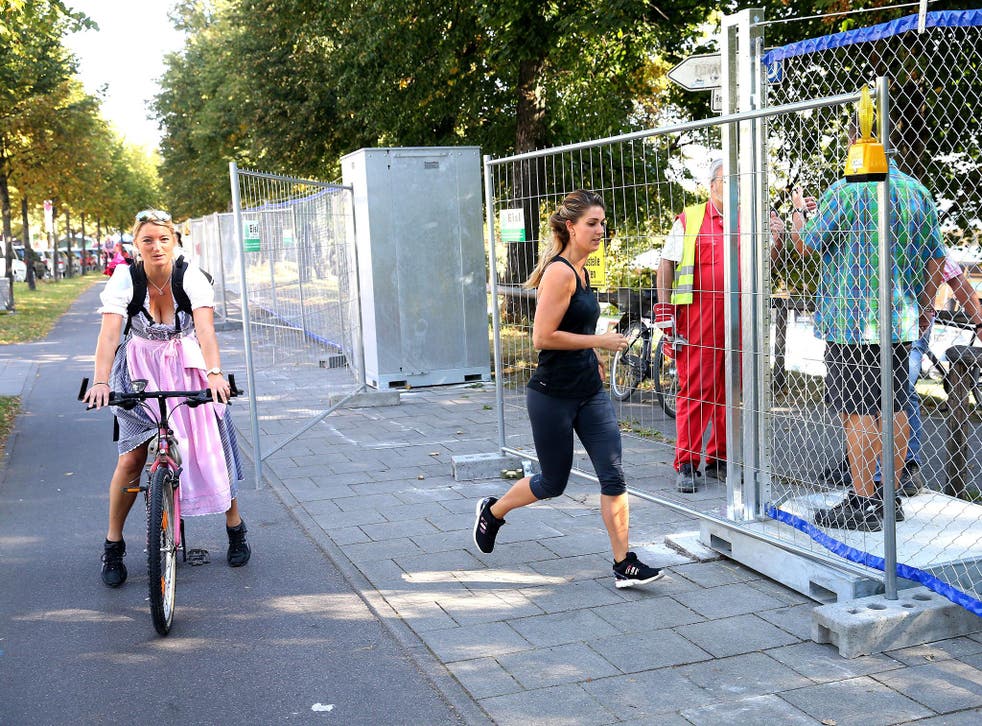 Heavy rain and stricter security in the wake of terror attacks in Germany did little to dampen the spirits of beer lovers at the start of this year's Oktoberfest, which opened on Saturday in the Bavarian city of Munich. Mayor Dieter Reiter tapped the first keg at noon with a respectable two strikes to the approval of thousands of visitors gathered in one of 14 vast tents on Theresienwiese fairground.
Responding to a series of attacks in recent months, authorities decided to erect a metal fence, ban large bags, install more surveillance cameras and make visitors go through security checks to enter the festival grounds.
But German Chancellor Angela Merkel's Bavarian allies accused the Federal Migration Office on Saturday of severe security flaws, saying its officials were not detecting forged passports when checking the identity of refugees.
Merkel's decision a year ago to keep German borders open for refugees has hit her popularity, causing a rift between her Christian Democratic Union (CDU) and the Bavarian sister party, the Christian Social Union (CSU) who are calling for a stricter migrant policy.
"We've got security deficits that we cannot accept in the interests of our population," Bavarian Interior Minister Joachim Herrmann told the RBB public broadcaster.
He said Bavarian authorities had taken random samples of migrant passports and a "significant proportion" of them were counterfeit, but this had not been detected by officials from the country's office for migration and refugees (BAMF).
"We cannot accept this given the current situation and security in our country," Herrmann added.
Recent terrorist attacks have led to a sense of unease in Germany about the arrival of more than a million migrants since the start of last year – many of them refugees from war-torn countries such as Syria, Iraq and Afghanistan.
Security officials have acknowledged that while the vast majority of migrants are law-abiding and peaceful, a small minority may be coming to Germany with criminal intent.
While authorities say there is a "high abstract danger" of an attack at the 17-day festival, which is expected to draw six million visitors, police have stressed there is no indication of any concrete threats.
World news in pictures

Show all 50
Munich police plan to have some 600 officers on hand, about 100 more than last year, during peak times.
Another 450 security guards will also check bags and keep an eye on the sometimes drunk visitors.
There have been few major incidents at the festival, which was first held in 1810.
In 1980 a far-right extremist set off a bomb killing 13 people, including the attacker himself, and wounding more than 200.
Last year, police reported responding to 2,017 incidents, including fights and stolen wallets and purses. Some 20 sexual crimes were reported, including one attempted rape.
Associated Press and Reuters
Register for free to continue reading
Registration is a free and easy way to support our truly independent journalism
By registering, you will also enjoy limited access to Premium articles, exclusive newsletters, commenting, and virtual events with our leading journalists
Already have an account? sign in
Register for free to continue reading
Registration is a free and easy way to support our truly independent journalism
By registering, you will also enjoy limited access to Premium articles, exclusive newsletters, commenting, and virtual events with our leading journalists
Already have an account? sign in
Join our new commenting forum
Join thought-provoking conversations, follow other Independent readers and see their replies