Olaf Scholz voted in as German chancellor, ending the Merkel era
Successor becomes Germany's ninth post-Second World War leader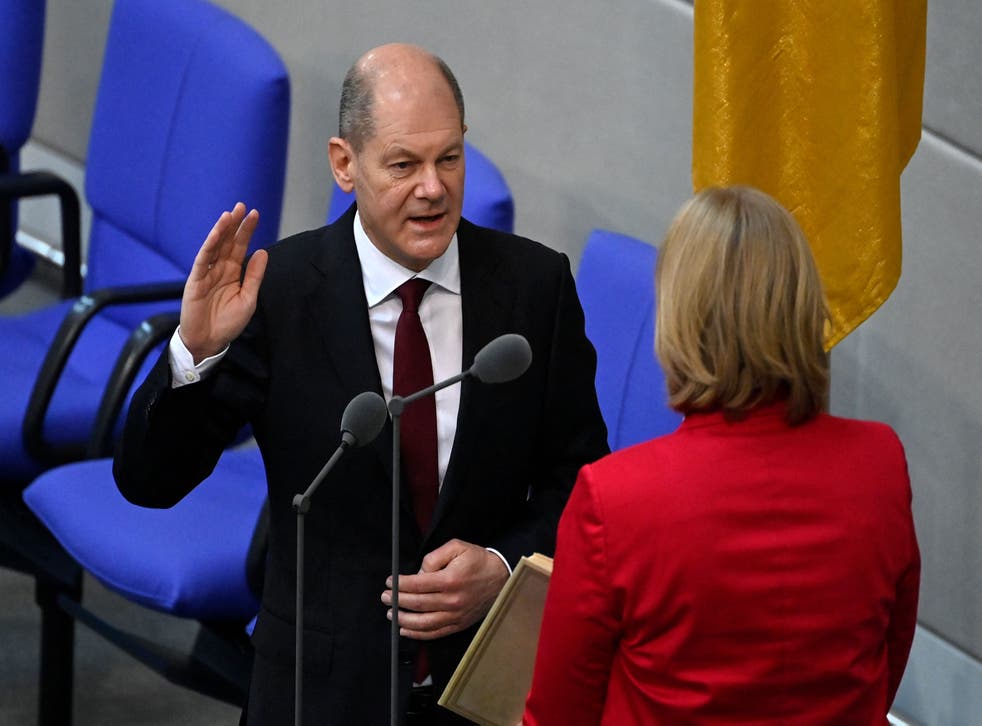 Germany has officially elected Olaf Scholz as the country's chancellor, bringing the curtain down on Angela Merkel's 16-year rule.
The soft-spoken 63-year-old Scholz, who was Germany's finance minister from 2018, succeeded the retiring 67-year-old after she deftly lead the country and the European Union through a series of major crises over the last 16 years.
Scholz, who was once also a popular mayor of Hamburg, is a humble and dour straight-talking northern German who unexpectedly won September's election for his long-suffering Social Democrats (SDP) by unabashedly copying Merkel's unflappable calm and collected style of consensus building – becoming the kind of stoic, even slightly dull, leader who Germans tend to prefer as a sharp contrast to the turbulence in the first half of the last century.
He is only the fourth SPD chancellor after Willy Brandt, Helmut Schmidt and Gerhard Schroder in a country where the conservatives have utterly dominated the country's post-war politics by holding power for 51 of the last 71 years.
Merkel, the first post-war leader to voluntarily leave office, watched Scholz being sworn into office from the spectator's gallery of the Reichstag as she was no longer a member of parliament.
Her success-spoiled conservative party suffered its worst-post war result in September, plunging 8.8 percentage points to 24.1 per cent behind the SPD (25.7 per cent), and is now embroiled in a bitter leadership struggle with an uncertain outcome.
Joining his SPD are the pro-environment Greens and the business-friendly Free Democrats (FDP) as junior coalition partners in the first-ever such "Ampelkoalition", or "traffic light coalition", at the federal level. The nickname that is popularly used in Germany comes from their party colours: red (SPD), green (Greens) and yellow (FDP).
Scholz was dealt his first rude awakening and a foretaste of the stormy seas that could endanger his rule when members of parliament cast their secret ballots earlier on Wednesday. Even though the three parties have a collective 416 votes, he got only 395 votes in parliament as 21 members in his coalition did not cast their ballots for Scholz.
"I said 'yes'," Scholz wrote with his typical deadpan style in a three-word twitter post when asked by the president of parliament if he accepted the deputies' vote.  Because of the pandemic and strict rules in the Reichstag requiring deputies to wear masks, be vaccinated, recovered or tested, all members of parliament and spectators wore masks while Scholz briefly removed his mask to take his oath of office.
The coronavirus pandemic in Germany has worsened considerably in the last two months as neither Merkel's outgoing right-left grand coalition nor the incoming centre-left coalition felt empowered to take more aggressive measures.
The pandemic was more or less ignored during the election campaign in August and September, after infection numbers fell. But the infection numbers and death tolls have soared to levels far above other nations in Europe because the country's vaccination rate remains comparatively low at under 70 per cent.
German authorities reporting 527 people died in the last 24 hours and that an additional 69,601 people were infected in the last 24 hours.
"There are so many pressing issues facing this new government right away so it doesn't have any time to waste," said Julius van de Laar, a political analyst in Berlin. "Scholz has been a minister in Merkel's last two governments so he's logged in everywhere and should be ready to roll from day one. But Merkel has a tremendous standing in Europe and it's going to take him a while to prove himself and fill her shoes."
The three parties agreed in detailed negotiations over two months after the 26 September election to make fighting climate change a centerpiece of the new government.
Scholz fulfilled one of his election promises to lead a cabinet with an equal number of men and women in his 16-member cabinet. Women will lead key ministries such as foreign, interior and defense. It will also include the first member of parliament with Turkish roots, Cem Ozdemir.
Greens party co-leader Annalena Baerbock was sworn in as Germany's next foreign minister, FDP leader Christian Lindner succeeded Scholz at the pivotal finance ministry post and Greens co-leader Robert Habeck took office as the head of the combined economy and environment ministry. Ozdemir took over the agriculture ministry.
"It's not going to be easy to hold three different parties together," said Schroder, the former chancellor, in an interview with Phoenix TV after watching his protégé Scholz being sworn in to office from the gallery of the Reichstag. "I find this three-way coalition extremely interesting. With the FDP in it there will be more emphasis on liberal issues and with the Greens more emphasis on the environment and climate. And the SPD will work hard to make sure the social glue of the country sticks together."
Merkel has said she was looking forward to a life in retirement, but she will maintain an office, as all former chancellors do.
Merkel was Germany's third longest-serving chancellor, serving for 16 years and 16 days. Serving longer were Otto von Bismarck (22 years and 262 days) and Helmut Kohl (16 years and 28 days).
Register for free to continue reading
Registration is a free and easy way to support our truly independent journalism
By registering, you will also enjoy limited access to Premium articles, exclusive newsletters, commenting, and virtual events with our leading journalists
Already have an account? sign in
Register for free to continue reading
Registration is a free and easy way to support our truly independent journalism
By registering, you will also enjoy limited access to Premium articles, exclusive newsletters, commenting, and virtual events with our leading journalists
Already have an account? sign in
Join our new commenting forum
Join thought-provoking conversations, follow other Independent readers and see their replies