On Lesbos with the stranded Syrian refugees hoping to make it to Britain: 'We die in the war or we die at sea'
'When we arrived we could see the blue skies and the blue seas, and the Greek people were welcoming us, and we felt free'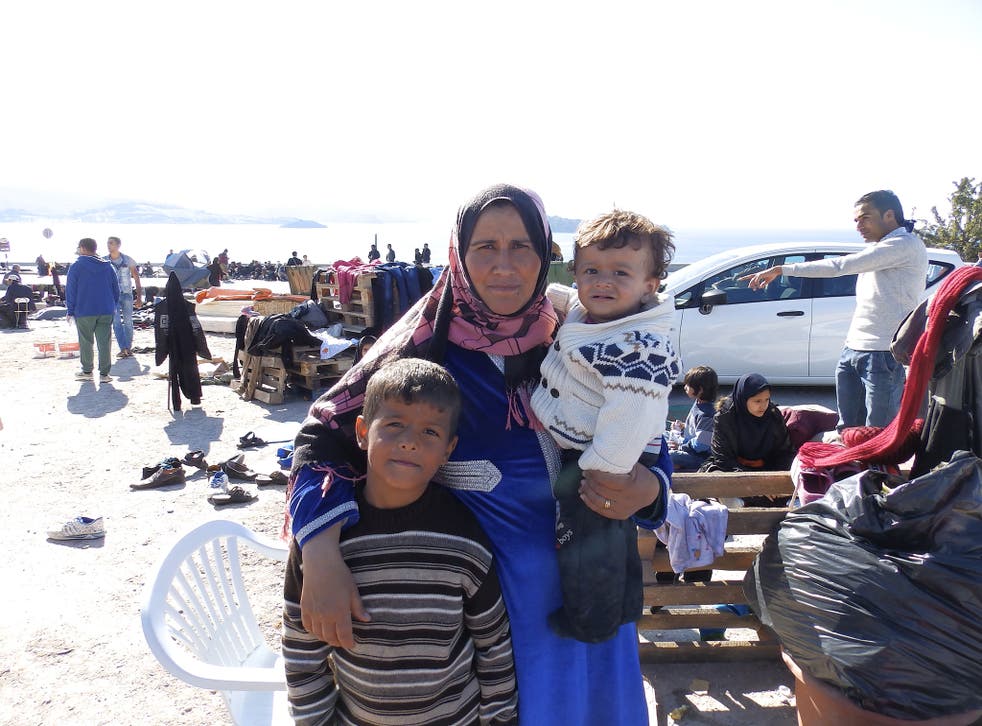 "We die in the war or we die at sea - people are dying either way."
That is the bleak assessment of the risks of journeying to Europe by a Syrian woman who arrived on the shores of a Greek island yesterday with her husband and children.
Asma, who did not want to give her second name, was part of a family group of 17 who had been sent across the Aegean Sea by smugglers in Turkey at dawn.
The Independent met them as they sat on the ground at the Oxy transit camp in Lesbos, waiting for a bus to take them to a registration centre after walking for several hours from the beach.
Asma, in her 30s, and her niece Alaa sat in the centre of the group surrounded by playing children and talking relatives.
They described being forced into a dinghy under the cover of darkness by smugglers who beat them and pushed the children, ranging from one-to-10-years-old.
"When we left Turkey, we felt like we were going to die," Asma said. "But when we arrived we could see the blue skies and the blue seas, and the Greek people were welcoming us, and we felt free."
Dawn on Wednesday was the first time any of the family had seen the sea.
Alaa said they had lived in a Turkish refugee camp for four years after fleeing Deir Ezzor as the civil war broke out in 2011.
Life became "too difficult" there, she said, with the young family struggling with the cold, supplies and being unable to work.
When asked where they were heading, Asma said with a smile: "Maybe Germany, maybe Britain."
"We've seen Germany on the news and heard it is taking people but my husband wants to go to Britain," she added.
"He says there's a future there and we can work. We already speak a bit of English and our children can learn it so we'd prefer that."
The mother said they are aware of the difficulty of the journey through Europe, where Hungary has closed its borders to asylum seekers and other countries are threatening to do the same to stem the flow of more than 700,000 people so far this year.
Asma said she knew that Britain was particularly hard to get to but that they were prepared to go through France and take their chance at Calais.
How Hungary welcomes its refugees - in pictures

Show all 15
Her family was among hundreds of people waiting at Oxy on Wednesday, with some lying on the pavements and in the road at a beauty spot overlooking Lesbos' northern coastline and Turkey.
The ground is covered by blankets and rugs, with new arrivals hanging their wet clothes to dry on fences and road safety barriers while they rest.
The spot is overlooked by a night club known for its summer parties and great views by locals, and is also a designated site for tourists' birdwatching.
Staffed by the UN, aid agencies, charities and local volunteers, Oxy now sees thousands of asylum seekers pass through while waiting for buses to registration centres in the south of Lesbos.
People stay in temporary refugee camps while hoping for a quick transfer on to the Greek government's ferries to the mainland, where they can continue through the Balkans to reach Western Europe.
But with no ferries running from Lesbos' main port during a strike that started on Monday, numbers were swelling at the camps and in the harbour, where stranded families were sleeping with no shelter on the pavements and in roads.
Meanwhile, overloading boats continued to arrive across the Aegean Sea today, risking further disasters and drownings following the deaths of at least five people, including three children, on Tuesday and Wednesday.
Register for free to continue reading
Registration is a free and easy way to support our truly independent journalism
By registering, you will also enjoy limited access to Premium articles, exclusive newsletters, commenting, and virtual events with our leading journalists
Already have an account? sign in
Register for free to continue reading
Registration is a free and easy way to support our truly independent journalism
By registering, you will also enjoy limited access to Premium articles, exclusive newsletters, commenting, and virtual events with our leading journalists
Already have an account? sign in
Join our new commenting forum
Join thought-provoking conversations, follow other Independent readers and see their replies