On the streets of Athens: 'If things get any worse, I won't be able to survive...'
For ordinary Greeks, the effects of austerity are becoming intolerable
Patrick Cockburn
Wednesday 22 February 2012 01:00 Comments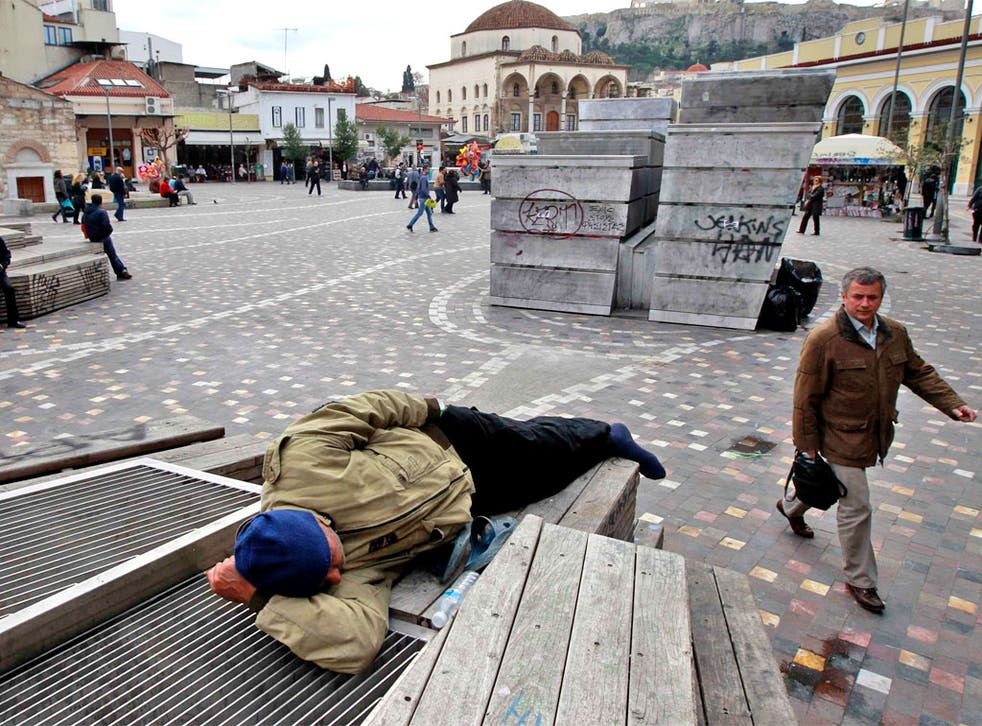 Maria Svoronou has three jobs and was finishing a 12-hour day as eurozone leaders were finalising Greece's rescue package in Brussels. For all her hard work, she earns only €870 (£730) a month and says that "if the situation gets any worse, I won't be able to survive".
Ms Svoronou, aged 33 and with a degree from Edinburgh University, has a job teaching film at a private college in Athens, for which she is paid €10 an hour. Her second job is teaching primary school children road safety; the third is translating the dialogue in Bugs Bunny cartoons from English into Greek for €1.60 a page. She likes all three jobs, adding: "I am better off than all those Greeks who are unemployed." But she is thinking about emigrating. Greece is full of well-educated but poorly paid people who expect their pay to drop further or to lose their jobs entirely.
In central Athens, mental health workers have occupied the Ministry of Health building, protesting that swingeing cuts are having a catastrophic effect on their patients' care.
The protesters point out that the suicide rate in Greece has risen 40 per cent because of the crisis in the latest period for which figures are available. Andonis Sakellaris, who works for the mental health department of the Ministry, says: "The people who are killing themselves include businessmen who have lost their assets and even teenagers who see no future for themselves." The suicide rate, once the lowest in Europe, is now the highest.
The 400 mental health workers taking part in the occupation mill about gloomily, chain smoking and playing cards. The police have made no attempt to remove them, but nobody is taking much notice of their action, which started on 9 February. Many work for state-funded NGOs that are about to go out of business while others are expecting their salaries to be cut further.
Markos Ephthimolous, who works with Alzheimer's victims, says: "Our average monthly wage is €900, which is being cut to €600, and you can only live on that for 15 days. Most of us have not been paid for three to five months and some got nothing at all in 2011." Health workers say the out-patient care they have been giving to people suffering from autism, schizophrenia and other mental illnesses, will soon be abandoned. "People will be sent back to mental asylums," says Antonis Dimaris, one of the leaders of the occupation. "We are going back to the Middle Ages."
Their complaints underline the drastic effect of the austerity measures and their arbitrary nature.
Not everybody is a casualty of the crisis, though. A 40-minute drive south of Athens, down a long, ugly highway lined with car showrooms and dealerships, Christos Ioannou, the manager of Autocredit company, runs a pawnbroking business for rich people with a sudden need for cash. They hand over expensive cars, motorcycles and even yachts in return for a loan. "Business is good," he says.
Mr Ioannou estimates that about 20 per cent of his customers cannot make repayments, so he keeps their vehicle, or they ask him to sell it on their behalf. He reels off the names of the cars – Ferrari, Lamborghini, Mercedes – that have passed through his hands. Many of his customers these days are in construction or property, sectors that have been devastated by the crisis. In a garage behind his office he shows off a large black vehicle. "It is a Ferrari California worth €313,000 and was brought by a man in the construction business." Nearby sits an exotic American motorcycle, theoretically worth a lot of money, but Mr Ioannou says he is having difficulty selling it: "Nobody in Greece has the money to buy it."
Most of the vehicles left on his books go to Germany, "because there is no market in Greece for big-engine cars". He adds that "for the moment there is no money in Greece for any business activity".
This is hardly surprising. All Greeks live in an environment of complete uncertainty that has paralysed activity. Nobody knows if they will have a job in a few months and, if they do, whether or not they will be paid. If they are paid, they do not know if will it be in euros or devalued drachma.
The one group of people in Greece who have always said the Greek state was rotten to the core are the anarchists. Sitting around a table in a building called Nosotros, Nikos, who did not give his family name, says: "Greece suffers from a clientist system based on corruption. Parties used patronage to buy millions of voters. The bourgeoisie has never invested its money here." I said this sounded very much the analysis of the Troika (EU, IMF and European Central Bank) emissaries, but Nikos is unembarrassed.
The anarchists had all taken part in the demonstrations, not to change government policy but to show solidarity with other protesters and demonstrate their opposition to the state. "People don't believe in the political system any more," said Vangelis, another anarchist. "It is not a question of saving the banks or the euro, but changing Greek society from the bottom up." He may be right but both the Troika and the anarchists, in their different ways, will have their job cut out to do this.
Register for free to continue reading
Registration is a free and easy way to support our truly independent journalism
By registering, you will also enjoy limited access to Premium articles, exclusive newsletters, commenting, and virtual events with our leading journalists
Already have an account? sign in
Join our new commenting forum
Join thought-provoking conversations, follow other Independent readers and see their replies