One chart that shows the far right is getting more popular in Germany
Nearly 60,000 people took part in far right demonstrations in Germany in 2015
Ashley Cowburn
Sunday 28 February 2016 12:31 Comments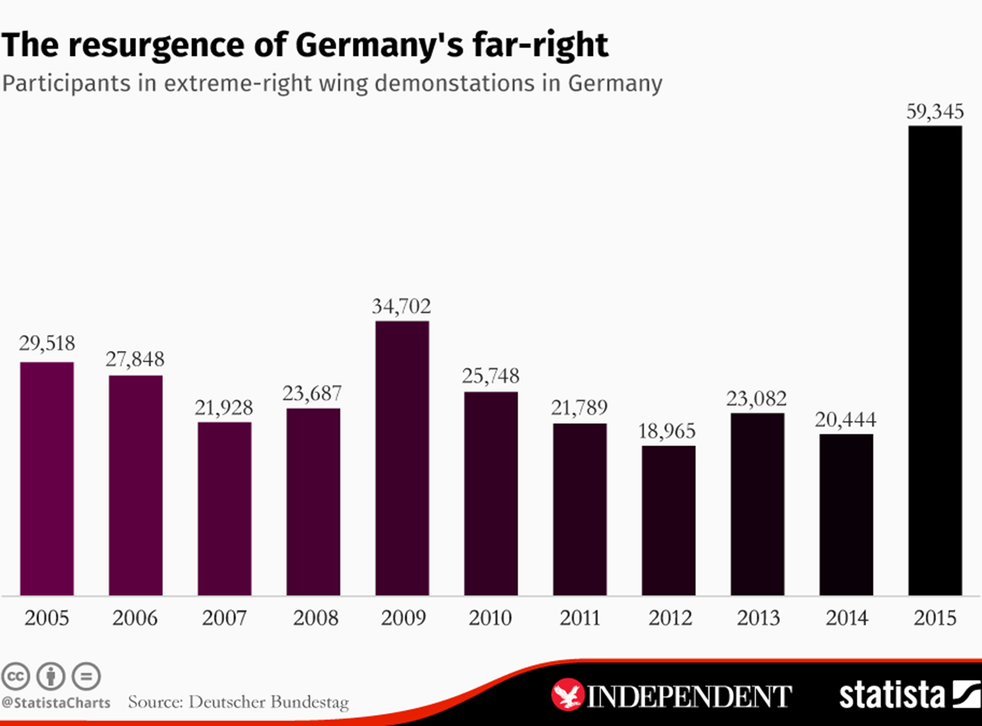 The number of people participating in extreme right-wing demonstrations in Germany nearly trebled in 2015.
A chart by Statista for The Independent using data from the Bundestag, shows the scale of the revival of participation in extreme-right wing demonstrations in Germany.
A total of 307,056 people took part in such demonstrations over the last decade with 59,345 in 2015 alone.
Police in Germany said that around 1,700 people attended a rally last month organised by the far right anti-Islam Pegida movement in Cologne.
In the same month it was reported that more than 200 right-wing rioters were arrested after going on anti-immigrant rampage in the eastern city of Leipzig.
The police described the rioters as mostly football hooligans who had broken away from a march through Leipzig by 2,000 members of Legida, a local branch of the anti-Muslim movement Pegida, demanding that Merkel leave office.
Earlier this month a planned home for asylum seekers burned down in Saxony, eastern Germany, as bystanders cheered. Police said no one was injured, but a group of people gathered outside, some "commenting with derogatory remarks or unashamed joy" about the fire. Three people were ordered to leave the scene after hampering firefighters' work, while two others were detained.
Some have linked the alarming increase in participation in far right demonstrations to the tensions in German society in the wake of Chancellor Merkel's open-door policy towards refugees fleeing to Europe. In 2015 alone more than one million people arrived in the country, with thousands more coming every day.
Refugees settle in Germany

Show all 12
Earlier this week the German newspaper Sueddeutsche Zeitung reported that Germany expects the arrival of 3.6 million refugees by 2020 as the country continues to grapple with the large numbers of those seeking shelter in Europe.
The head of Germany's federal office for migration and refugees, however, denied the report and said the number doesn't take into account external factors – including how the Syrian crisis is dealt with by world powers and the reaction from Turkey, where many migrants cross the sea to Europe.
Register for free to continue reading
Registration is a free and easy way to support our truly independent journalism
By registering, you will also enjoy limited access to Premium articles, exclusive newsletters, commenting, and virtual events with our leading journalists
Already have an account? sign in
Join our new commenting forum
Join thought-provoking conversations, follow other Independent readers and see their replies