Oskar Groening: 'Bookkeeper of Auschwitz' dies before starting prison sentence
Former SS guard avoids jail after series of appeals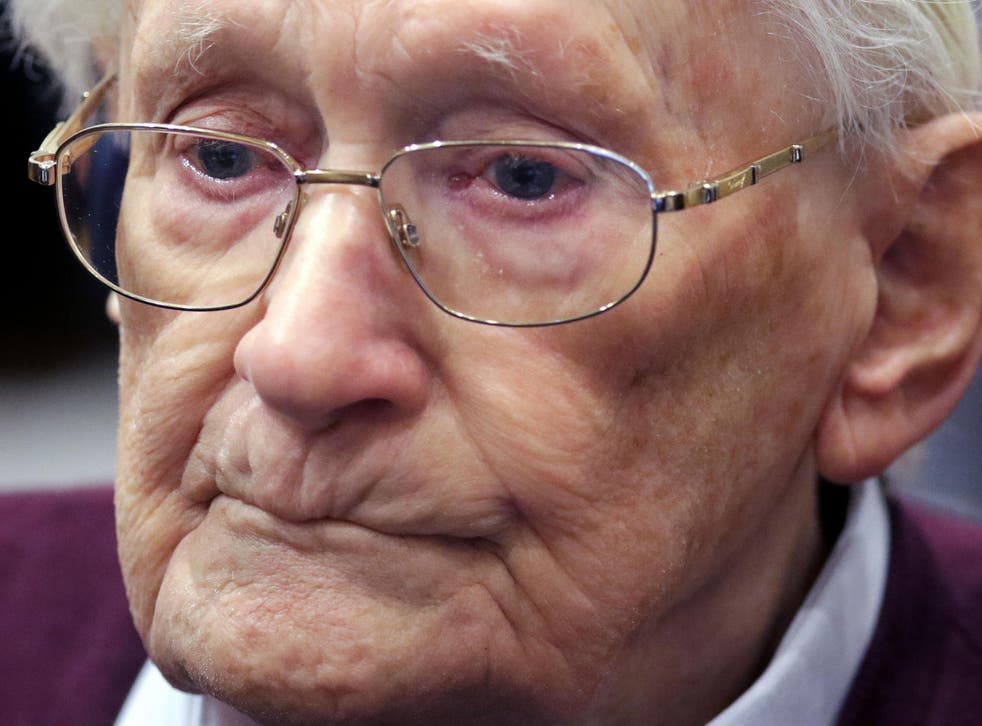 A man dubbed the "bookkeeper of Auschwitz" who was one of the last people to be convicted for the crimes of the Holocaust has died aged 96, German media have reported.
Oskar Groening was sentenced in 2015 to four years imprisonment for his role as an accessory to the murder of 300,000 of the Auschwitz concentration camp's roughly 1 million victims.
The former SS guard did not kill anyone but counted cash and valuables taken from victims on their arrival at the camp.
Due to a series of appeals, he never began his prison sentence.
Der Spiegel said Groening died in hospital on Friday, but prison authorities had yet to receive a death certificate.
Groening's court battle was seen as one of the last major trials related to the Holocaust, during which some 6 million Jewish people were murdered by Adolf Hitler's regime.
He came to attention in 2005 after giving interviews about his work in the camp in an attempt to persuade Holocaust deniers that the genocide had taken place. At the time, most Holocaust prosecutions focused on leaders rather than rank-and-file perpetrators.
Groening admitted he was morally guilty for the work he carried out at Auschwitz and said he had been an enthusiastic Nazi when he was sent to work at Auschwitz in 1942 at the age of 21.
His role involved sending bank notes he found in Jewish people's luggage to SS offices in Berlin, where they helped to fund the Nazi war effort.
UK news in pictures

Show all 50
During Groening's trial, Auschwitz prisoner Kathleen Zahavi told how her "happy childhood" was shattered when her family were kidnapped and her mother and aunt were murdered.
They were "treated worse than animals" at the death camp in occupied Poland, she said, telling a visibly distressed Groening: "I hope the images of what went on there will stay with you for the rest of your days".
The court that convicted Groening ruled he was part of the "machinery of death", helping the camp function and gathering funds for the Nazi cause.
Reuters contributed to this report
Register for free to continue reading
Registration is a free and easy way to support our truly independent journalism
By registering, you will also enjoy limited access to Premium articles, exclusive newsletters, commenting, and virtual events with our leading journalists
Already have an account? sign in
Register for free to continue reading
Registration is a free and easy way to support our truly independent journalism
By registering, you will also enjoy limited access to Premium articles, exclusive newsletters, commenting, and virtual events with our leading journalists
Already have an account? sign in
Join our new commenting forum
Join thought-provoking conversations, follow other Independent readers and see their replies