Oskar Groning trial: 'Bookkeeper of Auschwitz' reduced to tears by dramatic testimony of death camp survivor
'I hope those images stay with you for the rest of your days'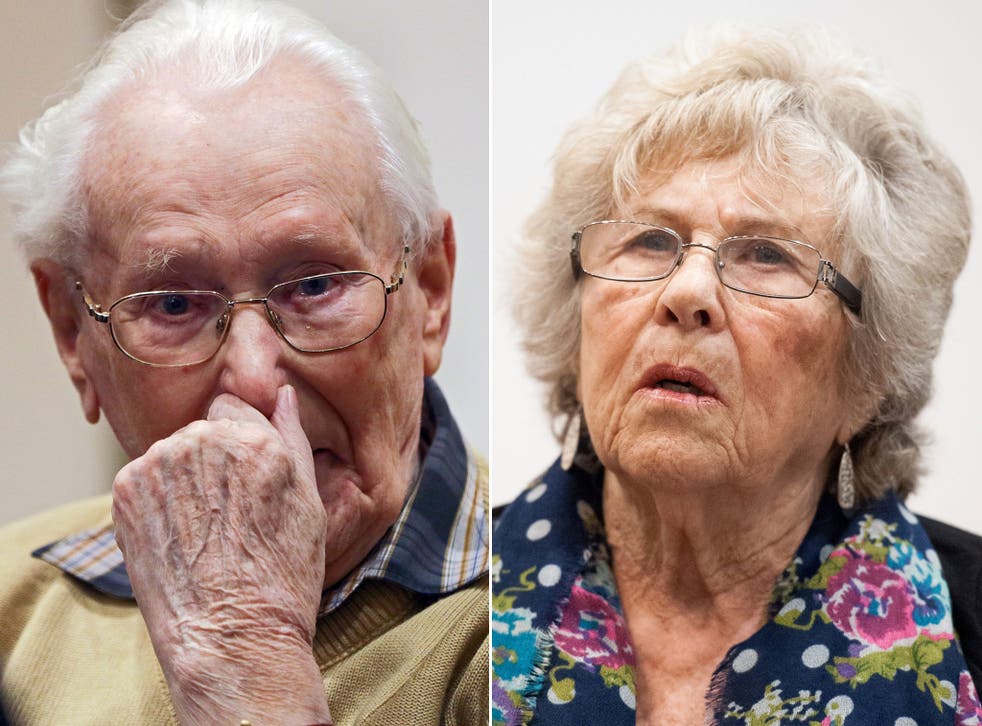 The former Auschwitz guard charged with 300,000 counts of accessory to murder was reduced to tears by the testimony of survivors at the resumption of his trial in Germany.
Oskar Gröning, known as the "bookmaker of Auschwitz" for his role in sorting through and noting down prisoners' valuables, has been deemed fit to face court after recovering from an infection.
The 93-year-old is due to hear from 49 co-plaintiffs who, under German law, will speak in court to represent the interests of those killed in the Nazi death camp when Mr Gröning was an SS guard there in 1944.
On Tuesday the court heard from Kathleen Zahavi, 86, who had travelled from Canada to describe how her "happy childhood" was destroyed by the Nazis and she saw her mother and aunt led away to be executed.
Detailing how she and her family were brought to Auschwitz in horrific conditions and "treated worse than animals", she was separated from her older relatives because they were deemed too old to work.
Once at the camp, Ms Zahavi said, she asked a guard where her parents were. "She pointed to smoke swirling from a chimney and said, 'Do you see that? That is where your parents are.'"
Mr Gröning was visibly distressed by the testimony in court. Ms Zahavi told him: "I hope the images of what went on there will stay with you for the rest of your days. You were allowed in your freedom to grow old. My parents weren't allowed that."
According to the DPA news agency, the trial at the Lüneburg state court in northern Germany will be limited to three-hour sessions a day because of the defendant's age and health.
One session was cut short last week, and then the following day's proceedings were cancelled, after the court said Mr Gröning was too sick to stand trial.
Beautiful portraits of survival show Auschwitz prisoners 70 years later

Show all 29
Mr Gröning faces a possible three to 15 years in prison if convicted. He admits his role in accounting for prisoners' belongings at Auschwitz, and prosecutors argue that his doing so helped the death camp to function.
The trial, which is scheduled to run at least through July and could be extended due to the delays, continues.
Register for free to continue reading
Registration is a free and easy way to support our truly independent journalism
By registering, you will also enjoy limited access to Premium articles, exclusive newsletters, commenting, and virtual events with our leading journalists
Already have an account? sign in
Register for free to continue reading
Registration is a free and easy way to support our truly independent journalism
By registering, you will also enjoy limited access to Premium articles, exclusive newsletters, commenting, and virtual events with our leading journalists
Already have an account? sign in
Join our new commenting forum
Join thought-provoking conversations, follow other Independent readers and see their replies