Oslo attack: Armed man shot and wounded by police after 'driving stolen ambulance into crowd'
Police hunt woman after vehicle hits twin babies in pushchair
Scene in Oslo where armed man 'arrested after stealing ambulance'
An armed man has been shot and arrested after he "hijacked" an ambulance and ran down pedestrians, including two seven-month-old babies, during a major incident in Oslo.
The driver lightly injured five people. Police said there was no information to suggest the crash was related to terrorism.
A woman and two infants were hit by the vehicle, which was stolen from the area of Rosenhoff at around 12.30pm, a police spokesperson said.
"They were called to an ordinary traffic accident where they were met by the armed person," a spokesperson for Oslo University Hospital said.
"One [ambulance] was hijacked by an armed person with a shotgun.
World news in pictures

Show all 50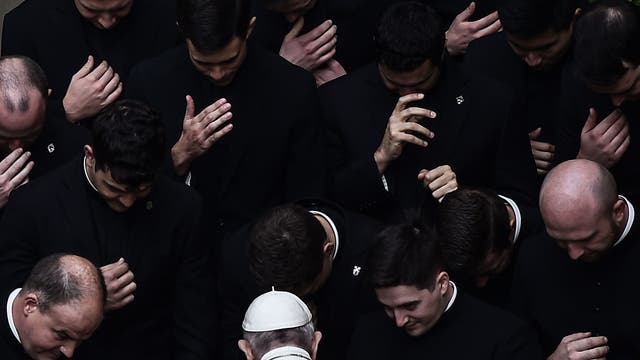 "Some minutes later one of our other ambulances managed to stop the hijacked vehicle by crashing into it. Then the police came after the crash and got him."
Three hospital employees in the vehicle at the time of its hijacking were unharmed. Hospital staff tracked the ambulance using its built-in GPS device.
The man was apprehended 15 minutes after stealing the ambulance.
NRK broadcast footage of the ambulance driving through the city's Torshov neighbourhood while the sound of gunshots rang out.
Officers fired shots at the vehicle, wounding and detaining the man, who was not critically injured.
"We are in control of the ambulance that was stolen," Oslo police tweeted.
A hospital spokesperson confirmed that the ambulance had run over twin babies in a pushchair and a woman.
"Two babies were injured after the hijacked ambulance hit a family," the spokesperson said.
"They are twins, seven months old, they are being treated."
The woman has been taken to hospital, along with an elderly couple who ran from the vehicle's path.
A large area in northern Oslo was closed off as significant numbers of officers were deployed in the city.
Police officers are hunting for a second suspect, a woman, over the theft of the ambulance.
Oslo police said the woman was wearing a black jacket and "looks intoxicated...upon observation the police must be contacted immediately."
A police helicopter could be seen above the city as the situation developed.
Support free-thinking journalism and attend Independent events
"An armed man stole an ambulance, drove away and hit some people. We got him now," a police spokesperson said.
"There is nothing to indicate that this incident is terrorism related."
The Aftenposten newspaper published a photo showing a man, wearing green trousers, lying next to the vehicle surrounded by police officers.
A witness told the newspaper — one of Norway's largest — that he saw "the ambulance driving at high speed toward me ... and right behind a police car."
"I heard several shots," Omar Khatujev said.
NRK said the suspect was in his early thirties.
The incident took place in the north of Norway's capital.
Additional reporting by agencies
Join our new commenting forum
Join thought-provoking conversations, follow other Independent readers and see their replies