Pamplona bull run: Man who contributed to a survival guide for the festival falls foul of the raging beasts
'Buffalo' Bill Hillmann one of at least two dozen people injured during the nine-day San Fermin festival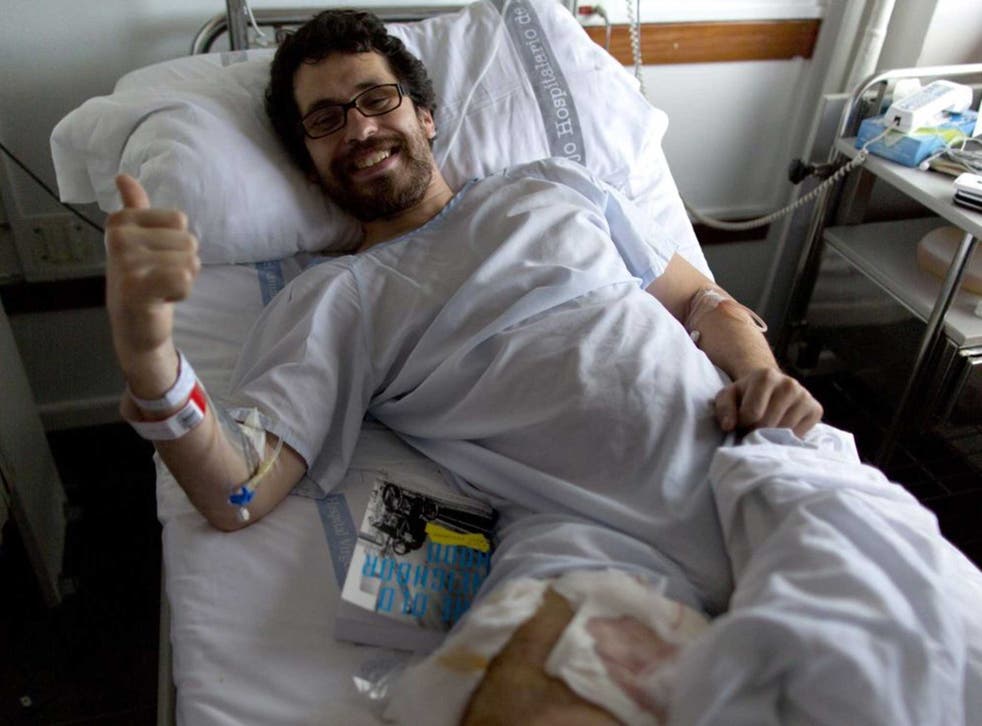 "Buffalo" Bill Hillmann was already well known as the man who contributed to a book on how to run with the raging bulls of Pamplona – and survive. But his luck finally ran out last week.
The 32-year-old Mr Hillmann was one of at least two dozen people injured during the nine-day San Fermin festival in Spain, which ends tomorrow. He was gored twice in his thigh.
Mr Hillmann, from Chicago, is a journalist and writer who has been attending the festival in Pamplona for years, and author of a chapter of Fiesta: How to Survive the Bulls of Pamplona. Speaking to The Independent on Sunday about his brush with death on the cobbled streets of Pamplona, Mr Hillmann called the bull that injured him "a beautiful creature", adding that the run had been set to become "one of my best runs ever". He said that he ended up tripping and falling "and the bull fell with me... and gored me".
There was initially a worry that the goring could have led to the puncture of his femoral artery, but he has since made a good recovery. "It happens," Mr Hillmann said. "If you run excellently, if you run dangerously, if you run with a lot of courage – you may get gored."
As for Mr Hillmann's passion for the festival, that remains undiminished. "If anything it has deepened my passion for it in a lot of ways; now I know what it is to put it all on the line. It's one thing to have a close call – I've had plenty of close calls, but to actually be gored was different."
For thrill-seekers, the San Fermin festival is the ultimate challenge: to be chased down Pamplona's narrow cobbled streets by a herd of beasts weighing hundreds of kilograms – sometimes so close that the bull's breath can be felt on the skin as they thunder past.
In pictures: Bull running in Pamplona

Show all 20
Yesterday, after heavy overnight rain, an anti-slip coating was sprayed on to the cobblestones to try to prevent injuries. The run, through the packed streets from a holding pen to the bull ring, led to three injuries, according to organisers – with a further 18 reported injuries sustained in the ring after the run. Television footage showed the lucky escape of a man whose T-shirt was ripped off by a horn as one of the bulls righted itself after a fall.
At least two dozen people have been injured in the runs so far, including two Britons, one from Nottingham and one from Paisley in Scotland. Five gorings have been reported. The largest crowds for a run are expected today (the final run will be held tomorrow), with bulls coming from the Miura breeding ranch, near Seville. They are renowned as some of Spain's largest and most fearsome fighting animals.
There was some small crumb of comfort for Mr Hillmann. One of the many offers of support after his goring was from a teenager called Michael Hemingway, the great-great-grandson of Ernest Hemingway, who immortalised the bull run in his 1926 novel The Sun Also Rises. He was at the event with his father, John Hemingway, who has also contributed a chapter to Fiesta: How to Survive the Bulls of Pamplona.
Register for free to continue reading
Registration is a free and easy way to support our truly independent journalism
By registering, you will also enjoy limited access to Premium articles, exclusive newsletters, commenting, and virtual events with our leading journalists
Already have an account? sign in
Register for free to continue reading
Registration is a free and easy way to support our truly independent journalism
By registering, you will also enjoy limited access to Premium articles, exclusive newsletters, commenting, and virtual events with our leading journalists
Already have an account? sign in
Join our new commenting forum
Join thought-provoking conversations, follow other Independent readers and see their replies