Pamplona Running of the Bulls 2014: Two people gored on last day of annual festival
A fighting bull separated from the pack and charged three runners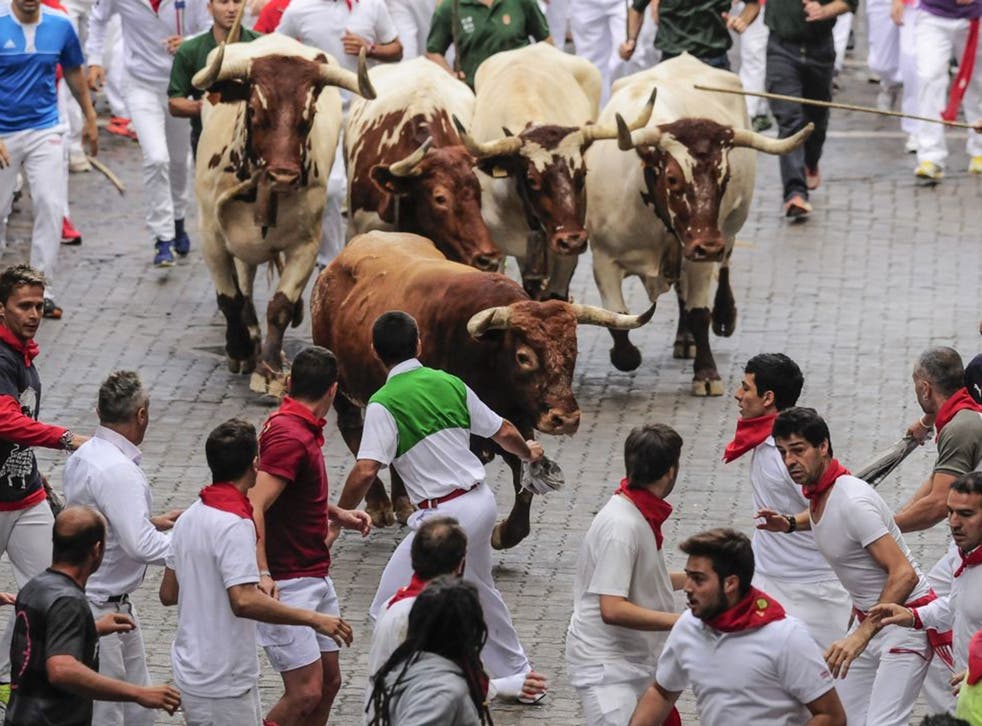 A fighting bull has gored two people on the final day of the annual running of the bulls in Pamplona, northern Spain.
Panic was rife during the hair-raising run on Monday, as one animal separated from the pack and charged three runners, pinning them against walls and barriers while trying to gore them.
Hundreds of people had been dashing alongside the six bulls in the eighth early morning run of the San Fermin festival; participants test their agility and bravery along a 930-yard (850-metre) course from a holding pen to the city's bull ring.
Navarra hospital's Doctor Oscar Gorria said two men were gored in the legs. He said five people were also hospitalized for other injuries. There were no immediate details on their identities.
In pictures: Bull running in Pamplona

Show all 20
Last week it was reported that four Spaniards and an American had also been gored in this year's festival but only one, a Spaniard, was said to be in serious condition.
Dozens of people are injured each year in the "encierros," as the runs are called in Spanish, most of them in falls.
Fifteen people have died from gorings since record-keeping began in 1924.
The runs are the highlight of the nine-day street-partying festival, which was immortalized in Ernest Hemingway's 1926 novel The Sun Also Rises. The festival attracts tens of thousands of foreign tourists, most of whom come from the US, Britain and Australia.
Additional reporting by agencies
Register for free to continue reading
Registration is a free and easy way to support our truly independent journalism
By registering, you will also enjoy limited access to Premium articles, exclusive newsletters, commenting, and virtual events with our leading journalists
Already have an account? sign in
Register for free to continue reading
Registration is a free and easy way to support our truly independent journalism
By registering, you will also enjoy limited access to Premium articles, exclusive newsletters, commenting, and virtual events with our leading journalists
Already have an account? sign in
Join our new commenting forum
Join thought-provoking conversations, follow other Independent readers and see their replies