Paris attacks: France calls for tighter border controls on those entering or leaving EU
The demand is one of a series of measures put forward by French officials
Leo Cendrowicz
Brussels
Wednesday 18 November 2015 22:03 Comments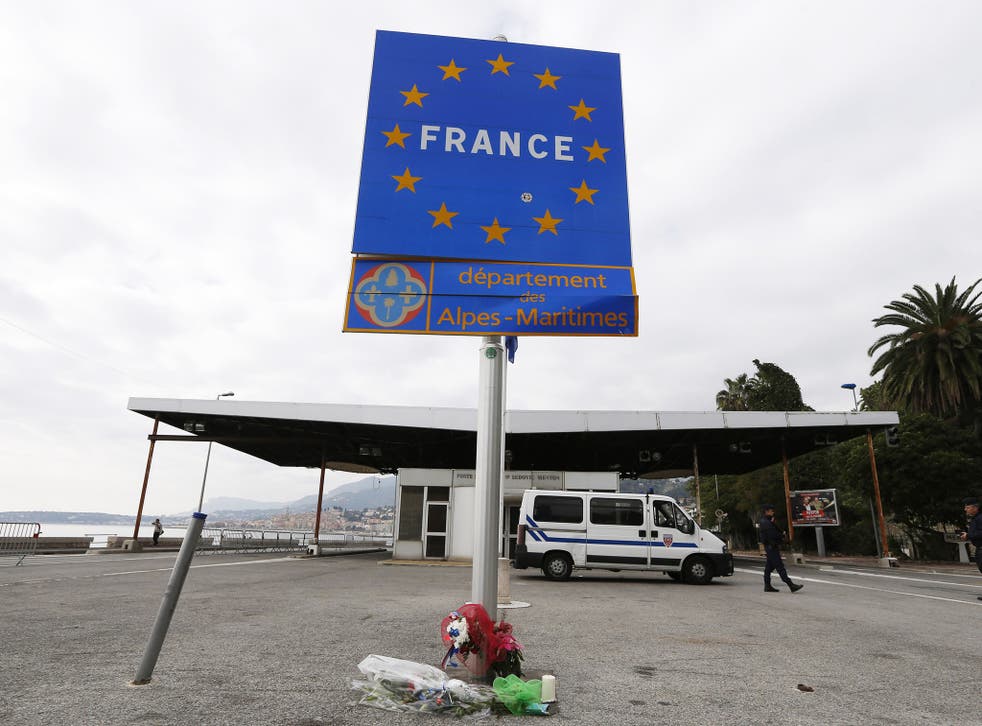 France has called for tougher border controls on anyone entering or leaving the European Union's 26-country free travel area in a move that would have significant impact on travellers from Britain.
Its demand, to be discussed by an emergency meeting of EU interior ministers, is one of a series of measures put forward by French officials in response to fears of a continued Isis threat.
They include reviving a dormant plan to tighten laws on the issue and use of guns which would make it harder to buy weapons, and improve tracking of those legally sold. The measures would also involve deactivating decommissioned guns in a way that makes it impossible for them be fired again, following evidence that the January attack on the magazine Charlie Hebdo was carried out with previously decommissioned Kalashnikov sub-machine guns.
The world mourns Paris attacks - in pictures

Show all 25
The reversal of France's previous open-border policy would have its greatest effect on travellers from outside the passport-free Schengen zone, of which Britain is not a member. France is also seeking to break an impasse over plans to keep all passenger information for air travellers within the EU for at least a year, which needs agreement of the European Parliament and national governments.
The new plans came as post-Paris nerves continued to cause disruptions across Europe and beyond, including the diversion of two Air France flights bound for Paris because of anonymous threats phoned in after they had taken off.
Air France Flight 65 from Los Angeles to Paris was diverted to Salt Lake City after a person called about two hours into the flight and warned that a bomb would go off in 90 minutes. The plane landed in Utah and its passengers safely disembarked.
Around the same time, another Paris-bound Air France plane from Dulles Airport, near Washington DC, was diverted to Halifax in Canada's east coast after a similar threat.
The FBI said the calls were made directly to Air France and it is attempting to identify the source of the calls.
Sweden and Denmark have both raised their terror threat levels. The Swedish Security Police said they had raised the level from three to four on their five-point scale, the first time since 2010, while Danish police raised also raised theirs to a "significantly heightened preparedness".
Turkish police said they had arrested eight Moroccans suspected of links to Isis after they arrived at Ataturk Airport in Istanbul upon their arrival from Casablanca. They said the suspects were planning to enter Europe posing as refugees.
In Germany, Chancellor Angela Merkel defended the late decision to cancel a friendly football match in Hanover between Germany and Holland, saying the intelligence services had made the right call. Ms Merkel had been scheduled to attend the match, which was organised swiftly on 15 November as an act of solidarity following the attempted bombing of the Stade de France in the Paris attacks. "I was just as sad as the millions of fans that the match was cancelled," she said. "But the security officials took a responsible decision."
She thanked football fans and the residents of Hanover for reacting calmly to police instructions for them to leave the stadium immediately, 91 minutes before kick-off. Stephan Weil, the prime minister of Lower Saxony, spoke of "concrete information about concrete dangers" received from a "trusted and secret source" that had made him "personally convinced" that it was right to stop the match.
The jitters were also felt in Madrid where a metro station was evacuated after a suspicious bag was seen abandoned, although it was later found to be harmless.
Meanwhile, the Eagles of Death Metal, the rock band whose concert at Paris's Bataclan was targeted, issued a statement putting further shows on hold until further notice, while paying tribute to the victims of the attack.
Register for free to continue reading
Registration is a free and easy way to support our truly independent journalism
By registering, you will also enjoy limited access to Premium articles, exclusive newsletters, commenting, and virtual events with our leading journalists
Already have an account? sign in
Join our new commenting forum
Join thought-provoking conversations, follow other Independent readers and see their replies