French election: Paris attack 'can only strengthen' chances of Marine Le Pen, analyst warns
'Voters for the Front National are very mobilised'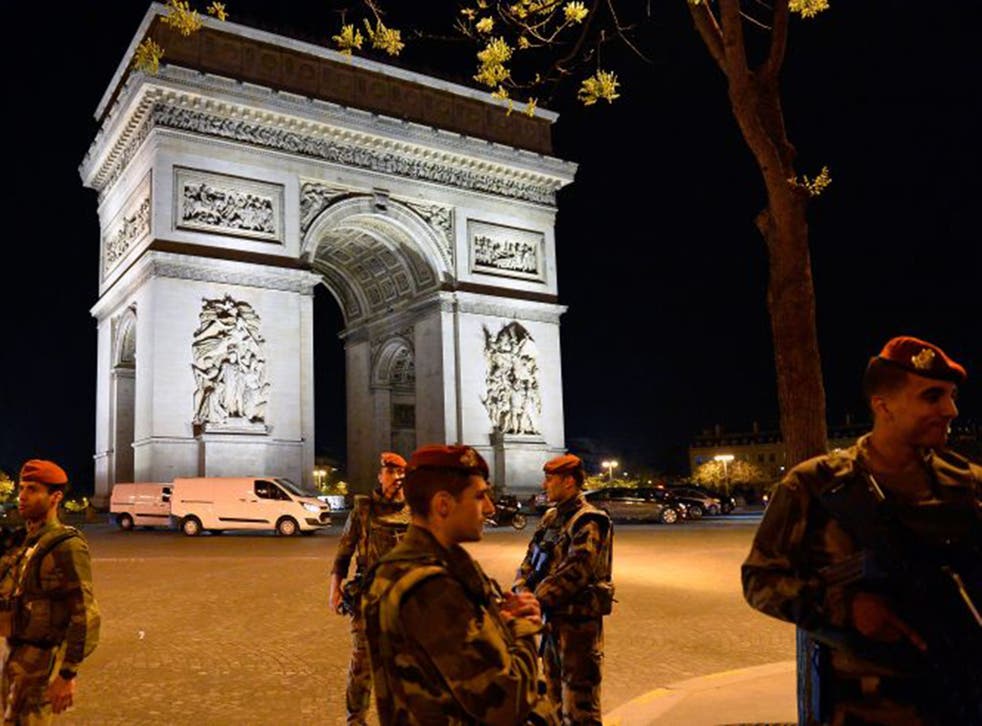 By lunchtime on Friday on the Champs-Elysees, life seemed already to have resumed its course. The terraces were full, everyone enjoying the mild spring weather and a glimpse of sun.
It is hard to imagine that the evening before, an attack claimed by Isis caused the death of a policeman on the most famous road in Paris. The only signs were the police cars, posted at each corner of the street, and the policemen patrolling with weapons in their hands.
Tourists wandered, doing some shopping, as even those shops which were unusually closed in the morning had reopened by midday. In one of them, a member of staff told The Independent they had been ordered by management to stop responding to journalists, let alone frightening anyone by talking about the enhanced security measures, but instead to give the impression that everything is normal.
And it seems to work. There are families out for the day, parents with strollers. A father with his two children told The Independent he is not afraid to be there, that "life goes on". A couple of Portuguese tourists ask to have a picture taken in front of the Arc de Triomphe, yards from where 39-year-old Karim Cheurfi went into action yesterday, but that does not seem to cross their minds.
Is it the same for the presidential campaign? Can it recover as quickly? Three of the 11 candidates cancelled all their trips on what would have been the final day of canvassing votes: Marine Le Pen, leader of the Front National, François Fillon, for Les Républicains, and Emmanuel Macron, and his party, En Marche!, though all spoke from their headquarters in the morning.
Ms Le Pen was the first to speak, and struck hard, calling it a "war" with Islamist extremists and accusing "left-wing and right-wing governments" of doing "everything to lose it, for 10 years", indirectly accusing Nicolas Sarkozy and François Hollande and their respective administrations.
The Republican candidate, Mr Fillon, also used the term "war": "We are at war, it is them or us," he said. "Our enemy has a name: radical Islamism. He has a face: hatred. He has only one obsession: terror," said the former Prime Minister under Nicolas Sarkozy. The current Prime Minister, Bernard Cazeneuve, promptly reacted, accusing both candidates of choosing "exaggeration and division".
Emmanuel Macron more soberly declared: "The primary role of the President of the Republic is to protect the French. I'm ready. I will be relentless to protect you." He called on the French not to yield to division or intimidation.
But if they feel like they can make political gains from this turn of events, Ms Le Pen and Mr Fillon are not mistaken, says Bruno Cautrès, a researcher at the Political Research Centre of Sciences Po. If there are two candidates "whom it cannot hurt, it is them", he says.
Cheurfi had already had several dealings with the courts, for robbery and then three homicide attempts, and was the subject of a previous terror investigation. "This is the dream scenario for Marine Le Pen, it is devastating," says Mr Cautrès, who explains: "This gives credence to her speech about the judges who are looking for trouble with her when they'd better deal with the delinquents."
The same applies to Mr Fillon, who has also denounced a conspiracy from the judges and media during the campaign, over alleged fake jobs for members of his family. "The wind can also turn in favour of François Fillon," says Mr Cautrès. "Security is his usual playing field and as he was Prime Minister, he can put forward his experience and his stature," he explains. Voters on the right may end up closing ranks behind this message as they consider the future of the country on Sunday.
Gunman attack on the Champs-Elysees

Show all 23
That background in the government, however, means Thursday night's attack could really offer a double benefit to Ms Le Pen's cause. On the one hand she used it to attack the former Prime Minister, saying he participated in what she called a failure in the fight against terrorism.
And on the other hand, "the electorate of Marine Le Pen, from a popular background, who feel helpless and abandoned, they are more likely to feel insecure and in need of protection", Mr Cautrès says.
"Voters for the Front National are very mobilised," he adds. "This attack can only strengthen the electorate of Marine Le Pen."
Register for free to continue reading
Registration is a free and easy way to support our truly independent journalism
By registering, you will also enjoy limited access to Premium articles, exclusive newsletters, commenting, and virtual events with our leading journalists
Already have an account? sign in
Register for free to continue reading
Registration is a free and easy way to support our truly independent journalism
By registering, you will also enjoy limited access to Premium articles, exclusive newsletters, commenting, and virtual events with our leading journalists
Already have an account? sign in
Join our new commenting forum
Join thought-provoking conversations, follow other Independent readers and see their replies