Paris attack: Suspects arrested in Brussels may have included members of a further murder squad who escaped from city during massacre
Belgian justice minister Koen Geens has confirmed that the arrests were linked to the Paris attacks
Chris Green
,
Leo Cendrowicz
Sunday 15 November 2015 00:40 Comments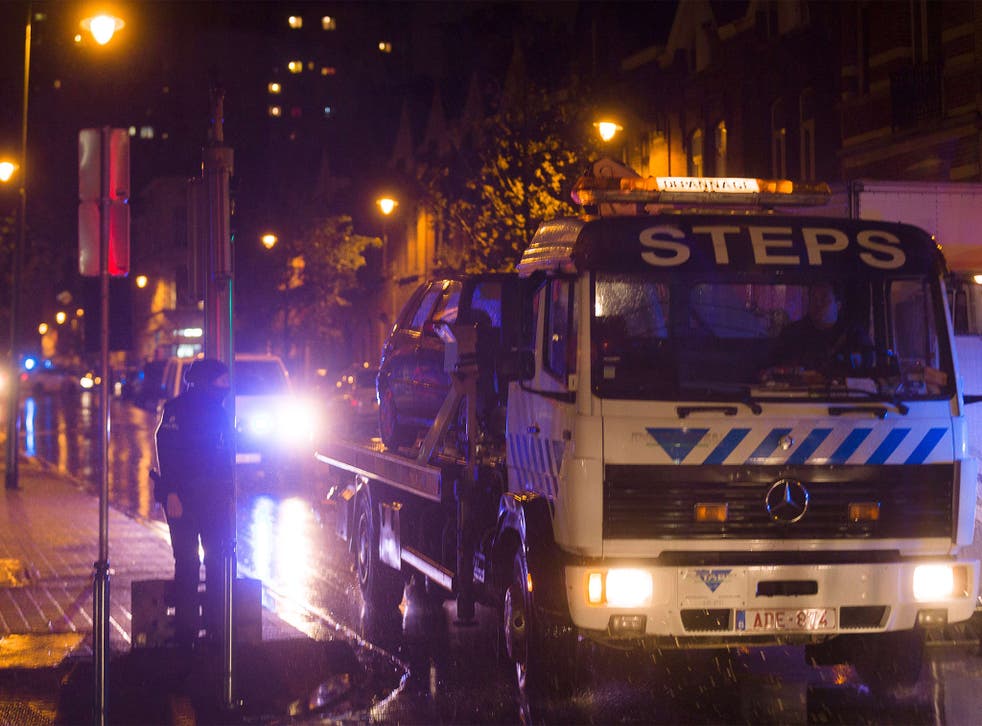 Terror suspects arrested in raids by heavily armed police in Brussels may have included members of a further murder squad who escaped from Paris late on 13 November, it has emerged.
Earlier, French authorities seemed to indicate that all those involved in the bloody attacks across the French capital, which left at least 129 people dead and 99 critically injured in hospital, had either blown themselves up, or been shot dead by police.
But Belgian officials said that at least one of five people arrested in the Molenbeek district of Brussels by police teams backed by bomb disposal units had been in Paris on the night of 13 November. Two other attackers may also have escaped.
Belgian justice minister Koen Geens confirmed that the arrests were linked to the Paris attacks. He said that they came after Paris police found a grey VW Polo rental car with Belgian number plates near the scene of the Bataclan concert hall, where the most brutal shooting took place. "There were arrests relating to the search of the vehicle and person who rented it," Mr Geens said.
He said Belgian anti-terror services flagged up a possible terrorist connection as soon as the name of the car hirer was passed to them, because the hirer's brother was on their watch list. The man who rented the car was "as far as we know, still alive", he said. Paris police searching for another car with Belgian plates, a black Seat, later discovered it near the Père-Lachaise cemetery.
Molenbeek, on the east side of Brussels, is home to a large community of immigrants from Morocco and Turkey. It is also one of the poorest places in the country. In January, two suspected terrorists were killed there after a shoot-out with Belgian police, shortly after the Charlie Hebdo shootings.
Earlier Greek officials revealed that one of the terrorists who died during the onslaught may have entered the EU through the Greek island of Leros last month, among 69 refugees on a small vessel from Turkey. A Syrian passport, found near his body, had been linked with a passenger whose fingerprints were taken on his arrival in Greece. A second suspect among the attackers is very likely to have entered Europe though Greece, Greek government sources said,
Police said one terrorist had an Egyptian passport while another had been identified by his fingerprints as a 29-year-old French national, already known to security services, born in the Courcouronnes suburb south of Paris. He had previously been arrested, but not jailed, officials said.
François Molins, the Paris prosecutor, said three teams of terrorists worked together to co-ordinate the attacks. He said six terrorists had blown themselves up and a seventh was shot dead by police.
On 14 November Islamic State claimed it had carried out the atrocities, which targeted mostly young people enjoying a night out in bars and restaurants, and at a rock concert and a football match. The group issued a statement saying the venues had been "carefully chosen" and warning that the attack by "brothers carrying explosive belts and guns" was "only the start of the storm".
The world mourns Paris attacks - in pictures

Show all 25
As Parisians struggled to come to terms with the tragedy, President François Hollande, in a speech, described the events as "an act of war that was prepared, organised and planned from abroad, with complicity from the inside". It was "against the values that we defend everywhere in the world, against what we are: a free country that means something to the whole planet."
Local authorities were given permission to impose curfews if necessary. Many municipal buildings were closed, with sports events cancelled and large gatherings banned for the next five days. To help the many injured, residents are also being urged to donate blood.
The UK has stepped up its security in the wake of the attacks, which Downing Street said may have claimed the lives of a "small number" of British victims. The first confirmed British casualty was Nick Alexander, who is understood to have been working in the merchandise stall at the Bataclan concert hall, where at least 89 people were gunned down by terrorists wielding Kalashnikov rifles. Another confirmed casualty was Valentin Ribet, a Paris-based lawyer who trained at the London School of Economics. Casualties, including the injured, came from at least 11 countries.
Survivors of the Bataclan massacre told how three or four gunmen wearing black burst into the concert hall and opened fire. "The blood was everywhere, but what struck me was the calm of the gunmen. They were prepared. They knew exactly what they were doing, and they had one goal, just to kill the most people they could," said Julien Pearce, a journalist who was present.
A graphic video taken by a French journalist showed how people burst out of the venue's emergency exits as they tried to escape the gunfire, with some hanging out of upstairs windows in an effort not to be spotted. Others played dead by lying among the corpses.
On the streets outside the Bataclan, the signs of the massacre which took place inside were still evident when Parisians arrived to pay their respects. Pools of dried blood and discarded surgical gloves could be seen by the roadside near the music venue.
Although police had cordoned off the area immediately outside the Bataclan, the word "eagles" was still visible, spelt out in thick black letters above the door through which more than 1,000 excited music fans had filed on their way to see the American band Eagles of Death Metal only a few hours previously.
The bombers were reported to have been thwarted from entering the Stade de France, preventing mass casualties among the tens of thousands inside.
The Wall Street Journal quoted a guard as saying one of the attackers presented a ticket but was found to be wearing an explosives vest when frisked about 15 minutes into the France-Germany friendly. While attempting to back away from security, the attacker detonated the vest.
Three minutes after the blast, a second person blew himself up and a third bomb was detonated at a nearby McDonald's restaurant, police said, killing another attacker.
Throughout the morning, Parisians arrived to leave flowers, write tributes or simply talk to one another. A tearful Yann Sciardis, 27, who lives only 300 yards from the venue, described how he had been forced to stay the night at his girlfriend's parents' house when news of the attacks began filtering through on his phone as he drank in a bar with friends.
"I thought: 'Oh no, not again,'" he said. "I'm devastated ... I don't know what to think about it. What happened affected every Parisian – the bars, the concerts. This is what you do on a Friday night." His voice breaking, he continued: "I don't want to be scared ...We have to show them that we want to live. I had to be here, and now I understand why ... This is where I live. I want to be here."
Ari Seitsonen, 47, who also lives close to the Bataclan, was working late when news of the massacre broke; he stayed up all night in his office, too afraid to leave. "Of course it reminds us of January," he said in reference to the terrorist attack on the offices of Charlie Hebdo earlier this year. "Paris is a target. It's a symbol for liberty."
Yet only a few streets away from the site of the massacre, Parisian life appeared to be continuing as normal. People sat outside cafés drinking coffee and chatting; a large queue formed outside an artisan boulangerie; a woman in sunglasses strolled by, walking her dog on a pink lead.
"I'm happy to see that Paris lives on," Mr Seitsonen said. "People are going through their routines.
"Life must go on. But time will show how Paris will change, and I'm sure it will."
Register for free to continue reading
Registration is a free and easy way to support our truly independent journalism
By registering, you will also enjoy limited access to Premium articles, exclusive newsletters, commenting, and virtual events with our leading journalists
Already have an account? sign in
Join our new commenting forum
Join thought-provoking conversations, follow other Independent readers and see their replies