Paris attack victims: All 129 people killed in terrorist attacks identified by French government
The families of over 100 victims have travelled to Paris to identify their loved ones
Doug Bolton
Wednesday 18 November 2015 14:25 Comments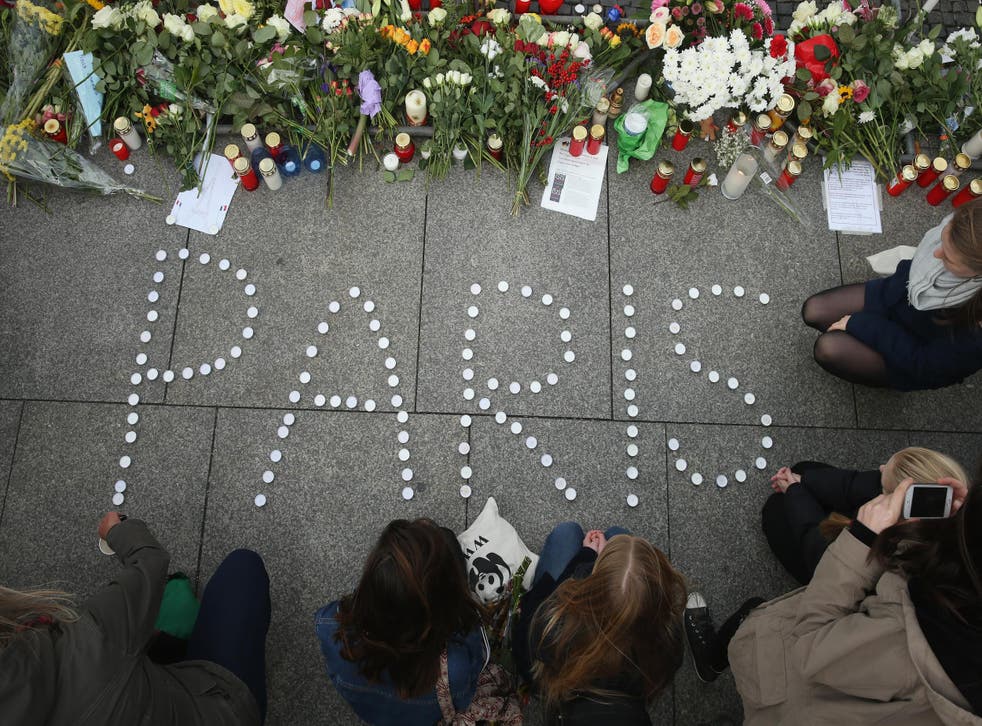 French authorities today announced that all of the 129 people killed in Friday's terrorist attacks in Paris have been identified.
In a statement, released after Wednesday's government cabinet meeting, authorities said around 100 families have come to see and identify the bodies of their loved ones who were killed in the attack.
At least 350 people were injured in the attacks, with many in a serious condition - so the death toll could still rise if some of the wounded do not recover.
The list of dead shows that people of all ages and religions were targeted in the attack, although the young people of Paris were hit particularly hard.
Stephane Albertini
Stephane was the co-manager of an Italian restaurant in the suburb of Neuilly-sur-Seine.
He and his brother, Pierre Innocenti, were killed while watching the Eagles of Death Metal concert at the Bataclan theatre.
Nick Alexander, 36
Mr Alexander, from London, was a merchandise manager for Eagles of Death Metal.
He has been described lovingly by friends and family as "generous, funny and fiercely loyal".
Thomas Ayad, 32
Ayad was a Mercury Records executive, part of Eagles of Death Metal's team from parent label Universal Music Group. Originally from the city of Amiens, he died at the Bataclan.
Quentin Boulenger, 29
Boulenger was also killed at the Bataclan theatre.
Elodie Breuil, 23
Breuil also died at the Bataclan theatre, and was studying design at Paris's Ecole de Conde.
Ciprian Calciu, 32
Calciu, a Romanian who lived in Paris, died while sitting outside a café, along with his partner, Lacramioara Pop.
Nicolas Classeau, 43
Classeau, the director of the Institut Universitaire de Technologie, died at the Bataclan theatre.
Guillaume Decherf, 43
Mr Decherf, who was a father of two daughters, was a writer and a critic at French culture magazine Les Inrocks. He died at the Bataclan.
Elsa Veronique Delplace San Martin, 35
Delplace was killed in the Bataclan, and died with her mother as she shielded her son from bullets.
Asta Diakite
Diakite was the cousin, of French international footballer Lassana Diarra. He played in Tuesday's match with England.
Romain Didier, 32
Amateur rugby player dider was originally from Sancerre, but lived in Paris. In a post on Facebook, his team wrote: "There are not words strong enough to describe how we're gonna miss you."
Elif Dogan, 28
Dogan, originally from Turkey, had been living in Paris in four months with his partner, Milko Jozic. They reportedly lived on the same street as the Bataclan.
Fabrice Dubois
Dubois' death was announced by advertising agency Publicis Conseil, where he worked. He is survived by his wife and children.
Victims of the Paris attacks

Show all 33
Thomas Duperron, 30
A fan of live concerts, Mr Duperron was at the Bataclan with a friend when the attacks took place.
Mathias Dymarski, 23
Dyrmaski was killed at the Bataclan, while he was attending the concert with his girlfriend, Marie Lausch.
Germain Ferey, 36
Illustrator Ferey and his girlfriend were killed at the Bataclan theatre.
Gregory Fosse, 28
Mr Fosse was a music programmer for TV station D17. He was from Gambais, in the Ile-de-France region, where Mayor Regis Bizeau announced the town would hold a vigil to honour his life.
Suzon Garrigues, 21
Garrigues was a third-year student at the Sorbonne, and died in the Bataclan.
Michelli Gil Jaimez
Jaimez grew up in the area of Tuxpan in Mexico, and had lived in France for eight years. She was due to be married in three weeks.
Matthieu Giroud, 38
International E-Journal for Critical Geographies ACME announced Mr Giroud's death on Twitter. He was a lecturer in geography at the University of Paris-Est Marne-la-Vallee.
Nohemi Gonzalez Garrido, 29
US-Mexico dual national Nohemi Gonzalez was living in Paris as an exchange student from California State University, Long Beach.
Alberto Gonzalez Garrido, 29
Gonzalez Garrido was the only Spanish victim of Friday's attacks. He died at the Bataclan theatre.
Anne Guyomard, 29
Anne was killed at the Bataclan, along with her brother, Pierre-Yves.
Pierre-Yves Guyomard, 32
Originally from Saint-Germain-en-Laye, in the suburbs of Paris, he was killed along with his sister at the Bataclan theatre.
Raphael Hilz, 28
Hilz was from Garmisch-Partenkirchen in Germany and worked as an artchitect in Paris. He was eating in a restaurant when he was killed.
Mathieu Hoche, 38
Mr Hoche was a technician at France24 news channel. A friend has said he was a passionate rock'n'roll fan and was attending the Eagles of Death Metal concert. He had a six-year-old child.
Djamila Houd, 41
Houd died in La Belle Equipe café in the 11th arrondissement, which was owned by her husband.
Mohamed Amine Ibnolmobarak, 29
Ibnolmobarak was an architect and teacher at ENSA Paris-Malaquais architecture school.
Pierro Innocenti, 40
Innocenti co-managed an Italian restaurant with his cousin, Stephane Albertini. Both were killed at the Bataclan.
Marie Lausch, 23
Lausch was the girlfriend of Mathias Dyrmaski, and worked for beauty product company Coty. Both died in the Bataclan.
Anna Petard-Lieffrig, 24
She died with her sister, Marion, at the Le Petit Cambodage restaurant.
Marion Petard-Lieffrig, 30
The residents of Monthou, were the sisters were from, have been paying their respects to the family by laying flowers outside the butcher's shop they own.
Patricia San Martin Nunez, 61
The mother of Elsa Delplace was also killed in the Bataclan theatre. Her grandson survived the attack.
Cédric Mauduit
Mauduit worked for the local government of Calvados, in the north of France. He was at the Bataclan concert when he was killed.
Fanny Minot, 29
Minot was a producer on a Canal+ news magazine show. She was killed at the Bataclan.
Lamia Mondeguer
Mondeguer, a dual Egpytian-French national, was killed at a restaurant.
Marie Mosser, 24
Marie, a young music promoter, had spent the last two summers living in Brighton, studying English. She was killed at the Bataclan.
Justine Moulin, 23
Miss Moulin was at a restaurant Le Petit Cambodge having dinner with friends when she was killed. She had been planning to visit her family in Nieppe on the weekend.
Helene Muyal, 35
Muyal was a make-up artists, and died in the attack on the Bataclan. Her husband has since written an emotional open letter to the killers telling them, "You will not have my hatred."
Bertrand Navarret, 37
Navarret was a carpenter, and was at the Bataclan on a weekend trip to Paris when he was killed.
Aurélie de Peretti, 33
Peretti, originally from Saint Tropez, was killed at the Bataclan.
Lacramioara Pop, 29
Pop was killed outside a café along with her partner, Ciprian Calciu.
Francois-Xavier Prevost, 29
Prévost died at the Eagles of Death Metal concert at the Bataclan theatre, along with many others.
Sebastien Proisy, 38
Proisy was described as "charming" by his family, and was killed while sitting on a terrace outside a cafe.
Valentin Ribet, 26
Mr Ribet was a lawyer who graduated from the London School of Economics. He worked in the Paris branch of international law firm Hogan Lovells.
Halima Saadi
Halima and her sister Hodda were killed at the La Belle Equipe café. Halima was visiting Paris for a week from her home in Dakar, Senegal.
Hodda Saadi
Hodda was the manager of La Belle Equipe, where many of Friday's victims were killed.
Kheireddine Sahbi, 29
Violinist Kheireddine was a student at the Sorbonne and was walking home when he was killed.
Lola Salines, 28
Miss Salines' death was confirmed by her father on Twitter. An active roller derby team player, her team Le Boucherie de Paris have expressed their sadness at her death.
Valeria Solesin, 28
Solesin, from Venice, was at the concert with her boyfriend at the time of the attacks. Her mother Luciana Milani told AP her daughter was a "wonderful person". She was a doctoral student at the Sorbonne.
Fabian Stech, 51
The German art critic, translator and teacher was killed at the Bataclan.
Ariane Theiller, 23
Theiller, an intern at Paris-based comics publisher Urban Comics, died at the Bataclan.
Luis Felipe Zschoche Valle, 33
Mr Felipe, from Chile, lived in Paris for eight years with his French wife. He was a guitarist and member of the band Captain Americano.
We will continue to add to this list as more victims are named.
Register for free to continue reading
Registration is a free and easy way to support our truly independent journalism
By registering, you will also enjoy limited access to Premium articles, exclusive newsletters, commenting, and virtual events with our leading journalists
Already have an account? sign in
Join our new commenting forum
Join thought-provoking conversations, follow other Independent readers and see their replies