Paris terror: Doctors and nurses share their experiences during the chaos
Hospitals were inundated with the wounded and the dying in the minutes and hours following the attacks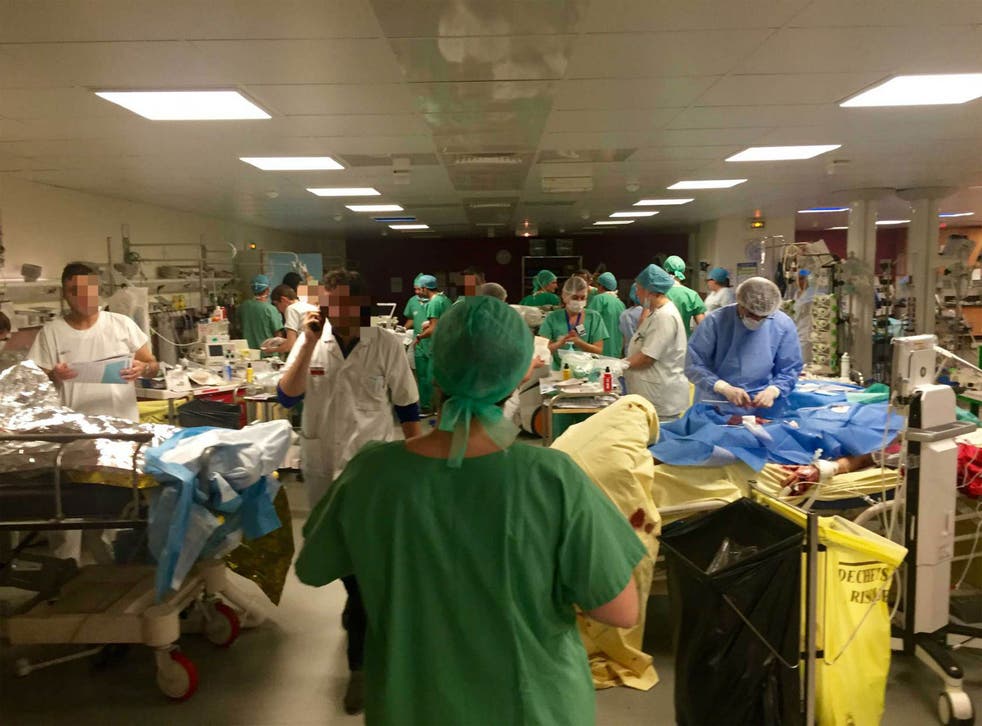 Hospital staff who were present for duty during the night of the Paris terror attacks have used social media to describe the chaos that ensued.
Dr Pourya Pashootan, a doctor at the Saint Louis hospital, took the above photo showing a recovery room packed wall-to-wall with doctors, nurses, anaesthetists and patients. He shared it on Facebook, where it went viral as a symbol of France's resilience and resolve in the face of terrorism.
Saint Louis hospital is located just minutes away from three of the areas attacked – La Carillon, the Bataclan and La Belle Equipe. Dr Pashootan told TIME Magazine how hundreds of doctors and nurses were called in as the death toll rose.
"Without thinking about the danger, without hesitation, we all showed up," he said. "When I saw that, I found it beautiful. I took the photo and when I got home I felt it'd be a shame not to share it."
He added: "It's a picture that speaks for itself. It doesn't need a caption. There aren't a lot of photographs like that one. It shows and entire profession mobilised and ready to face the worst of events."
Paris survivor on the attacks
A nurse who was on duty that night also started an Ask Me Anything thread on Reddit to help people better understand how events unfolded, from her point of view. Known as nurse_not_for_karma, it is unknown which hospital she was working in at the time.
She described how her hospital received twice as many patients as they normally do in a night, and that the "influx would have been insurmountable if no staff had returned and other services were not there to aid us".
The world mourns Paris attacks - in pictures

Show all 25
One of her patients had "several bullets in his body" and she wrote about how the victims were very quiet due to shock.
When asked about her personal state of wellbeing after the experience, she said she hoped to be more prepared in case of possible new attacks, and that she felt confident returning to work. However, "the memories and trauma of that night will mark me forever," she said.
"I understand that people were tired of waiting and ask for news – which I always give gladly – but we must understand that there are several degrees of urgency and that others may pass before you," she advised.
Join our new commenting forum
Join thought-provoking conversations, follow other Independent readers and see their replies