Paris attacks: First trace of Salah Abdeslam found in Brussels flat where suicide belts may have been made
Bomb-making material was found at a flat alongside the fugitive's fingerprint
Lizzie Dearden
,
Leo Cendrowicz
Friday 08 January 2016 10:35 Comments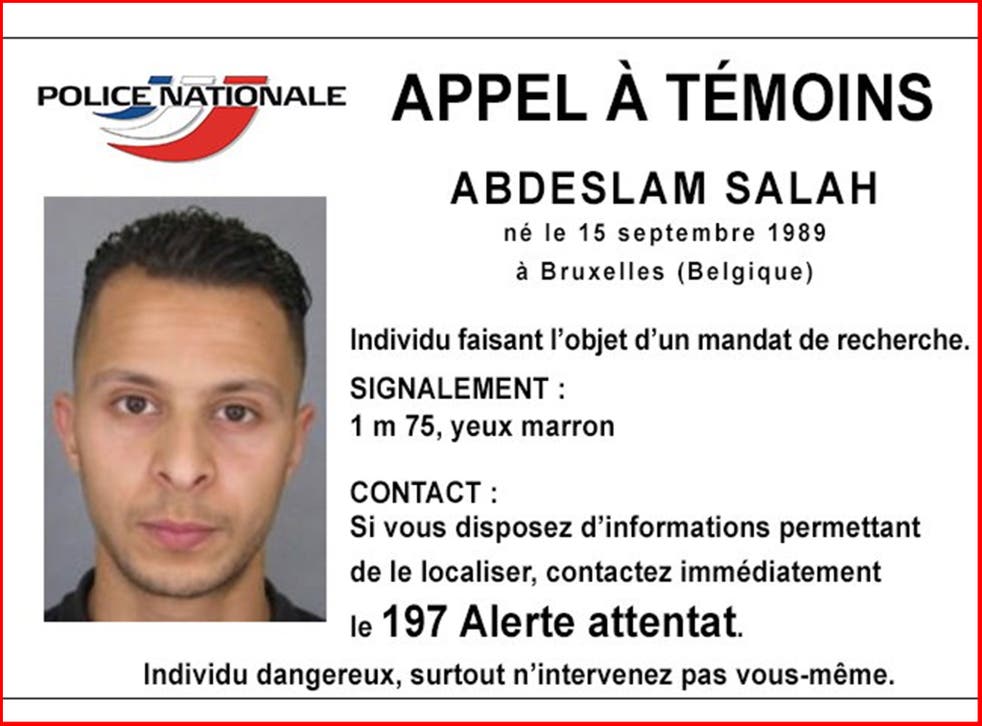 Police have found what could be the bomb-making factory "hideout" used by the jihadists who carried out the Paris terror attacks.
Belgian investigators think explosives used in the attacks in Paris in November may have been made in an apartment in Brussels that was rented under a false name and where a fingerprint of a key fugitive was found.
A fingerprint belonging to Paris attacks fugitive Salah Abdeslam has been found at a flat in Brussels where police believe explosive belts may have been manufactured.
Searches were initially carried out at the third-floor apartment in Schaerbeek on 10 December. Analysis has now revealed traces of bomb-making materials.
"Material that can be used to fabricate explosives as well as traces of TATP (acetone peroxide) were found," a statement from the Belgian federal prosecutor said.
Belgium: Police board up house of key suspect in Paris attacks
"This apartment was rented under a false identity that might have been used by a person already in custody in this case.
"Three handmade belts that might be used to transport explosives as well as a fingerprint of Salah Abdeslam were also discovered."
It was unclear whether the fingerprint was left before or after the Paris attacks but Belgian media said it was likely to be afterwards, meaning Abdeslam may have used the flat as a hideout.
"It is possible that it was there before the attacks but that seems doubtful because the apartment had evidently been cleaned and checked for fingerprints," De Standaard reported.
"Investigators therefore assume that Abdeslam has stayed there after his flight from Paris."
Abdeslam, whose brother Brahim blew himself up during the Paris attacks, is still on the run after disappearing following the terrorist massacres that killed 130 people on 13 November.
Ten suspects have so far been detained by the Belgian authorities on terrorism charges connected with the attacks. Much of the focus has previously been on Molenbeek, a run-down Brussels district that has long harboured jihadist terrorists.
Schaerbeek is a more gentrified district in the north-east of Brussels, and the raids took place near one of the capital's most lavish avenues. While Molenbeek has a high concentration of Moroccan-origin Muslims – heavily represented amongst the Paris attacks – Schaerbeek has a small but significant community of Turkish and Balkan Muslims.
Meanwhile, French investigators are struggling to confirm the identity of the young man shot dead when he approached a police station in Paris on Thursday wearing a fake explosives belt.

Acetone peroxide is a common ingredient in improvised explosive devices used by terrorist groups around the world because of its low cost and relative ease to obtain.
In pictures: Paris attacks

Show all 25
It may have been one of the key components in the suicide vests that the Paris attackers wore at the Stade de France, Bataclan and bars and restaurants, where they sprayed diners with bullets before blowing themselves up.
An explosive belt was found dumped in a bin in the southern Paris suburb of Montrouge 10 days after the atrocity, near where Abdeslam was traced to on the night.
The discovery fuelled speculation that he was supposed to be among the suicide bombers but abandoned the plan and fled to Brussels, where two men have been charged with driving him in the early hours of the following morning.
An international arrest warrant is out for Abdeslam, who friends say could also be hiding from Isis after he reportedly told them he had "gone too far" following the terrorist group.
Register for free to continue reading
Registration is a free and easy way to support our truly independent journalism
By registering, you will also enjoy limited access to Premium articles, exclusive newsletters, commenting, and virtual events with our leading journalists
Already have an account? sign in
Join our new commenting forum
Join thought-provoking conversations, follow other Independent readers and see their replies