Paris attacks: Isis propaganda magazine praises 'blessed' massacres and threatens more terror in Europe
The group claimed the attacks were revenge for France's intervention in Iraq and Syria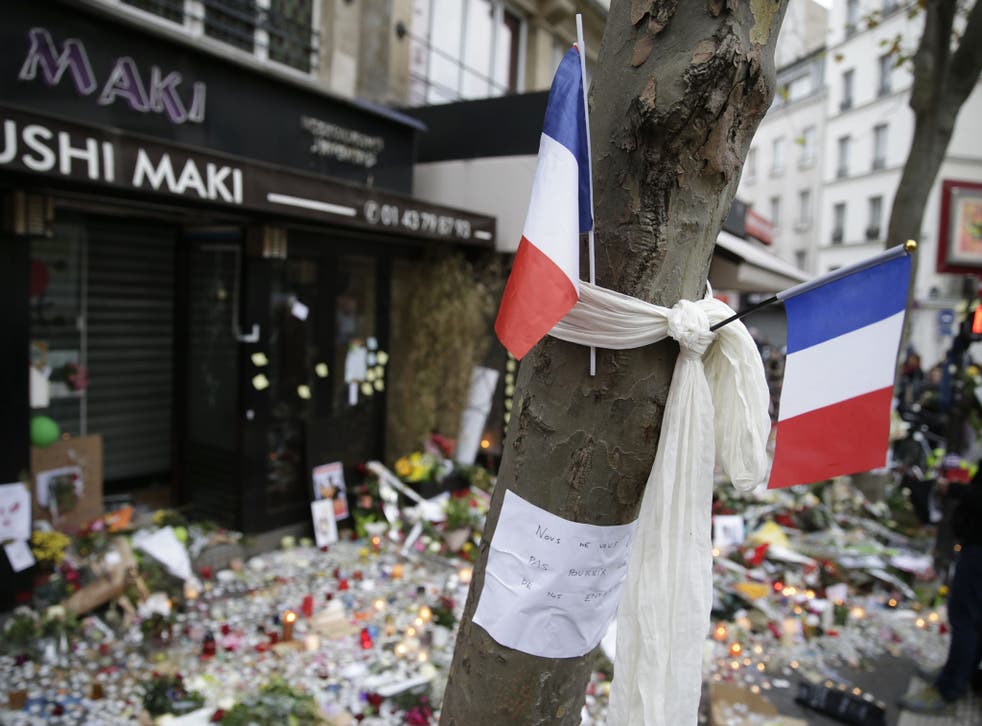 Isis has praised "eight knights" for carrying out the Paris attacks and claimed the massacres that killed 129 people in France were "only the beginning of the nightmare".
The twelfth issue of the group's Dabiq propaganda magazine was headlined "Just Terror", with a front cover photo showing victims of the shootings in the French capital being taken to hospital.
Isis claimed that the massacres, and the downing of a Russian passenger plane, were revenge for air strikes against its militants in Iraq and Syria.
"The blessed attacks against the Russians and the French were successfully executed despite the international intelligence war against the Islamic State," the article said.
"Both crusader nations had undoubtedly destroyed their homes with their own hands through their hostilities towards Islam, the Muslims, and the Muslim body of the Khilāfah (Caliphate)."
It continued to hail the "eight knights" who "brought Paris down to its knees, after years of French conceit in the face of Islam".
But the claim contradicted reports that emerged overnight of a ninth attacker still at large after being seen with the Abdeslam brothers during the restaurant attacks.
What do we know about the Paris attackers?
Another figure could be seen in surveillance footage taken on Friday night as they drove around in a car and sprayed diners at bars and bistros with bullets.
Brahim Abdeslam blew himself up with a suicide vest but his brother Salah is on the run, as is the unidentified suspected accomplice.
Isis claimed that the men had made "a loud, thundering statement that will cause the world to hear and understand the meaning of terrorism, and boots that will trample the idol of nationalism, destroy the idol of democracy, and uncover its deviant nature".
Threatening further attacks if air strikes and military intervention continues, the article continued: "Soon, by Allah's permission, a day will come when the Muslim will walk everywhere as a master…until then, the just terror will continue to strike them to the core of their deadened hearts."
The world mourns Paris attacks - in pictures

Show all 25
Dabiq called on jihadists around the world to launch more "lone wolf" attacks and also contained images claiming to show the home-made bomb used to bring down Metrojet flight 9268 last month.
Isis claimed the 224 mostly Russian victims on board were targeted because of Vladimir Putin's "arrogant" intervention in Syria.
President Francois Hollande has declared war on Isis and is travelling to the US and Russia next week to co-ordinate strategies, while calling on European partners to do more to eradicate the group.
He said France will not "cede to fear" and is urging his compatriots to go back out to cafes and museums and live life to its fullest.
Join our new commenting forum
Join thought-provoking conversations, follow other Independent readers and see their replies