Paris approves controversial plan to ban cars along stretch of River Seine
The length of road which is part of a UNESCO heritage site is used by 43,000 cars a day 
Alexandra Sims
Monday 26 September 2016 15:18 Comments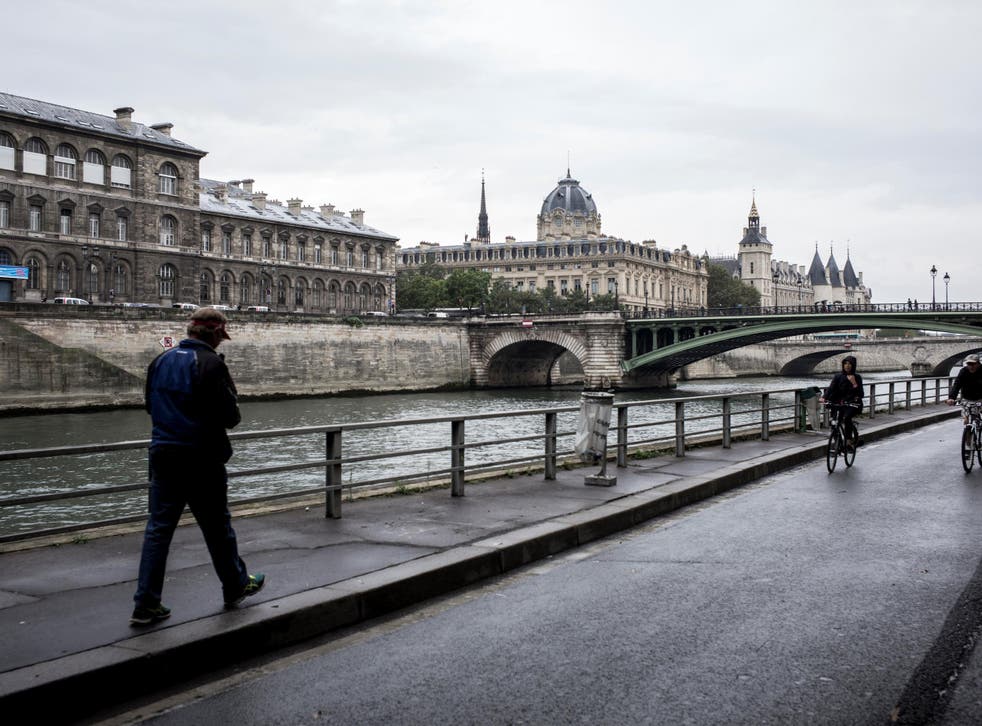 A controversial plan to pedestrianise a stretch of road running alongside the Seine River through central Paris has been approved by the city council.
The "historic" scheme, which has been described by the Mayor of Paris as "the end of an urban motorway and the taking back of the Seine", will see 3.3km of an express way on the Right Bank of the river permanently shut to vehicles, in an effort to tackle pollution in the city.
The length of road stretching from Tuileries gardens near the Louvre to the Henri-IV tunnel near the Bastille, which is part of a UNESCO world heritage site, was previously used by around 43,000 cars a day, Le Monde reports.
The project, expected to cost around €8 million, will add wooden walkways and foliage to the river bank, while leaving a lane for emergency vehicles.
Socialist Environment Minister Segolene Royal said banishing cars from the Right Bank puts Paris "on the right side of history".
To ensure the scheme's effectiveness, the city plans to monitor traffic on other main routes, as well as noise and emissions levels in the area - as well as use of the river bank by pedestrians, cyclists and rollerbladers.
A recent opinion poll found 55 per cent of Parisians supported the plan. Nearly 19,000 people signed a petition in favour, while a motorists' association gathered 12,000 signatures of members who oppose it.
As expected, the scheme proved divisive during the vote on Monday with left-wing and environmentalist members of the city council approving the plan and the right-wing opposition voting against it.
The greater Paris region has been wary of the plan, fearing it could worsen the city's traffic and hit commuters with increased delays.
Paris resident Veronique Gryson told AFP the car ban could be "an expensive privilege" for pedestrians.
"For us, it's very pleasant," she said. "But during the week if there are 200 pedestrians and at the same time you have 20,000 disgruntled motorists up there [on another road], that might be a problem."
Opponents have also raised issues such as a lack of consultation about the plan and insufficient testing of its effects.
Flood warnings in Paris as the Seine rises

Show all 10
Parisian mayor Anne Hidalgo made curbing high pollution levels in the French capital a key theme of her mayoral campaign.
Ms Hidalgo's "Paris Respire" (Paris Breathes) anti-pollution programme also includes banning cars from the Champs-Elysees avenue on the first Sunday of every month.
Air quality in Paris regularly exceeds EU norms, occasionally rivaling cities such Beijing and Shanghai.
Medical experts have blamed air pollution for 2,500 deaths each year in the city and 6,600 in the greater metropolitan area.
Additional reporting by Associated Press
Register for free to continue reading
Registration is a free and easy way to support our truly independent journalism
By registering, you will also enjoy limited access to Premium articles, exclusive newsletters, commenting, and virtual events with our leading journalists
Already have an account? sign in
Join our new commenting forum
Join thought-provoking conversations, follow other Independent readers and see their replies