Paris killings push world leaders to find solution to Syria crisis
Envoys gather in Vienna for talks to end civil war, but no Syrian representatives at the table
Maddy French
,
Matthew Lee
Saturday 14 November 2015 22:52 Comments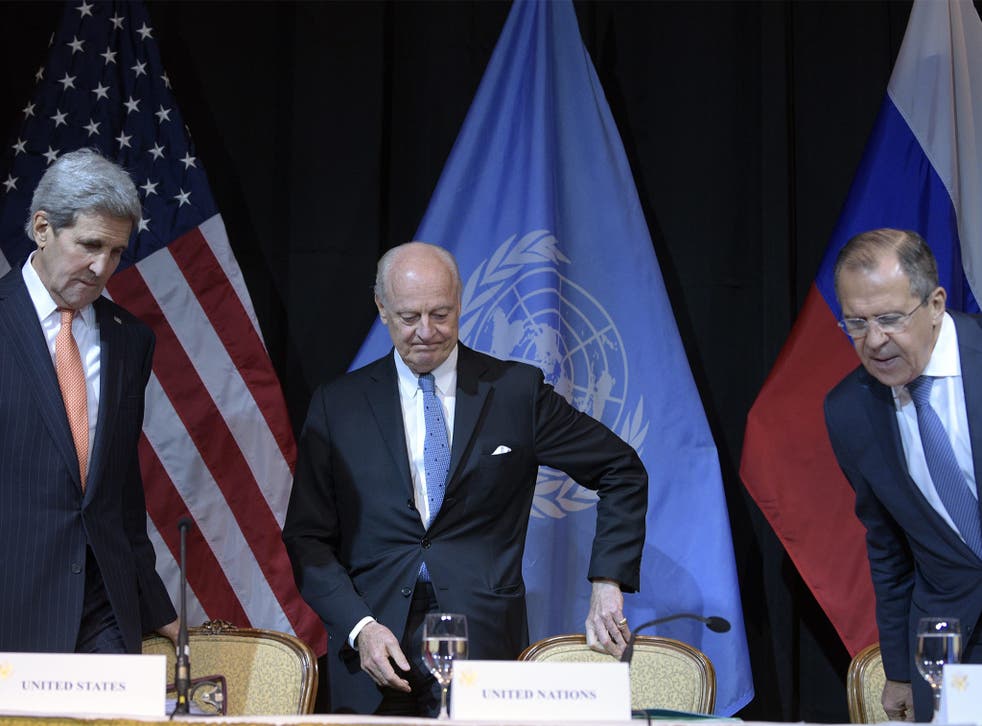 World powers have pushed forward with attempts to find a political solution to the war in Syria, setting a deadline of January 2016 for the Syrian government and recognised opposition groups to talk, with plans for elections and a new constitution within 18 months.
With the events in Paris weighing heavily on diplomatic talks in Vienna, the US Secretary of State John Kerry announced that senior diplomats from 19 nations had agreed to push for the talks and organise ceasefires.
The United Nation's special envoy for Syria, Staffan de Mistura, would also begin immediate work on determining who should sit at any negotiations, he added. Mr Kerry said those talks would lead to an agreement on a transitional government, a new constitution within six months, and then elections within 18 months. The agreement would bring about a "credible, inclusive and non-sectarian" government.
Mr de Mistura said that horrors of Paris had spurred the diplomats to push forward with their plan to end the civil war in Syria. "This is momentum. We can start at any time," he said in a news conference after the deal was announced. "If those in Paris thought they could influence the international community, the response was today."
Before the meeting, Mr Kerry said: "The one thing we could say to those people is that what they do in this is stiffen our resolve, all of us, to fight back, to hold people accountable, and to stand up for rule of law, which is exactly what we are here to do. And if they've done anything, they've encouraged us today to do even harder work to make progress and to help resolve the crises that we face."
In pictures: Paris attacks

Show all 25
Sergei Lavrov, the Russian Foreign Minister, said that the majority of delegates wanted an immediate ceasefire in Syria.
However, important details were not spelt out, and there was no guarantee that Syrian opposition groups and the government would agree to meet. Crucially, the role of Syrian President Bashar al-Assad in any transition remained unresolved.
Mr Assad's place in a future Syria has derailed every attempt to get the opposition and government to end the war, which has lasted four-and-a-half years and in which hundreds of thousands of people have been killed.
The Syrian National Coalition, the US-sponsored opposition in exile, has in the past insisted that the Syrian government agreed to remove the Syrian president before any negotiations take place. The Syrian government has refused to provide any such pre-condition. There were no Syrian representatives at the talks.
However, previous recent rounds of talks in Vienna, which for the first time included representatives from Iran and Saudi Arabia, had failed to get even this far.
Outside the talks, a group of Syrian refugees showed their support for ending the war, and spoke of their solidarity with the people of Paris after the horrors of 13 November.
A Syrian woman said that a ceasefire was an absolute priority. Holding a poster with the words "We stand with Paris", she said her group had sympathy for the people in France.
"We are standing by them," she said. "Violence must be tackled everywhere and [politicians] should find a way to stop this [Islamic State] violence. But they were too late in Paris."
Register for free to continue reading
Registration is a free and easy way to support our truly independent journalism
By registering, you will also enjoy limited access to Premium articles, exclusive newsletters, commenting, and virtual events with our leading journalists
Already have an account? sign in
Join our new commenting forum
Join thought-provoking conversations, follow other Independent readers and see their replies