Paris mayor promises bike lane on every street if re-elected
Anne Hidalgo wants city to be '100 per cent' cyclist-friendly by 2024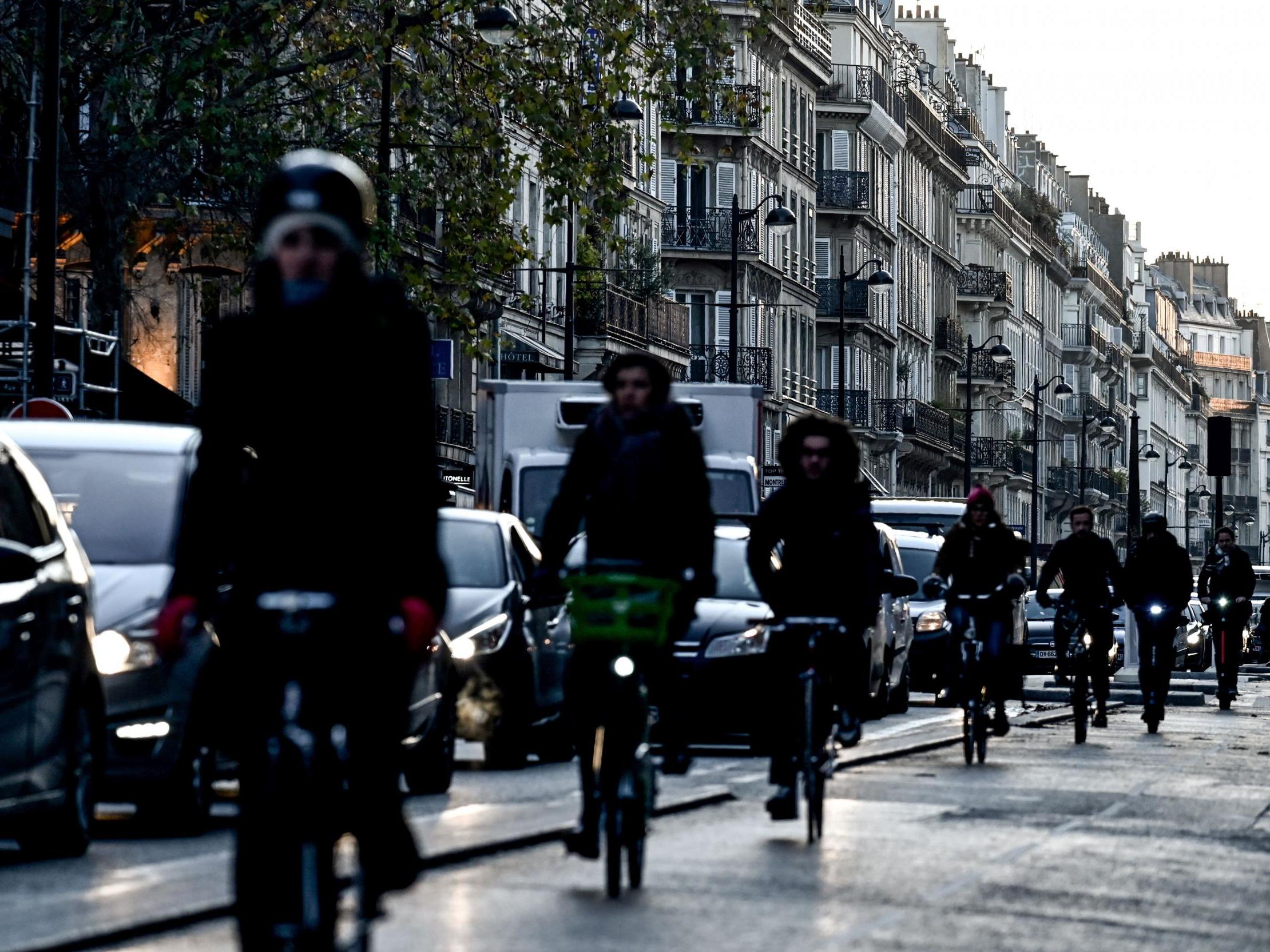 The mayor of Paris has promised to add a bike line to every street in the French capital if returned to office in next month's municipal elections.
Anne Hidalgo, who has been pursuing a radical agenda of "greening" the city since 2014, has said she wants Paris to be "100 per cent" bike-friendly by 2024.
The pledge forms a central pillar of her re-election campaign, which outlines an ambitious vision to create a more self-sufficient "15-minute city", or ville du quart d'heure, in which shops, parks, schools and health centres are just a walk or bike ride away.
Ms Hidlago is facing one contender from Emmanuel Macron's Republic on the Move party, Cédric Villani, and one from the political right, Rachida Dati, a former member of the European Parliament.
In her pursuit of an urban "ecological transformation", Ms Hidalgo has overseen a radical expansion of protected cycle lanes around Paris in recent years.
Climate change: Decade's defining issue in pictures
Show all 20
In the face of opposition from the local car lobby key streets, squares and roundabouts across the city have been re-engineered to promote cycling.
Segregated cycle lanes now line the length of the Champs Elysées, while the right bank of the Seine has been completely free of motor traffic since 2016.
Under Ms Hidalgo, a member of France's Socialist Party, hundreds of other green-related projects such as "urban forests" are currently being built throughout Paris.
According to figures released on the mayor's campaign website, motor traffic fell by 22.6 per cent between 2014 and 2020, resulting in notable improvements in air quality.
Cycling rates have meanwhile rocketed, with last year seeing a 50-per-cent increase. One report said more Parisians now cycled every day than took line 1 of the metro, the city's busiest underground route.
The more recent uptake in cycling appears to have been fuelled by France's ongoing strikes, which have repeatedly paralysed Paris's public transport network. Many citizens have taken to their bikes in response and, according to figures published by Le Parisien, the habit has stuck.
"Cycle paths, which consume much less space, have enabled twice as many people to get around," council candidates Audrey Pulvar and Christophe Najdovski explain on Ms Hidalgo's Paris en Commun campaign website.
"Rediscovering the human dimension, strengthening the conviviality of common spaces, designing cities where it is good to walk and good to cycle, where it becomes possible again to play, to do sports, cities for children, for the elderly, for the most vulnerable and for people with disabilities – these are new freedoms.
"Streets for everyone, green, at a time when the climate challenge requires us to reinvent."
Ms Hidlago's initiatives have helped see Paris rise in the list of bike-friendly cities to eighth place from 17th since 2015.
Copenhagen currently tops the list, with citizens cycling 894,000 miles every day and more than £30 per capita invested into bike infrastructure investments. Amsterdam, famed for its bicycles, sits in second, followed by Utrecht in third.
London failed to feature in last year's top 20, despite authorities investing millions and constructing a number of 'superhighways' since 2015 to revolutionise cycling.
Transport for London has pledged to create 280 miles of new cycleways by 2024.
Join our commenting forum
Join thought-provoking conversations, follow other Independent readers and see their replies