Police ban several protests against police brutality in central Paris
Only 10 people can gather together outside in French lockdown
Zoe Tidman
Saturday 06 June 2020 10:50 Comments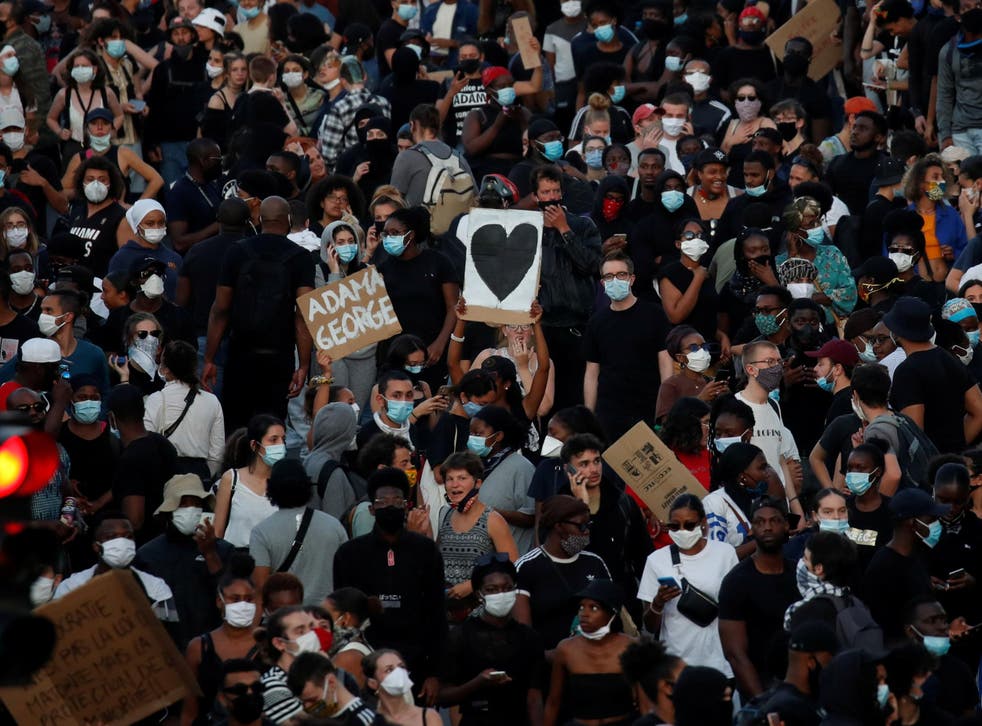 Anti-police violence protests around the Eiffel Tower have been banned due to coronavirus restrictions, Paris authorities have said.
In addition to this, demonstrations outside the US embassy – also planned for Saturday afternoon - have been barred from going ahead over public health concerns.
La Prefecture de Paris, the capital's police force, said lots of people could be drawn to the protests, while current lockdown rules only allow 10 people to gather outside at a time.
In a statement banning the planned demonstration along the Champs-de-Mars, the park around the Eiffel Tower, police said: "Any large gathering could be a breeding ground for Covid-19 infections in an area where it continues to spread."
Police said they also feared public disorder following protests earlier in the week.
George Floyd death: Minneapolis protests erupt in the streets

Show all 30
An estimated 20,000 people defied a virus-related ban and protested against racial injustice and heavy-handed police tactics in the French capital on Tuesday as global outrage over the death of George Floyd in the US has kindled frustrations in other countries.
Tear gas choked Paris streets as riot police clashed with demonstrators and firefighters struggled to put out multiple fires which had been lit during the protest.
People paid homage to Floyd – a black American who died after an officer knelt on his neck for more than eight minutes – and Adama Traore, a French black man who died in police custody several years ago.
"As long as police aren't convicted, we will keep coming out in the streets," his sister said.
The 24-year-old's family believe he suffocated to death after three police officers piled on top of him and pinned him to the ground on his stomach during an arrest.
The facts of the case have been much-disputed, with an export report released last week exonerating the police officers and saying his death was down to factors including underlying medical conditions and hot weather . It was quickly contradicted by another medical expert assessing the case on behalf of his family.
No one has been charged with Traore's death to date.
Protesters around the world have descended on the streets to support the Black Lives Matter movement and demand justice for Floyd following the 46-year-old's death in Minneapolis in late May.
French government spokeswoman Sibeth Ndiaye dismissed comparisons between police violence in France and the US on Wednesday, claiming there was no systemic state violence in France.
Some law enforcement officials in France have been accused in recent years of disproportionate use of force, particularly during the Yellow Vest protests in 2018 and 2019, during which tear gas and water canons were used against crowds.
The government has always rejected the term "police violence" despite repeated criticism from human rights organisations.
Emmanuel Macron, the French president, announced a plan at the start of the year to improve the ethics of the security forces.
Additional reporting by agencies
Register for free to continue reading
Registration is a free and easy way to support our truly independent journalism
By registering, you will also enjoy limited access to Premium articles, exclusive newsletters, commenting, and virtual events with our leading journalists
Already have an account? sign in
Join our new commenting forum
Join thought-provoking conversations, follow other Independent readers and see their replies