French police clash with firefighters on Paris streets as protests turn violent
Police deploy tear gas and batons against protesters as firefighters demand better working conditions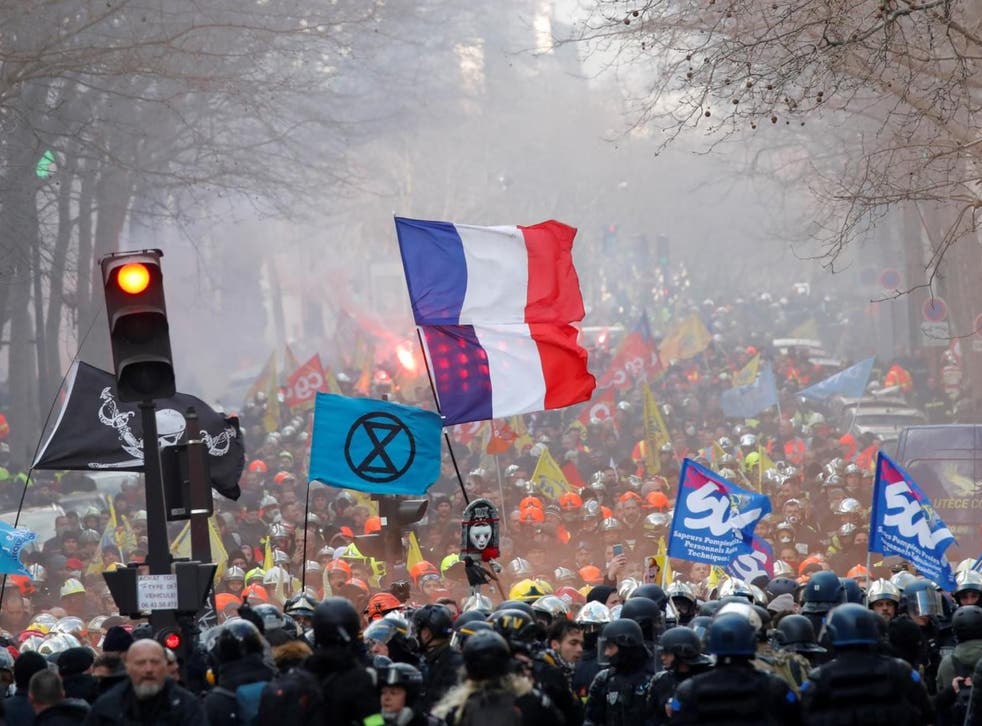 Firefighters in Paris have clashed with police amid protests over working conditions and a lack of pay reforms.
Violent scenes were shared across social media, showing police using tear gas and batons against the protesters.
The firefighters are demanding an increase to their hazard bonus to bring it in line with those granted to the police and gendarmes.
Firefighter unions called for an increase in risk pay from 19 per cent to 28 per cent of the basic salary, as well as guarantees that their current pension plans remain in place.
"We are the last link in emergency services in France, and we are overwhelmed by calls and interventions," Frédéric Perrin, president of the SPASDIS-CFTC union, told the news agency Agence France-Presse.
"We need more manpower and the means to respond to it, but also the guarantee that we focus mainly on our missions, the emergency, and not serve as supplements to absent health services."
France strikes: Chaotic scenes as unrest continues

Show all 18
It is the second time in four months that firefighters have protested in the French capital, having demonstrated in October for similar reasons.
French firefighters have also been a consistent presence at nationwide protests against sweeping pension reforms in recent weeks, often marching at the front of the procession in order to prevent police and protesters from clashing.
Tuesday's protests are expected to end at 6pm at Place de la Nation.
The Paris police department posted a video appearing to show firefighters attempting to force down a barrier.
"Respect for the rules applies to everyone, no matter the nature of the protest," the force tweeted.
Register for free to continue reading
Registration is a free and easy way to support our truly independent journalism
By registering, you will also enjoy limited access to Premium articles, exclusive newsletters, commenting, and virtual events with our leading journalists
Already have an account? sign in
Register for free to continue reading
Registration is a free and easy way to support our truly independent journalism
By registering, you will also enjoy limited access to Premium articles, exclusive newsletters, commenting, and virtual events with our leading journalists
Already have an account? sign in
Join our new commenting forum
Join thought-provoking conversations, follow other Independent readers and see their replies