Paris 'sex toy' Christmas tree sculpture deflated by vandals
Attack comes after artist admits installation was partly inspired by anal sex toy
Heather Saul
Sunday 19 October 2014 09:13 Comments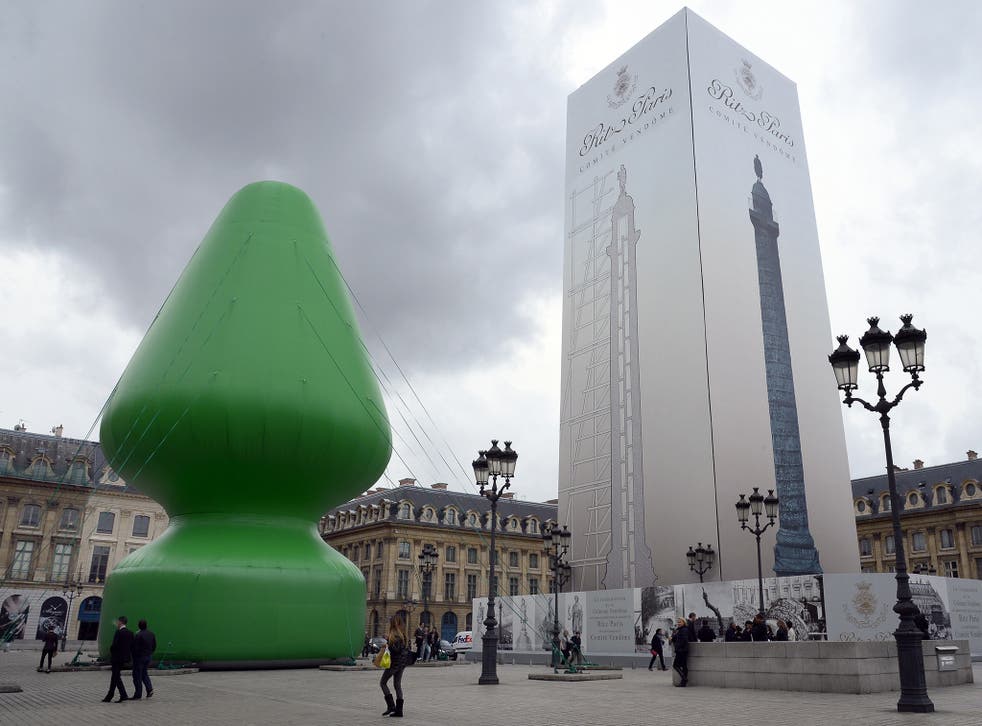 A giant inflatable 'Christmas tree' appears to have been vandalised overnight on Friday, hours after its creator admitted being partly inspired by a joke about an anal sex toy.
The controversial piece entitled 'Tree' by US artist Paul McCarthy was erected over the Place Vendome in Paris as part of the FIAC international art festival.
Its 80ft high presence immediately drew outcry from some residents, who said Paris had been "humiliated" by the installation. Others dismissed the sculpture as a "provocation" and called for its removal.
French journalist Renaud Pila tweeted that the FIAC took the decision to deflate the artwork came after individuals reportedly severed the cables holding it up, according to France 24.
The piece "will be reinflated", he said.
McCathry said Tree has proved so divisive that he has been slapped in the face three times by a passer-by, who also shouted that he had "no business being on the square".
However, he admitted to Le Monde on Friday that his inspiration behind the piece was partly arrived at from a joke about a sex toy.
Banned, censored and 'offensive' artworks

Show all 8
"It all started with a joke. Originally, I thought that a butt plug had a shape similar to the sculptures of Constantin Brâncusi. Afterwards, I realised that it looked like a Christmas tree," he said.
"People can be offended if they want to think of it as a plug, but for me it is more of an abstraction."
Register for free to continue reading
Registration is a free and easy way to support our truly independent journalism
By registering, you will also enjoy limited access to Premium articles, exclusive newsletters, commenting, and virtual events with our leading journalists
Already have an account? sign in
Join our new commenting forum
Join thought-provoking conversations, follow other Independent readers and see their replies