Paris suffers more than 300km of traffic jams amid biggest public transport strike in 12 years
Huge disruption across bus, train and Metro lines as transport unions stage protest against proposed pension reforms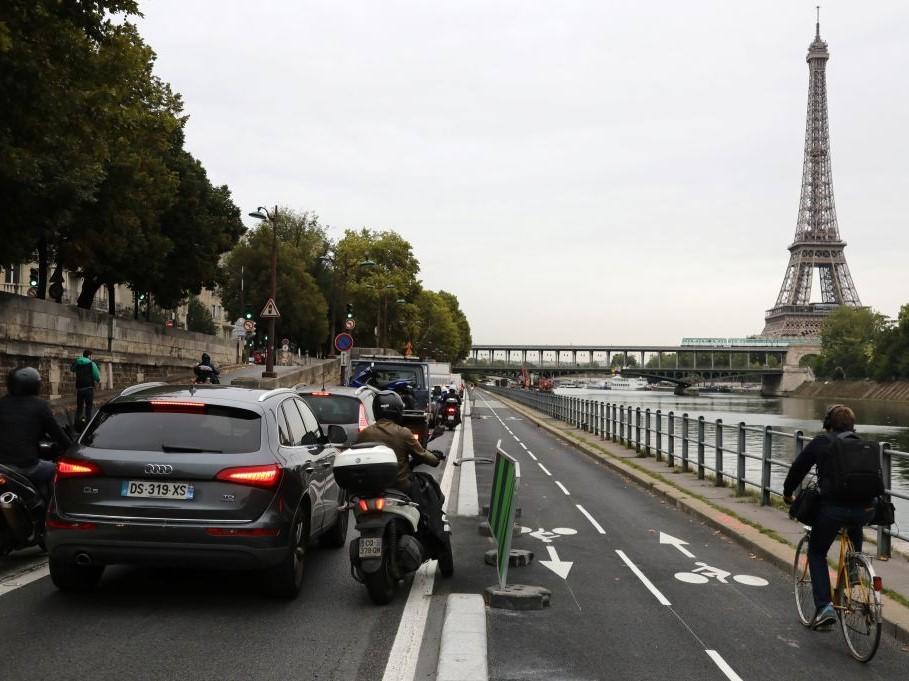 Traffic jams clogged the French capital on Friday as public transport workers staged the biggest strikes in more than a decade.
Officials counted more than 380km of traffic jams in the Paris region during the peak of the evening rush hour – more than double the usual amount.
It is the biggest strike since 2007 and is the first major protest against Emmanuel Macron's proposed pension reforms.
The French president plans to create a universal pension system that he says will make the public pension scheme fairer, though transport unions say it will affect some workers' right to retire early. Workers in other sectors, including nurses and lawyers, plan to strike next week.
Public transport operator RATP closed 10 of the city's 16 metro lines on Friday, while buses, trams, regional trains and other remaining services were severely disrupted.
Paris swelters during hottest day in its history
Show all 8
Residents and tourists were forced to use bikes and electric scooters to get around the city, or face the severe traffic by taking a car or taxi.
Ride-hailing services appeared to profit from surge pricing due to high demand, with some reporting fairs three times higher than normal. One trip across Paris was quoted as over €100, despite the journey being less than 10km.
Many workers were advised to work from home in order to alleviate the congestion but despite the travel chaos, some of those affected posted their support on social media for the strikes.
"By defending pensions from collective agreements... RATP is fighting for all of us," wrote historian Ludivine Bantigny. "We will walk."
Philippe Martinez, head of the CGT union, said he hoped the day of action would convince Mr Macron to open up discussions about his proposed reforms.
"It's not a strike by the privileged few," he told France Info Radio. "It's a strike by employees saying, 'We want to retire at a reasonable age with a reasonable pension'."
Mr Macron has promised that the legal retirement age in France of 62 will remain the same following the reforms.
RATP metro workers currently retire, on average, at 55. This is due to a pension scheme designed to compensate them for working underground.
Join our commenting forum
Join thought-provoking conversations, follow other Independent readers and see their replies