Paris attack: Marine Le Pen accused of 'turning an atrocity into an opportunity' by French Prime Minister
Bernard Cazeneuve slams Front National leader for seeking political gains and dividing society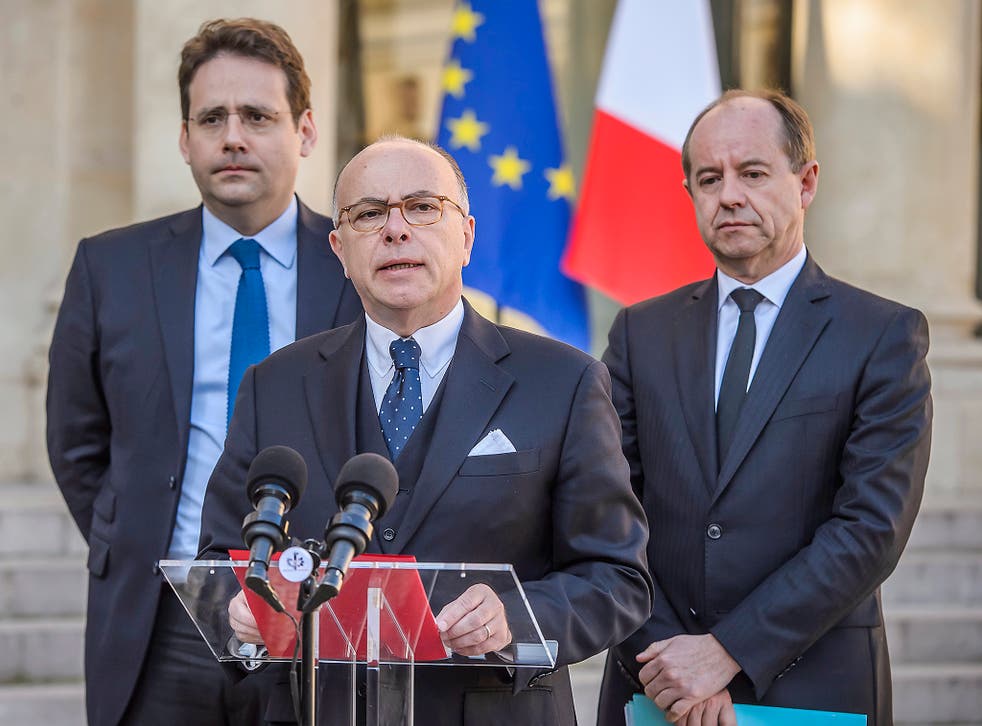 French Prime Minister Bernard Cazeneuve has accused Marine Le Pen of turning "an atrocity into an opportunity" after the terror attack that left a police officer dead on the Champs-Elysees.
Mr Cazeneuve said the leader of the far-right Front National was seeking to divide the French people and use the attack for political gains as she reacted to the Paris tragedy.
"The Front National candidate is seeking, like after each tragedy, to utilise it and divide," he said.
Mr Cazeneuve blamed Ms Le Pen for "seeking to shamelessly exploit fear" and said France's "best response is to remain united".
A day after the attack, Ms Le Pen, who has made security and immigration her priorities during the campaign, hit out at French leaders for failing to protect its citizens, called for border checks to be reinstated and all suspects on France's terror watch list to be arrested.
The Front National leader said the attack was an act of "war" and that France's response had to be "total".
She said: "Our police officers are not being attacked because they are the symbols of the state. France is not being targeted for what it does but for who she is, French people are being targeted for the only reason they are French.
"This war, which is being waged on us is uneven and revolutionary and its aim is to subject us to a totalitarian ideology. Since the country is at war, the response must be global, total, and come from the country as a whole. I am calling on every French person to unite like members of a family would when faced with hardship. I am calling for the unity of a nation, which is confident in itself and its values."
As part of her answer to the security issues facing France, Ms Le Pen said she would reinforce the use of military force against terrorist group and would put into "a government of national unity" with "war objectives" to fight against "Islamism and terrorism".
The latest attack in Paris saw a suspected Isis supporter open fire with a Kalashnikov on the famous Champs-Elysees, killing one officer and injuring two others before being shot dead. The attacker has been named as French 39-year-old Karim Cheurfi, who had previously been jailed four times for robbery, violence and attempted murder.
François Fillon, the candidate of the conservative Les Republicains, also referred to a "war" against extremism, and implicitly criticised the Socialist government by suggesting some in power had not "taken the full measure of the evil" they faced.
Mr Cazeneuve included Mr Fillon in his own comments, attacking his record on security when he was Prime Minister for five years under Nicolas Sarkozy.
The intervention against candidates was an unusual one from a serving Prime Minister, coming only 10 hours before campaigning was due to end ahead of the first round on Sunday. French commentators said his motivation was itself "politicised", and that he owed a duty of discretion on the eve of an election.
In a tweet, Luc Chatel, an elected representative for Les Republicains, said Mr Cazeneuve's comments were "appalling".
Another member of the French Assembly for Les Republicains, Eric Ciotti, condemned the Prime Minister's speech as a "basely political attack against the worthy and responsible speech of Francois Fillon".
World news in pictures

Show all 50
Hitting back at Ms Le Pen, Mr Cazeneuve said there was no evidence to link the country's immigration and asylum seekers policies with the attack.
In the face of growing concerns over security issues during the election, he called for "truth to be reestablished".
But that did not stop the US President, Donald Trump, from suggesting in a tweet in the aftermath of the attack that it would "have a big effect" on the result.
He told the Associated Press later that the attack would "probably help" Ms Le Pen. Asked if that meant he endorsed the Front National candidate, because she's the candidate who is he stopped short of doing so, but said she was "strongest on borders, and she's the strongest on what's been going on in France".
Register for free to continue reading
Registration is a free and easy way to support our truly independent journalism
By registering, you will also enjoy limited access to Premium articles, exclusive newsletters, commenting, and virtual events with our leading journalists
Already have an account? sign in
Register for free to continue reading
Registration is a free and easy way to support our truly independent journalism
By registering, you will also enjoy limited access to Premium articles, exclusive newsletters, commenting, and virtual events with our leading journalists
Already have an account? sign in
Join our new commenting forum
Join thought-provoking conversations, follow other Independent readers and see their replies