Paris terror: Attacks could herald a dramatic change in tactics by Isis
If the militant group is shown to be behind the atrocities, there will be dramatic consequences for security in Europe and further afield
Charlie Cooper
Saturday 14 November 2015 03:39 Comments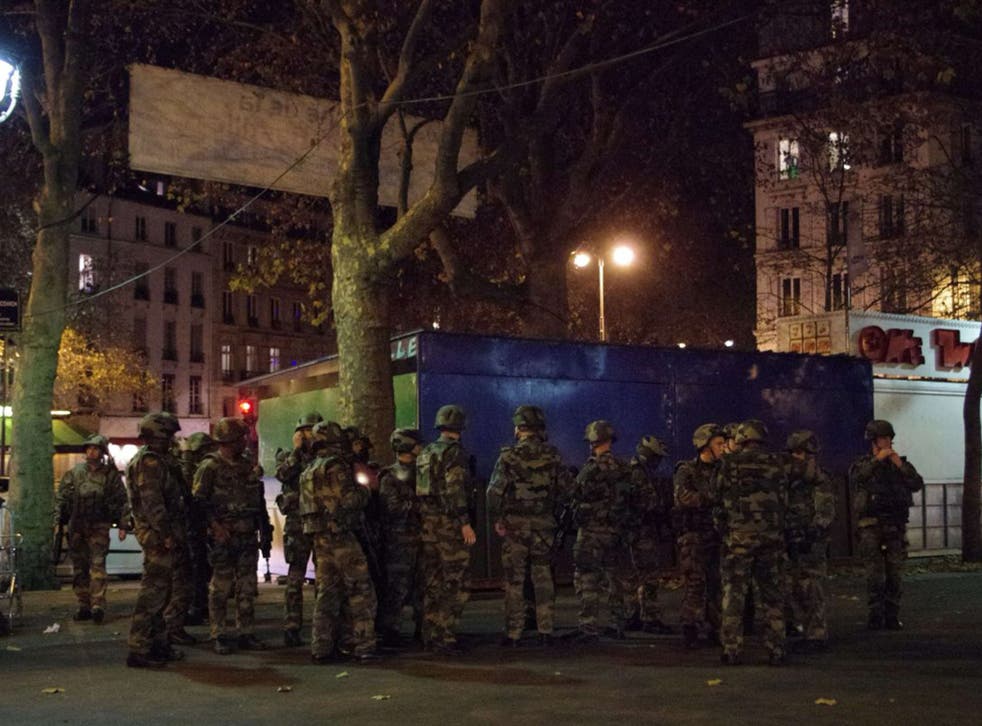 The multiple attacks in Paris marked the return of terror to the city, only 10 months after the Charlie Hebdo shootings that left 17 people dead.
It was unclear who was responsible for the killings, which were on a far greater scale and more indiscriminate than January's attacks. Investigations will centre on whether the perpetrators were, like the French-Algerian Kouachi brothers who carried out the Charlie Hebdo shootings, inspired or supported by jihadist groups.
The gunmen in January identified themselves as belonging to al-Qaeda in Yemen. However, suspicion now will inevitably fall upon the far more powerful Isis. Since January, Isis has grown in strength.
Experts have said that, if indications that the group or its affiliates were responsible for the downing of a Russian A321 Airbus over the Sinai desert last month are proven correct, it may have marked a major shift in strategy for the group, to demonstrate its international reach beyond the lawless regions of Iraq and Syria where it has its strongholds.
The world mourns Paris attacks - in pictures

Show all 25
If Isis is shown to be behind the Paris attacks, there will be dramatic consequences for security in Europe and further afield.
France has been part of the US-led coalition against Isis in Syria, launching its first air strikes in September.
Some of the attackers took hostages, in a repeat of tactics deployed after the Charlie Hebdo shooting.
Those shootings on 7 January marked the beginning of three days of fear, as the Kouachi brothers and their accomplices evaded police, carrying out further attacks, before being cornered and killed by police. Twelve were killed in the initial attack on the satirical magazine, which was targeted for portraying the Prophet Mohamed on its front cover. The next day a gunman took hostages at a Kosher supermarket near the Porte de Vincennes. On the same day, police tracked the Kouachi brothers to an industrial estate in Dammartin-en-Goele, where they too had taken a hostage.
Police conducted simultaneous raids in Dammartin and at Porte de Vincennes and three terrorists were killed, along with four hostages who died in the Vincennes supermarket before the intervention; some other hostages were injured. Those attacks were the deadliest acts of terrorism in France since the 1961 Vitry-Le-François train bombing.
World's monuments show solidarity with Paris

Show all 30
In the wake of those attacks, France increased security and surveillance and has co-operated in European-wide crackdowns on suspected terrorist cells. In June authorities launched a terrorism investigation after police found a decapitated body in a gas factory in the south-eastern city of Lyon.
And two months later three Americans and one Briton were awarded medals for bravery after they overpowered a heavily armed gunman on a train in France.
That attack on 21 August 2015 occurred on board a train passing through Oignies, Pas-de-Calais, France. The train was traveling from Amsterdam to Paris via Brussels when the perpetrator carrying an assault rifle, opened fire, before being subdued by passengers, one of whom he stabbed.
The attack was foiled by the actions of passengers, including an off-duty American soldier.
The perpetrator was Ayoub El Khazzani, a 25-year-old man from Morocco. He is known to have travelled to Turkey, a possible route to Syria.
Register for free to continue reading
Registration is a free and easy way to support our truly independent journalism
By registering, you will also enjoy limited access to Premium articles, exclusive newsletters, commenting, and virtual events with our leading journalists
Already have an account? sign in
Join our new commenting forum
Join thought-provoking conversations, follow other Independent readers and see their replies