Paris attacks: Visiting Molenbeek, the police no-go zone that was home to two of the gunmen
Deprived east Brussels suburb where anti-terror officers made arrests has long been connected with jihadists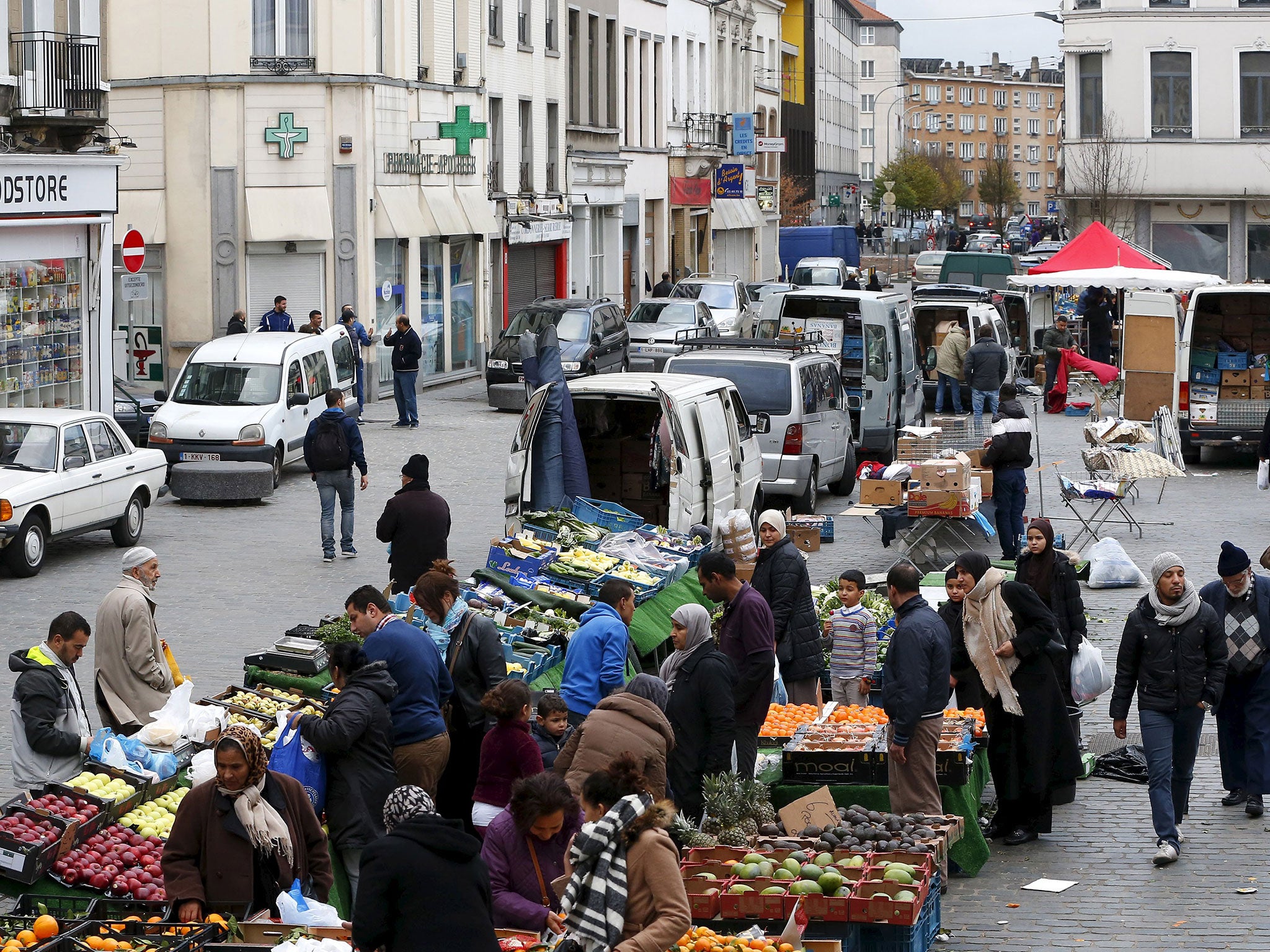 Most Belgians were stunned to hear that police had raided addresses in Brussels and arrested suspects, less than 24 hours after the Paris attacks.
However, few were surprised to hear that the swoops took place in Molenbeek, a run-down east Brussels commune that has long been a magnet for jihadists, gangs, drugs and lawlessness.
It was at Molenbeek's Osseghem station that police arrived in force, with a phalanx of cars, backed by the bomb squad, sniffer dogs, and the national gas company. For Anas, a 13-year-old, it was a spectacular sight. "They pulled out their sub-machine guns, surrounded this one man and took him in. It was like watching a film," he said.
Anas was still loitering near the station with two teenage friends, both called Mohammed. They are all in a 25-strong street gang called Osseghem. "Nothing much happens here," he said, innocently. "Although the police sometimes chase us – they think we're all Islamists."
The world mourns Paris attacks - in pictures
Show all 25
Perhaps with good reason: Molenbeek has been connected to almost all of Belgium's terrorism-related incidents in recent years. Moroccan national Ayoub el-Khazzani, who opened fire with a Kalashnikov on a high-speed Thalys train in August had lived in Molenbeek. French-Algerian Mehdi Nemmouche, who killed four people at the Jewish Museum in Brussels last year, spent time in the area. And the two suspected terrorists killed by Belgian police in a shootout in the eastern town of Verviers in January were from Molenbeek.
As well as being home to many ethnic Moroccans and Turks, Molenbeek is also one of the country's poorest areas. It has a 30 per cent unemployment rate, and one in four of its 95,000 inhabitants does not have a Belgian passport. Like gang violence, Islamic radicalism has fed on Molenbeek's marginalisation, despair and festering resentment of authority. Police say the most dangerous among around 30 Brussels gangs come from Molenbeek.
Brice De Ruyver, who spent eight years as security adviser to then-Prime Minister Guy Verhofstadt, said Molenbeek suffers from a cocktail of problems. "Youths are poorly educated, attracted by petty crime, have run-ins with police, and then there is a vicious circle, which leads to recruitment by radical groups," he said, adding that the problems are now so serious, that it is hard to find police willing to bother tackling them.
"We don't officially have no-go zones in Brussels, but in reality, there are, and they are in Molenbeek."
The area's troubles are partly due to its industrial decline. It was the capital's landing site when the Brussels-Charleroi canal was built almost two centuries ago, and it proudly bore the nickname "Little Manchester". Today, the rue de Manchester, which runs between the canal, the rue de Liverpool and the rue de Birmingham, are strikingly in business. At the station, shopkeeper Nouraddine admits the neighbourhood has a bad reputation. "Yes, we seem to attract a lot of problems," he says. "But don't get me wrong: this is mostly a happy place. If there is any extremism here, I just haven't seen it."
Join our commenting forum
Join thought-provoking conversations, follow other Independent readers and see their replies