Pegida mocked for outrage at black children's photos on Kinder chocolate bars
Kinder put childhood images of German's national football players on packaging inline with upcoming Euro 2016 competition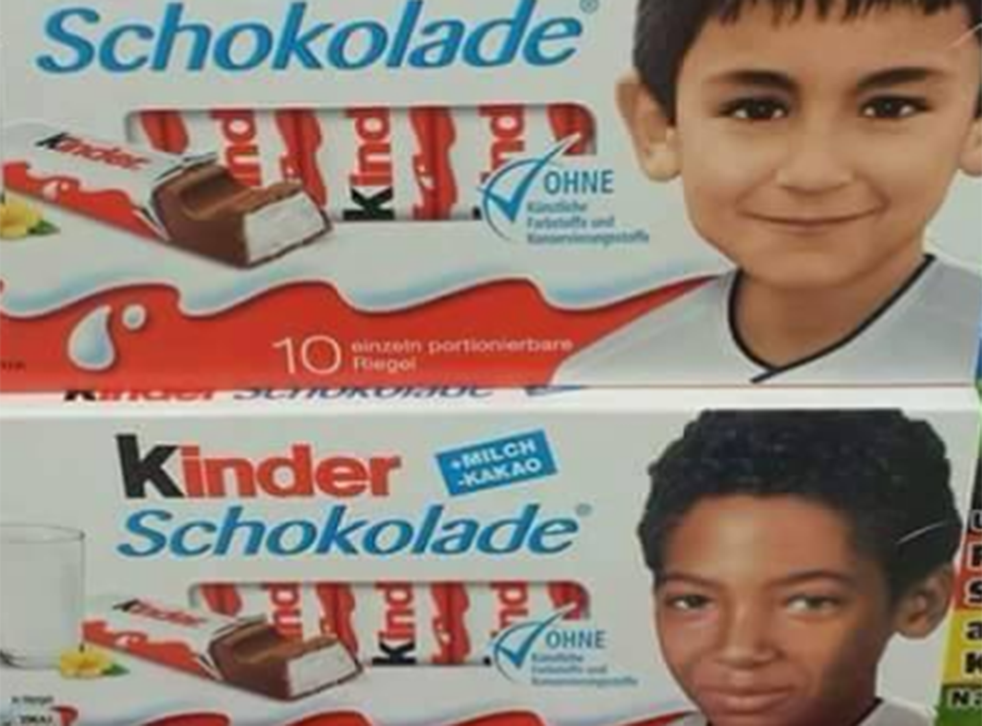 Supporters of the anti-Islam group Pegida have expressed outrage at the use of non-white children's faces on Kinder bars - only to find out they are of players in the national football team when they were younger.
Kinder bars usually carry an image of a blond-haired, blue eyed boy, but this has been changed ahead of this summer's European Championships for photos of the German team.
The decision to change the packaging has sparked protests from members of the anti-immigration group.
The far-right group wrote on Facebook: "They'll stop at nothing" and posted a picture of the new wrappers.
The Facebook post included pictures of lkay Gundogan, who plays for Borussia Dortmund and Bayern Munich's Jerome Boateng.
Comments on the group's post included one from, Sebastian Gollmer, who wrote: "They're trying to pass this shit off as normal, poor Germany."
Another user, Michael Shepherd said: "This is nothing but a fake, no?!?!?"
Opposing the post and its negative comments, Ferrero's branch company Kinder Schokolade said it would "distance itself from any form of xenophobia or discrimination".
"We do not accept or tolerate these in our Facebook communities either," it added.
Kinder had used the same image of a blonde-haired blued-eyed boy, Guenter Euringer, for more than 30 years. He even launched a book about his experience in Germany, The Chocolate Child, in 2005.
Kinder is now running a competition asking parents to upload their child's photo to its website in a bid to feature their face on the chocolate's packaging.
Pegida, which stands for Patriotic Europeans Against the Islamisation of the West, is an umbrella group attracting support from conservatives and claim not to be racists.
The group, founded by Lutz Bachmann in 2014, wants to curb immigration and refuses to integrate with other races, especially Muslims.
Anti-Islam movement PEGIDA stages protests across Europe
In 2013, Ferrero withdrew adverts for chocolates that were aimed to tie in with the German political elections, following furious people comparing the advertising slogan, "Germany votes white", to Germany's far right NPD party's propaganda.
Register for free to continue reading
Registration is a free and easy way to support our truly independent journalism
By registering, you will also enjoy limited access to Premium articles, exclusive newsletters, commenting, and virtual events with our leading journalists
Already have an account? sign in
Register for free to continue reading
Registration is a free and easy way to support our truly independent journalism
By registering, you will also enjoy limited access to Premium articles, exclusive newsletters, commenting, and virtual events with our leading journalists
Already have an account? sign in
Join our new commenting forum
Join thought-provoking conversations, follow other Independent readers and see their replies