Pegida leader Lutz Bachmann steps down after Hitler photograph
Newspapers also reported that he called asylum-seekers 'cattle, riff raff' and 'a pack of dirt' in a Facebook posting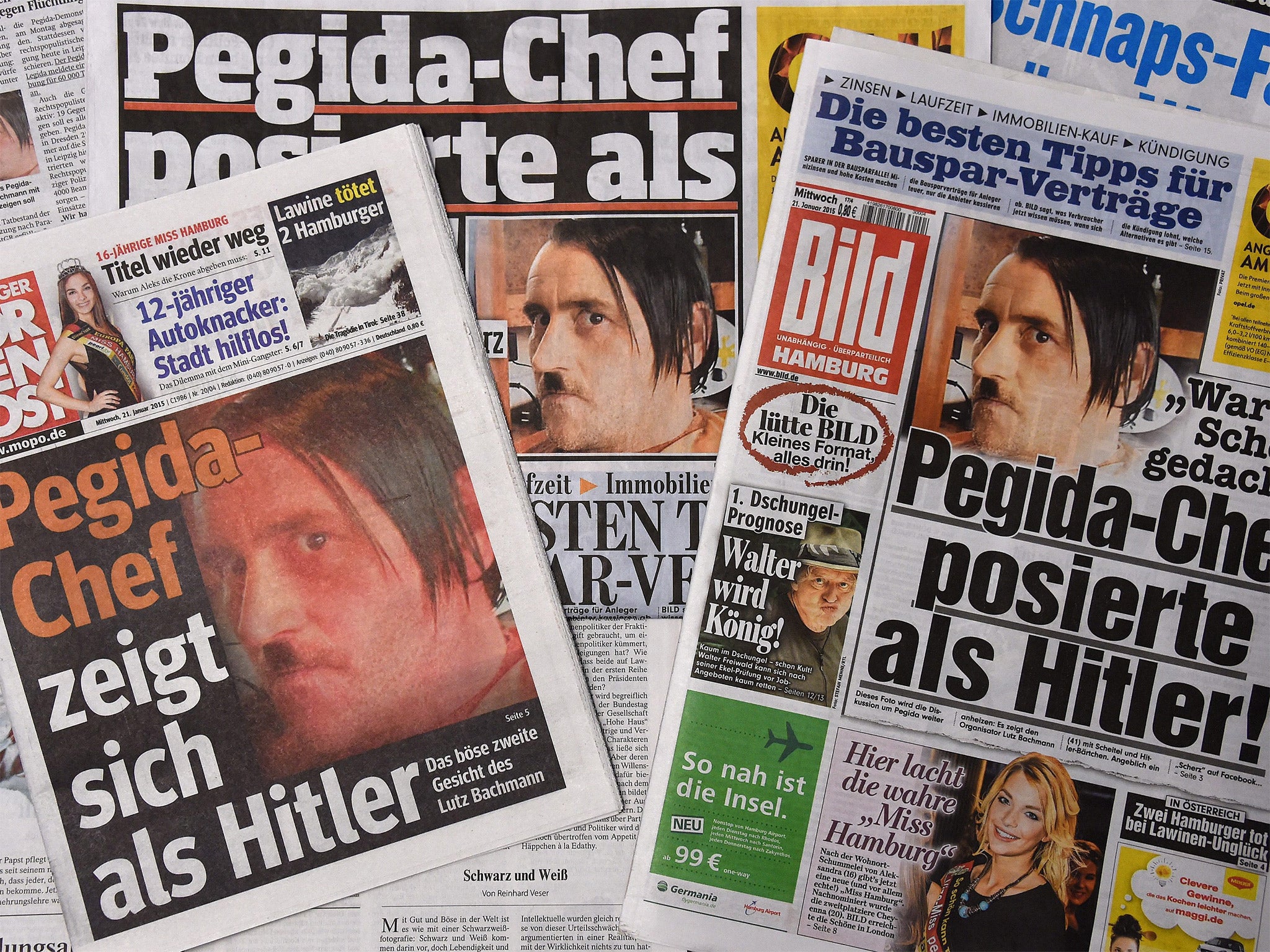 Thousands of supporters and opponents of Germany's growing anti-Islam movement Pegida have held rival mass protests in Leipzig after the threat of a terrorist attack forced police to ban all demonstrations in the nearby city of Dresden. The rally came after the xenophobic group's self styled-leader was forced to resign after posing as Adolf Hitler on a Facebook site.
The authorities in Leipzig said more than 4,000 police from throughout Germany had been drafted into the city, where thousands of pro- and anti-Pegida demonstrators took to the city's streets. Pegida, which stands for "Patriotic Europeans against Islamisation of the West", was launched in the east German city of Dresden in October. A mere 150 supporters attended its first rally, but early this month 25,000 supporters took part in one of the movement's so-called "Monday stroll" demonstrations.
Pegida protesters brandishing German national flags and placards criticising Chancellor Angela Merkel for failing to cut immigration, gathered en masse in front of the east German city's opera house. They were separated from a large crowd of anti-Pegida protesters chanting "Nazis out" by the riot police.
"Angela Merkel is too left wing and has gone soft on immigration," a 50-year-old Pegida supporter called Karl told The Independent. He said he was an estate agent and hoped for a new conservative party to the right of Ms Merkel's ruling conservatives. Other Pegida supporters demanded the withdrawal of US troops from German soil and the lifting of sanctions against Russia.

Fearing terrorist attacks in the wake of the Charlie Hebdo murders, Dresden police banned Pegida from staging its usual demonstration in the city last Monday. Pegida responded by holding tonight's mass rally in Leipzig. Pegida has taken Germany's main parties aback: its supporters include known neo-Nazis and far-right football hooligans but also many middle to lower middle class Germans who say they are worried about being "swamped" by immigrants.
Today, the German government revealed that immigration had topped 470,000 in 2014 – the highest figure since 1992. However, the majority of new arrivals had no Islamic background and came from Romania and Poland. Pegida has sought to dismiss allegations that it is a racist organisation. But today Germany's mass circulation Bild newspaper published a Facebook photograph of Pegida's leader Lutz Bachmann wearing a toothbrush moustache and side parting and posing as the Nazi leader Adolf Hitler. An accompanying caption read: "He's back."
In pictures: Anti-Pegida protesters
Show all 10
The Facebook page was also said to contain virulently racist remarks, allegedly made by Mr Bachmann. These described foreign immigrants and asylum seekers as "cattle", "riff raff, "a pack of dirt" and concluded: "There is no such thing as real war refugees." The outrage at the remarks grew and tonight, as the thousands were preparing to march in Leipzig, he had resigned. "Pegida will go on," said Kathrin Oertel, a fellow founder of the Pegida movement.
Dresden state prosecutors said they were investigating Mr Bachmann, 41, on suspicion of inciting racial hatred. Mr Bachmann removed the Hitler photo of himself from Facebook and claimed it was meant as a "joke". On Monday he dropped his previous aversion to the media and gave his first press conference in Dresden where he insisted that his anti-Islam organisation had nothing against foreigners.
Join our commenting forum
Join thought-provoking conversations, follow other Independent readers and see their replies