Petra Pazsitka: German woman comes 'back from the dead' after disappearance 31 years ago
The disappearance and subsequent reappearance of Ms Pazsitka  has been described as one of the most bizarre missing person cases in German police history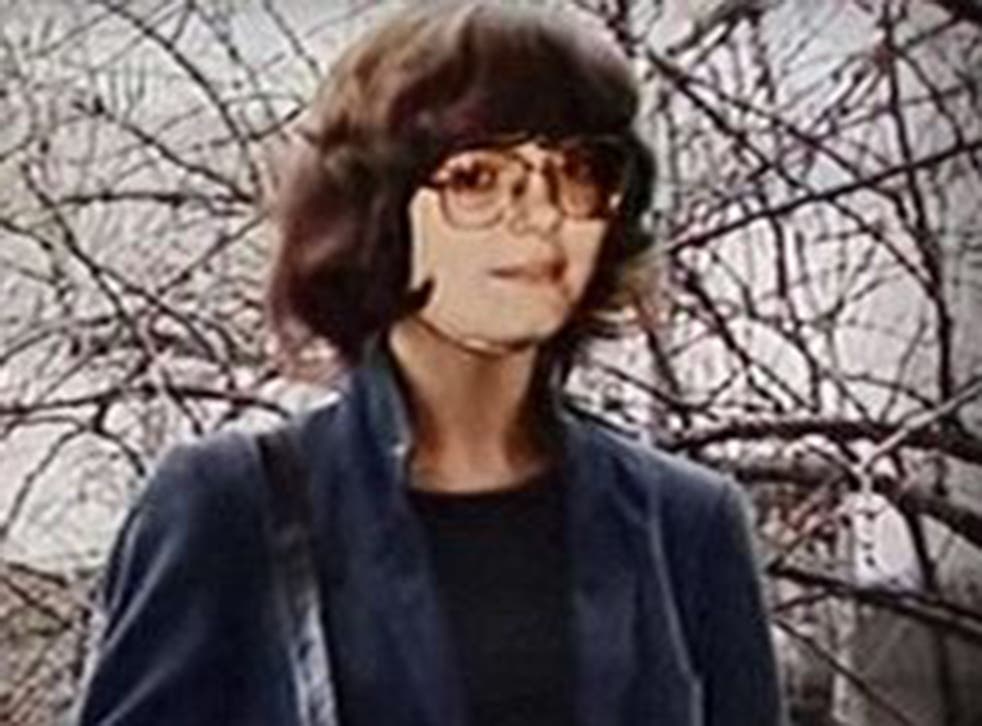 The identikit police photo issued more than three decades ago in a forlorn attempt to find missing 24-year-old Petra Pazsitka shows a neatly dressed computer science student sporting a grey-blue jacket and beige trousers. Her smiling face is framed by dark brown curly hair and partially obscured by large horn-rimmed spectacles.
It was the last ever photograph of Petra Pazsitka – at least, so police thought. She disappeared without trace from her student hostel at Germany's Braunschweig university on 26 July 1984. Although her body was never found, detectives were convinced she was the victim of a sexually motivated murder. In 1989, the German authorities pronounced her dead.
But last week, the mass circulation Bild newspaper splashed a new photograph of the supposedly missing Ms Pazsitka across its pages. It showed a tubby woman of 55, clad in a black cotton jacket as she walked the streets of Düsseldorf with a shopping bag. Most of her face was concealed by a headscarf.
Between the two photographs there lies an almost completely blank 31-year void. The disappearance and subsequent reappearance of Ms Pazsitka has been described as one of the most bizarre missing person cases in German police history. "We are still trying to establish what really happened and what the motives were," Joachim Grande, a spokesman for Braunschweig police told The Independent.
Since her disappearance, it has now emerged, Ms Pazsitka had been living in various places across Germany under the name of Petra Schneider. She had no passport, identity card, bank account, doctor, dentist or insurance and wanted no contact with her family or, it appears, her neighbours wherever she lived.
If it hadn't been for a burglary at her modest Düsseldorf apartment three weeks ago, her existence might never have been discovered. Even in a highly organised country such as Germany, she would no doubt have remained "presumed dead" for ever.
But police called at her home three weeks ago to investigate a run-of-the-mill break-in, alerted by Pazsitka's neighbours. "At first she tried to pass herself off with her assumed name, but the officers insisted on seeing her ID card," Mr Grande said. "Then she admitted that she was the student who went missing 31 years ago."
The police were flabbergasted. But although Ms Pazsitka admitted having carefully planned her disappearance, she remains an enigma. "She wants no contact with her family – she has expressly ruled out the idea that she ran away to escape sexual violence or abuse. She just wants to be left alone," said Mr Grande.
The initial unfolding of the Pazsitka case was faithfully captured on 30-year-old television footage of Aktenzeichen XY, the German equivalent of Britain's Crimewatch. In the televised re-enactment based on interviews with eyewitnesses, an actress played the young "Petra P", as she was called in the film, is shown saying goodbye to her parents after a weekend visit to their home in Wolfsburg.
Before she boards a bus back to her student hostel in Braunschweig, "Petra P" tells her parents how she is keen to spend her vacation typing up her computer science dissertation at the family's home while they are away on holiday. She promises to look after her younger brother, Carsten, during her parents' absence.
The woman is then shown at her student hostel asking her neighbour "Micha" if he can water her plants when she goes away. The film shows her visiting the dentist and going to a shop to buy a printer cartridge as a birthday present for her brother. But Petra P never goes to her parents' home. She is last seen by her dentist. Two days later, Carsten tells police she has gone missing.
The weirdest and most shocking news stories

Show all 30
But the manhunt that ensues fails to find any clues. By 1985, detectives assume foul play and launch a murder inquiry. They link her case to the rape and murder of a 14-year-old girl near the Wolfsburg bus stop which "Petra P" used to visit her parents. That year, a 19-year-old carpenter's apprentice called Günter K confessed to the teenager's murder. Two years later, under interrogation, he also admitted murdering "Petra P". However, the court refused to believe him and convicted him only of murdering the 14-year-old. The lack of firm evidence did not prevent the authorities pronouncing Petra P officially dead in 1989.
A fortnight ago, Ms Pazsitka revealed to police that she had saved up 4,000 Deutschmarks – the equivalent of £1,500 – to fund her disappearance and that she first moved into a flat in the town of Gelsenkirchen. Her Düsseldorf neighbours said she avoided contact with them and kept herself to herself. Police say they think she earned a modest income by doing menial jobs on the black market.
"Her family is devastated. We are trying to arrange a reunion, but Petra P is adamant that she does not want any contact with them," a police spokesman said.
Register for free to continue reading
Registration is a free and easy way to support our truly independent journalism
By registering, you will also enjoy limited access to Premium articles, exclusive newsletters, commenting, and virtual events with our leading journalists
Already have an account? sign in
Register for free to continue reading
Registration is a free and easy way to support our truly independent journalism
By registering, you will also enjoy limited access to Premium articles, exclusive newsletters, commenting, and virtual events with our leading journalists
Already have an account? sign in
Join our new commenting forum
Join thought-provoking conversations, follow other Independent readers and see their replies