Pharmacy queues show price Greeks are paying for credit breakdown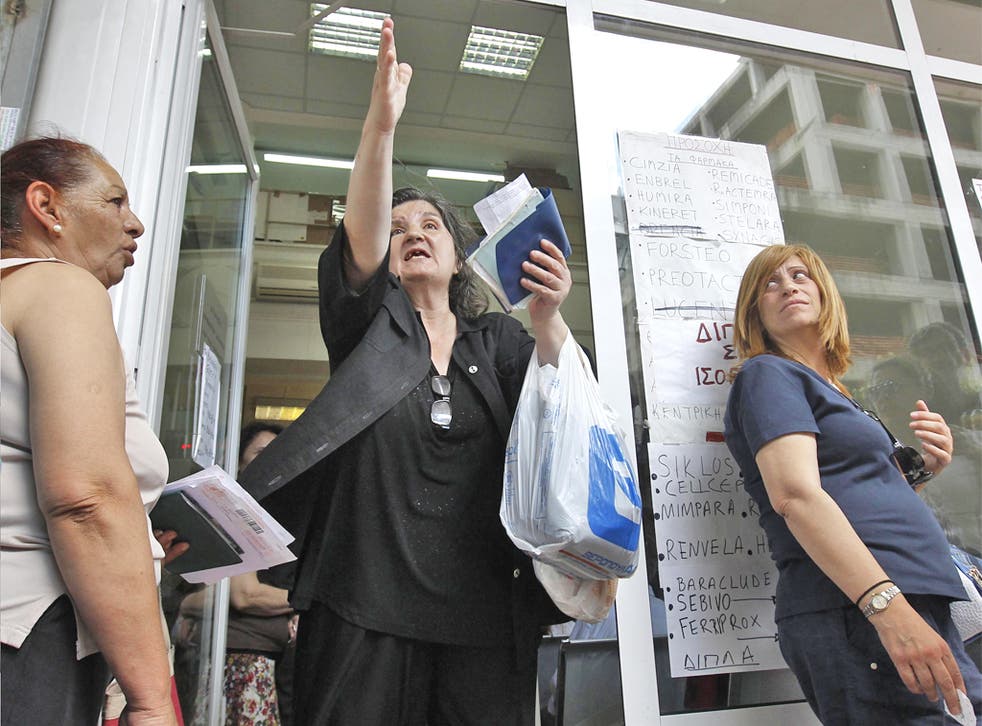 There were long queues outside a state-funded pharmacy in Athens yesterday as people lined up to get life-saving drugs for seriously ill relatives.
The shortages in chemotherapy medicine and other expensive drugs arose when pharmaceutical companies cut credit to the country's largest state-backed heath insurance fund, EOPYY, which provides subsidised medicine to ordinary Greeks.
The problem is yet another reminder of the challenges facing Greece, which goes to the polls for a second time this month after May's elections failed to deliver a government.
Coalition talks between competing parties broke down when the far left demanded a renegotiation of the country's austerity drive – something that is opposed by its European partners, notably Germany. The ratings agency Standard & Poor's said this week that there was a one in three chance that Greece could quit the euro in the months after the elections on 17 June.
Yesterday, the privately run SKAI TV showed scenes of hysteria as hundreds of Greeks queued outside one of the five pharmacies owned by EOPYY. A patient could be heard screaming inside the pharmacy, and a man said he had been waiting hours to get his mother's cancer medication.
The average cost of a cancer patient's prescription is €2,000 (£1,600) but members of the EOPYY healthcare fund got the medicines at a heavy discount. By lunchtime, the morning queues had vanished. "I got my relative's drug a day early," said one woman. "But off course, with this situation, I'm worried we might not be this lucky next time."
The morning frenzy, according to an employee, was due to misinformation. "Thousands came thinking we would provide all sort of medicine when we were ordered to hand out only the most expensive type."
Workers at the EOPYY pharmacy at the Georgios Gennimatas oncological hospital told The Independent they gave out around 1,000 cancer drugs to about 300 patients. However, they still lacked some chemotherapy medicines, as one pharmaceutical company had yet to deliver. "One sufferer started screaming and insulting us because we lacked a medicine," said an employee who refused to give her name. "People are very anxious to get their medication and express their feelings in different ways. You can't blame them."
Kalliopi Metaxa, a retired doctor and volunteer at the KEFI Cancer Society, said its members were desperate. "It's a chaotic situation – a temporary solution was provided to help the seriously ill. But what happens when the government runs out of money again?"
She added that in her years as a state doctor, she had never seen such a health crisis although Greece had a history of being late with its payments to health providers.
It's not just the pharmaceutical companies that are owed money. The EOPYY fund is also in debt to pharmacists. The government had pledged to repay the last outstanding instalment of this year's €270m debt to pharmacists after they cut credit to EOPYY, forcing members to pay for their own medicines, which are normally subsidised by the fund.
But the Prime Minister, Panayotis Pikrammenos, said this week that his caretaker government could not begin repay £6.5bn of outstanding payments to pharmacies until Greece receives its next loan instalment from its international creditors.
Analysts predict a tight race between the pro-bailout conservative New Democracy and the radical left-wing Syriza party, which has vowed to tear up the bailout agreement, putting the country's membership of the euro in question. To complicate matters for the pollsters, while public opinion is increasingly opposed to harsh cuts, most Greeks want to remain in the euro.
Register for free to continue reading
Registration is a free and easy way to support our truly independent journalism
By registering, you will also enjoy limited access to Premium articles, exclusive newsletters, commenting, and virtual events with our leading journalists
Already have an account? sign in
Register for free to continue reading
Registration is a free and easy way to support our truly independent journalism
By registering, you will also enjoy limited access to Premium articles, exclusive newsletters, commenting, and virtual events with our leading journalists
Already have an account? sign in
Join our new commenting forum
Join thought-provoking conversations, follow other Independent readers and see their replies